Return to Headlines
Nov. 3, 2018 - Plano West Vertical Visual Art Team Awarded with "Arts Education" Award by the Plano ArtCentre
For making significant and lasting contributions to the arts in Plano, the visual arts team of the Plano ISD West cluster was awarded with the "Arts Education" award by the ArtCentre of Plano at their For the Love of Art event on November 3. "We are so very proud of the team's commitment to providing students with a continuously rich and vibrant art education K-12, which is achieved through their collaboration and commitment to the curriculum," said Plano ISD Visual Arts Coordinator Laura Grundler. Congratulations to these dedicated teachers.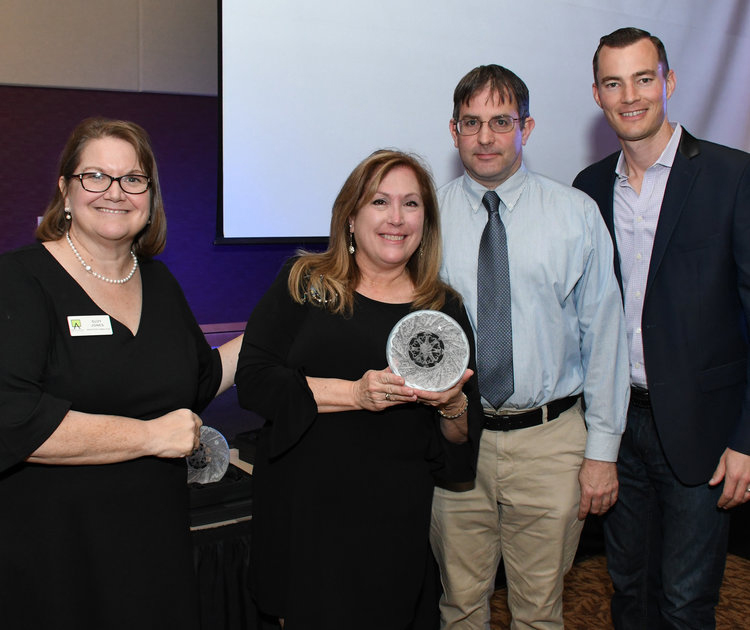 Accepting the award at the event are Tracy Evans, Mitchell Elementary and Douglas Darracott, Plano West Senior High. Also pictured are ArtCentre Executive Director Suzy Sloan Jones (far left) and ArtCentre Director Scott Fischer (far right).
West vertical team honored at the event are:
Alison Adame, Brinker Elementary School
Tamra Alami, Haun Elementary School
Sara Aminzadeh, Rice Middle School
Adriane Anderson, Jasper High School
Kathee Born, Barksdale Elementary School
Beth Carter, Skaggs Elementary School
Priscilla Clark, Frankford Middle School
Douglas Darracott, Plano West Senior High School
Sarah DePetris, Plano West Senior High School
Mickalena Dukes, Shepton High School
Samantha Elert, Gulledge Elementary School
Laura Evans, Rose Haggar Elementary School
Tracy Evans, Mitchell Elementary School
Phillip Frye, Plano West Senior High School
Jeanine Gaston, Plano West Senior High School
Matthew Grundler, Renner Middle School
Wynita Harmon, Huffman Elementary School
Tana Holderman, Jackson Elementary School
Pam Hopson-Horn, Gulledge Elementary School
Karen Horton, Daffron Elementary School
Lisa Hunsaker, Robinson Middle School
Lisa Kanso, Centennial Elementary School
Ted Kincaid, Plano West Senior High School
Stacey Medler, Mitchell Elementary School
Kimberly Paser, Shepton High School
Melissa Pierce, Shepton High School
Erin Rowe, Hightower Elementary School
Sara Stevens, Jasper High School
Mignon Swenson, Andrews Elementary School
Tara Vaughn, Wyatt Elementary School
Lauren Well, Renner Middle School
Theresa Ximenes, Jasper High School
About the ArtCenter of Plano
The ArtCentre Of Plano inspires, supports and promotes excellence, diversity and vitality in the arts and arts education in the community.