Return to Headlines
Jan. 10, 2019 - Rice Middle School Director of Bands Jason Tucker Named Music Educator of the Year Semifinalist
Jason Tucker, director of bands and music department chair at Rice Middle School, is named one of 25 National Music Educator of the Year semifinalists announced by Music & Arts in December.
Kathy Kuddes director of fine arts and special academic programs and Jeremy Kondrat instrumental music coordinator for the district are not surprised by Jason's rise to the top in this competition given his commitment to his profession. Jeremy Kondrat says that, "Jason makes music enjoyable for his students keeping them engaged and constantly improving in their knowledge of complex musical concepts and techniques. Under his direction, the Rice Middle School band program has been recognized consistently at both the state and national levels for outstanding musical achievements. Rice Middle School students, their families and his colleagues in music education are fortunate to be the benefactor of his passion for teaching music."
A former student says, "Mr. Tucker is a wonderful teacher because he doesn't just teach for the sake of teaching. He really cares about helping his students become young adults. I feel that he taught our class to be respectful, responsible, confident and have more self-control. He also wants his students to love music and he helps grow that love."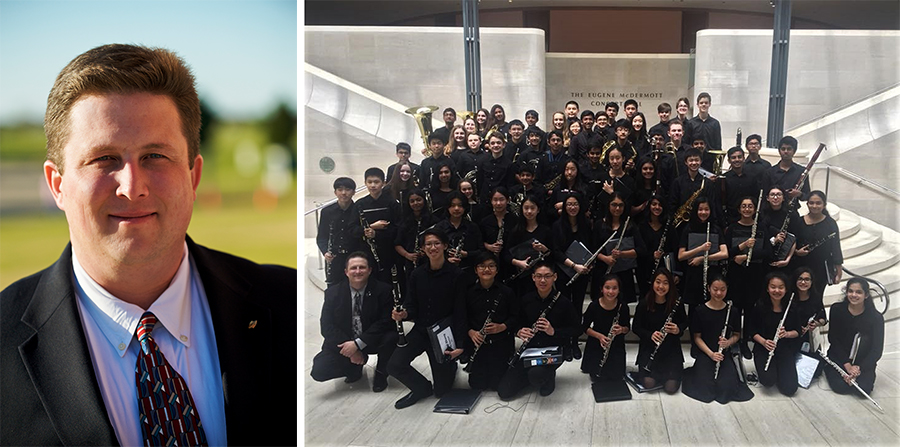 Jason Tucker and the Rice Middle School Band, Spring 2018.
The criteria for nomination for Music Educator of the Year are:
A successful track record in measurable program growth
Pupils or program that have demonstrated superiority in instrumental or vocal performance
Strong leadership and influence in the community
Leadership of initiatives which impact the community
Jason Tucker: Education, Professional Affiliations and Accolades
Jason is eminently qualified and active in professional organizations. He has 23 years of teaching experience and is currently the Music Department Chair and Director of Bands at Rice Middle School. He has been at Rice since the school opened in 1999. He holds a Bachelor's degree in Music Education from New Mexico State University and a Master's in Secondary Education with dual emphasis in curriculum design/instruction and music education from the University of North Texas.
His professional affiliations include Texas Music Educators Association (TMEA) - area B mentor coordinator, Texas Bandmasters Association (TBA) - region 24 representative, Texas Jazz Educators Association, Texas Music Adjudicators Association (TMAA), The National Band Association, American School Band Directors Association (ASBDA) - national curriculum committee (presently serving), and Phi Beta Mu Alpha Chapter (hospitality committee 2010-12 and 2016-18, outstanding contributor committee 2012-14 and public relations committee 2018-20), as well as the International Bandmasters Fraternity.
His professional accolades are numerous and include:
UIL/Plano ISD Sweepstakes 18 out of 19 years
TMEA Honor Band State Finalist (2009, 2010, 2012, 2014, 2018)
TMEA Honor Full Orchestra State Finalist (2009, 2011, 2014, 2015, 2016, 2018)
ASBDA Outstanding Texas Band Program Award (2012)
National Windband Honors National Winner (2007, 2008)
Collin Jazz Festival Outstanding Jazz Band (2012, 2013)
Numerous Invitational Contest Recognitions including Best in Class and Best in Contest
80 or more Rice Middle School Band students were selected as members of the TMEA Region 25 and 24 Middle School All-Region Bands each year for the past ten years
More than 400 first-division medals have been awarded to Rice Middle School students in Solo & Ensemble Competition each year for the past thirteen years
Commissioned ten new works for band in the past 15 years
Rice Middle School Teacher of the Year (2004)
Texas PTA Life Member
2014 John Philip Sousa Foundation Sudler Silver Cup Recipient
2017-2018 Recipient of the Mirabeau B. Lamar Award for Excellence in Education from the Plano Masonic Lodge
Excerpts from Jason Tucker's Award Application
Why did you decide to become a music educator?
"I didn't decide to be a music educator so much as I realized it was my purpose. My father, who was a band director and music administrator, always told me, "When your feet touch the floor each morning, you need to be happy about what you will be doing that day." I was fifteen years old when I felt called to have the same relationship bringing music to students that I had grown up seeing between my father and his students. I have never had any doubts since.
What Is Your most Rewarding Teaching Experience so far?
By far, my most rewarding experience has been to have had both of my daughters as my students. To share my greatest professional passion with the most important people in my life is something that I cannot imagine being surpassed.
What Does Being a Music Educator of the Year Mean to You?
I care deeply about music, my students, my colleagues and the importance of the arts for every student. As a visionary and an innovator as well as an advocate, I believe the centerpiece of music education must always be the student, and the Music Educator of the Year stands for educators who strive to advocate for their students and represent our profession with dignity and integrity.
Community Engagement
In my 20 years at Rice Middle School, we have become an integral part of our campus and neighborhood community. In addition to the services we provide to our community families, our band program is highly visible through guest performances at other schools, public venues, assisted living facilities, children's hospitals and other locations. I believe however, our greatest impact is on the children who live in our community. By helping them grow and achieve through music education, our community becomes a perpetual beneficiary of our music program
Leadership
In addition to serving as our Music Department Chair and as a representative on several campus and district committees, I have been involved at the state level through service in Phi Beta Mu and at the national level as a member of the American School Band Directors Association. I have been active in the Phi Beta Mu Alpha Chapter as a mentor in the Band Director Support Network. I served as TMEA Region 25 Middle School Band Chair and TMEA Region 24 Interim Treasurer. I am presently the Mentor Coordinator for TMEA Area B, which includes four regions. I am also the current Texas Bandmasters Association Region 24 Representative to the State Board.
Program Design Experience
I work collaboratively with my associate directors, developing a systematic framework for curriculum design, assessment, and motivation in Beginning Band. I have presented our process as a clinician for the Texas Music Educators Association, Texas Bandmasters Association and Midwest Clinic. I have also commissioned six new works for band, with a future piece under contract for 2019, and participated in three commission consortia. I am currently engaged in a project to make video lessons available for our students and to provide basic music education to parents, so that they can become more engaged in their children's musical experience.
Excellence in Music Performance
In addition to regional contest success, the Rice Middle School band program has been recognized as a Texas Music Educators Association (TMEA) Honor Band finalist five times. We have also been named the American School Band Directors Association (ASBDA) Most Outstanding Band Program (2012) and received the John Philip Sousa Foundation Sudler Silver Cup in 2014. Of particular importance to me, our success is not singular in scope, with students demonstrating individual success in concerto competitions, civic music organizations, All-Region Band, and chamber recitals.
Measurable Program Growth
From the beginning of our band program, we have grown in the number of participating students from approximately 150 students to as many as 500 in our band program. In spite of a decline in our neighborhood population due to "empty nest" factors, our campus band program enrollment has exceeded 40% of incoming students with an overall retention rate of over 90% over the past 19 years.
Speaking of his award, Jason's says, "I am honored to be recognized as a Music & Arts National Music Educator of the Year semifinalists and to represent so many dedicated music educators in Plano ISD. It is a blessing to work with great colleagues in a district that understands the importance of music education and supports a comprehensive education for all children."
Link to Letters of Recommendation.
Email your congratulations to Jason.