Return to Headlines
City of Plano Environmental Community Awards
Sept. 10, 2019
The City of Plano Sustainability & Environmental Education Division promotes programs that educate and involve students in activities resulting in increased awareness about our environment. The city's Environmental Community Awards Celebration took place on September 10 at The Hope Center in Plano. Congratulations to the following Plano ISD winners:
2019 Environmental Star of Excellence School Awards
Environmental Star of Excellence (ESOE) award winners received a $500 award and a plaque.
Existing Environmental Awareness Group
This ESOE award recognizes a school group which is over two years in existence who have organized efforts to integrate environmental education into extracurricular activities encouraging students to make responsible environmental choices.
Rice Middle School's Eco-Club has won the existing environmental group ESOE. The Eco-Club at Rice has grown and now incudes almost 50 active members. The club conducts recycling programs, litter cleanups, works to save water and electricity, and the club built a school vegetable garden. The efforts of the Eco-Club were rewarded as Rice Middle School was recognized as a four star Green School for the 2018-2019 school year.

Rice Middle School Spanish teacher Rocío Martínez-Mendoza and Eco-Club sponsor is pictured with Rice Assistant Principal Dr. Angie Ewing.
Educational Institution
This award is meant to honor institutions whose efforts have improved the community or school by promoting waste minimization, recycling, composting, litter prevention, beautification, water conservation, air quality initiatives or other green practices.
Jasper High School is the winner of the educational institution ESOE. Jasper High School has increased environmental awareness and minimized the amount of waste sent to landfills through a number of initiatives. The school started its green initiatives in the Fall of 2018 with a zero-waste event with over 1,400 students participating. Since beginning its green initiatives, the school has improved recycling in the cafeteria and classrooms, promoted reuse and begun recycling printer cartridges.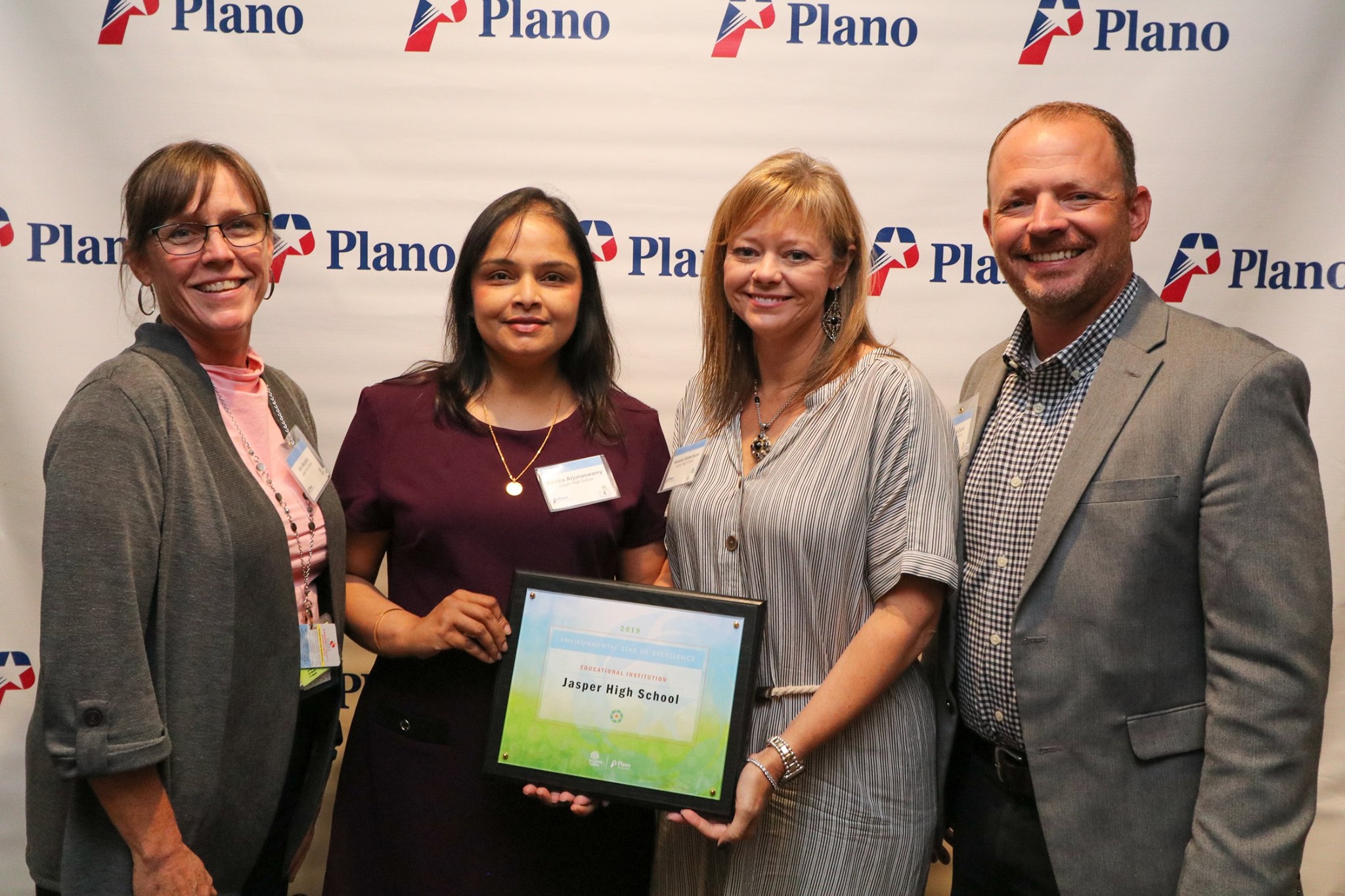 Jasper Assistant Principal Kim Murphy, Jasper PTA Environmental Chair Vinitha Magesh, Jasper PTA President Venetia Robertson and Assistant Principal Bryan McCord.
2019 Environmental Star of Excellence
Community Outreach Awards
The community outreach awards honor an individual or group who has been instrumental in promoting environmental and sustainability programs and/or educate residents about issues which impact environmental quality in Plano.
Individual Youth Environmental Star of Excellence
Annika Jyothi, a junior at Plano West Senior High School, is the winner of the Community Outreach Youth Environmental Star award. Annika coordinated a series of litter cleanups, which she calls the "Clean, Green Movement." These cleanups have removed hundreds of pounds of trash and helped create awareness to the problem of litter. She saw a need in her community, and she felt compelled to take action herself, and worked to inspire others to help. She is the president of the Plano West Senior High environmental club and is working to plan this school year's activities to help maintain the school's four star Green status with the City of Plano.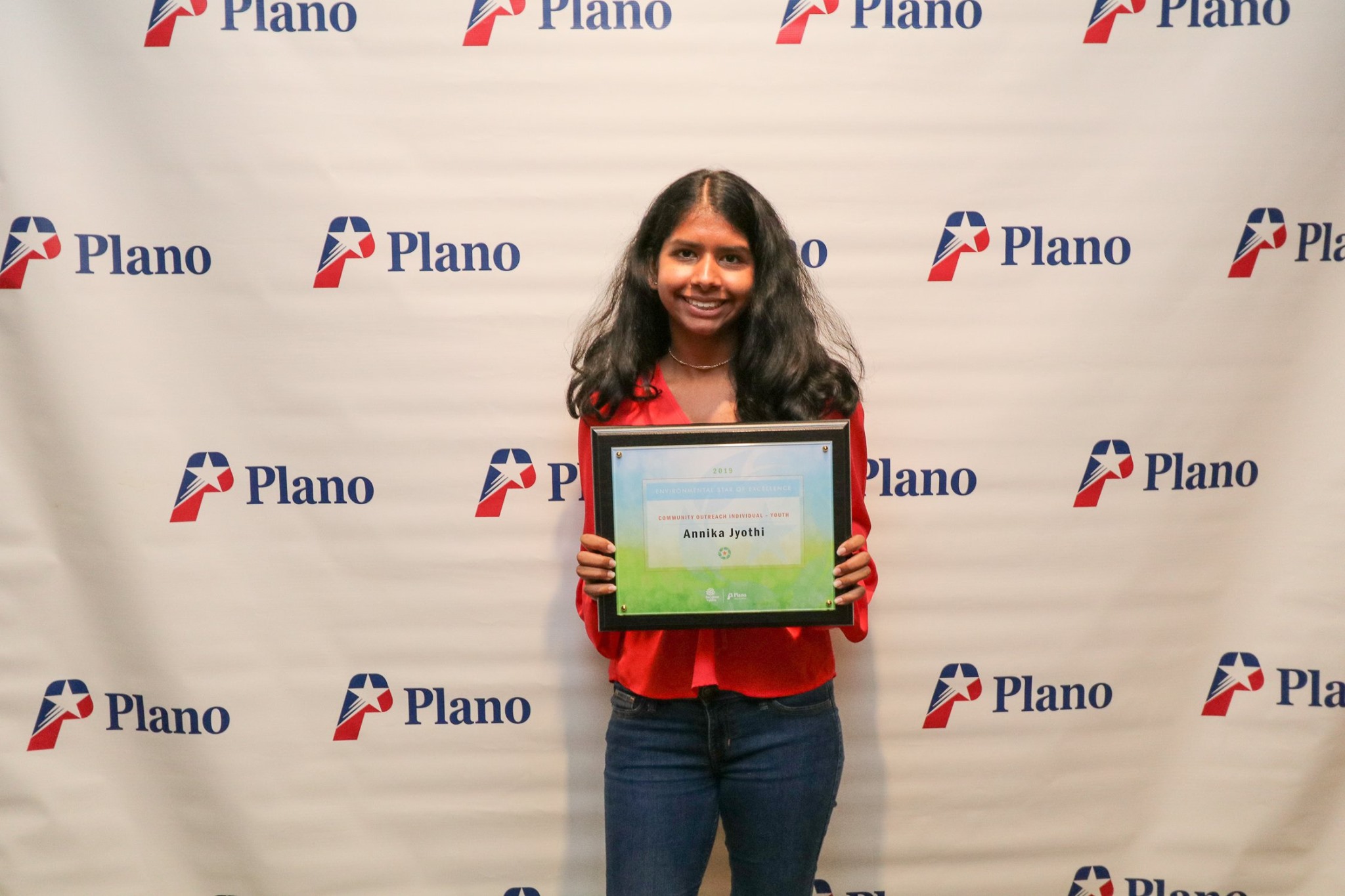 Annika Jyothi, Plano West Senior High School student
Green School Program Winners
The Green School Certification program honors and rewards Plano schools for efforts towards environmental stewardship. The program teaches and models respect for the environment and natural resources. Participating schools have the opportunity to achieve either Green School Certification or Green Star School Certification (1 star, 2 star, 3 star, 4 star, or 5 star) based on their sustainability efforts.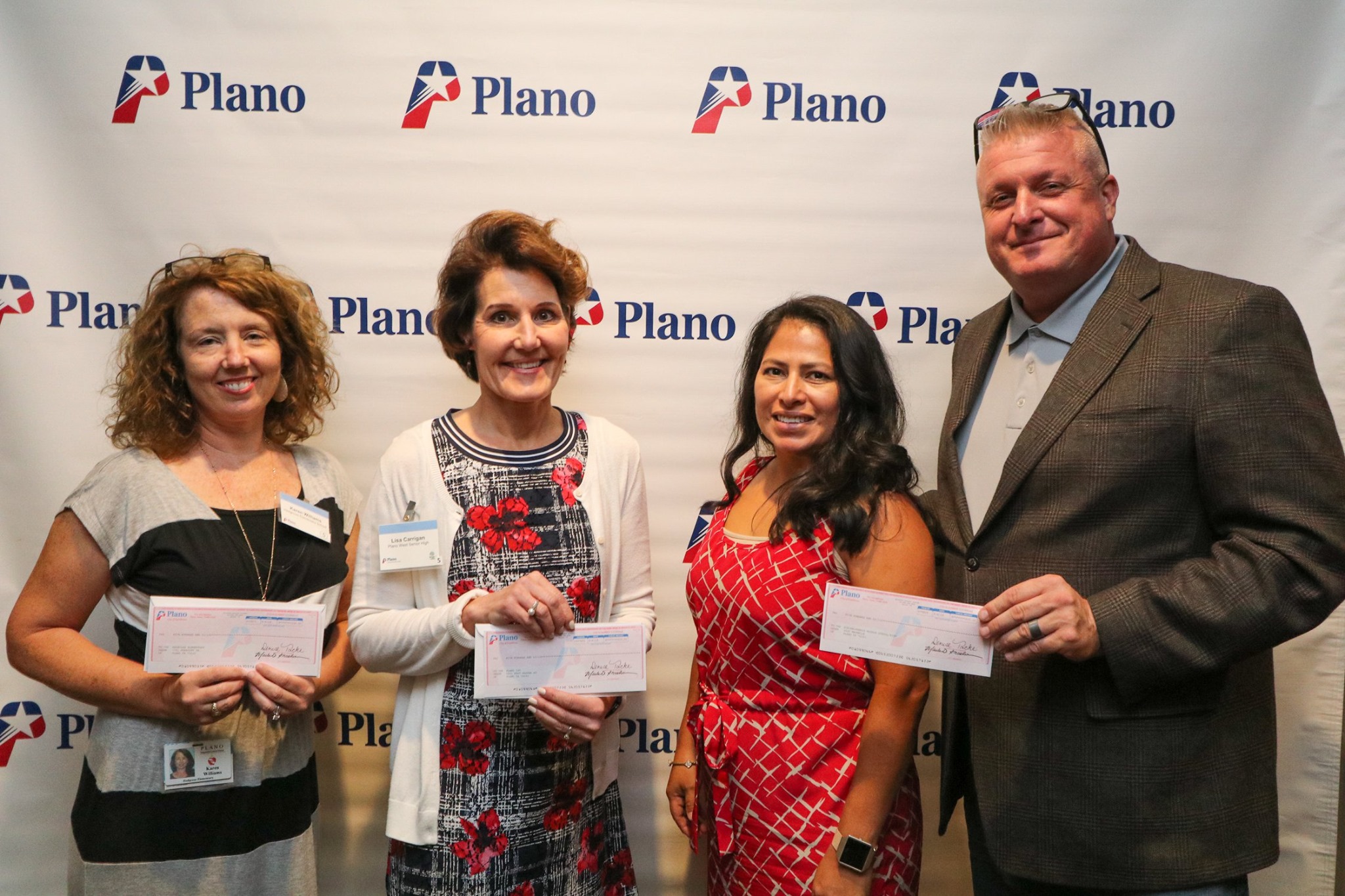 Hedgcoxe Elementary Assistant Principal Karen Williams; Plano West Senior High Assistant Principal Lisa Carrigan; Schimelpfenig Spanish Teacher Maria Cano; and Schimelpfenig Principal Dr. Brant Perry receiving their monetary Green School awards.
Green School Awardees for the 2018-19 School Year
Certified Schools
Boggess Elementary
Centennial Elementary
Harrington Elementary
Jasper High School
Robinson Middle School

One Star Certified Schools
Barron Elementary
Renner Middle School

Two Star Certified Schools
Carpenter Middle School
Clark High School
Davis Elementary
Hedgcoxe Elementary

Three Star Certified Schools
Plano West Senior High School
Schimelpfenig Middle School
Four Star Certified School