Return to Headlines
LULAC Educator of the Year, Frederick Sanders Plano Senior High School
October 17, 2019
At the 25th Annual Collin County LULAC (League of United Latin American Citizens) Council #4537 Scholarship banquet, Plano Senior High School criminal justice teacher and curriculum writer Frederick Sanders was honored as the 2019 Educator of the Year.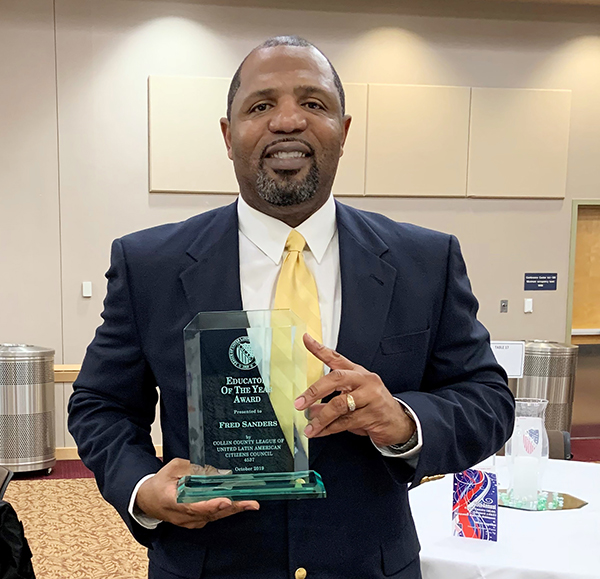 Frederick Sanders, Plano Senior High School criminal justice teacher.
Prior to his career in Plano ISD, Frederick worked with students teaching cognitive skills training for a community outreach for men and single parents on parole through the Texas Department of Criminal Justice and the Dallas Community Center. After his work in the Bureau of Prisons/Texas Department of Criminal Justice as a senior district parole office and offender re-entry liaison, he witnessing young people enter the prison system and he understood that his experience in criminal justice could make a difference in these and other young lives.
His teaching career in Plano ISD began in 2008. Plano Senior High Principal Sarah Watkins said, "It is clear Fred cares for the whole student. He often mentors and sometimes he helps students find jobs. Additionally, throughout his time here at Plano Senior High, Mr. Sanders has supported students by helping to sponsor various organizations such as Maroon Guard, BPA, Mock Trial and most recently LULAC."
Philosophy of Teaching
"My philosophy of education is that all children are unique and must have a stimulating educational environment where they can grow physically, mentally, emotionally and socially. It is my desire to create this type of atmosphere where students can meet their full potential. I will provide a safe environment where students are invited to share their ideas and not be afraid to share with you or the class. Everybody has a story to tell, and we all learn at different levels. It is my goal to meet the kids where they are and establish mutual goals that they can find obtainable.
I believe that there are five essential elements that are conducive to learning.
The teacher's role is to act as a guide.
Students must have access to hands-on activities.
Students should be able to have choices and let their curiosity direct their learning.
Students need the opportunity to practice skills in a safe environment.
Technology must be incorporated into the school day."
Frederick Sanders earned a bachelor of science degree in criminal justice, a master's of science in administration of justice with an emphasis on homeland development and a master's in pastoral ministry from Baylor University.