Return to Headlines
Inge Dismuke-Stovall, Williams High School Assistant Principal, Honored with 2019 Community Forum Educator Award
December 18, 2019
On October 26 at the Plano Community Forum's 38th Anniversary Awards Gala, Inge Dismuke-Stovall, Williams High School assistant principal was honored as the 2019 Community Forum Educator Award recipient.
Inge was appointed as a Williams High School assistant principal in 2018. She is a former English teacher at McMillen High School where she participated in the Team Leadership Academy; was appointed as the profession learning (PLC) leader on campus and was nominated for the Plano ISD Leadership Development Academy for aspiring administrators. She received the McMillen High School leadership award for her leadership and commitment to student success.
Prior to her career in Plano ISD, she taught English for 12 years in North Garland, was a team leader for eight of those years, was appointed to serve on the English Language Arts textbook adoption committee, was one of the two English teachers chosen to become a state-certified STAAR trainer, appointed to lead the ninth grade Pre-Advanced placement curriculum writing team. She sponsored the Raider Hype Step Team for six years, was an active member of the Garland Area Alliance of Black School Educators and participated in the Aspiring Administrator Program at North Garland High School.
Inge has a master's degree in international journalism and a bachelor's degree in mass communications/journalism from Baylor University.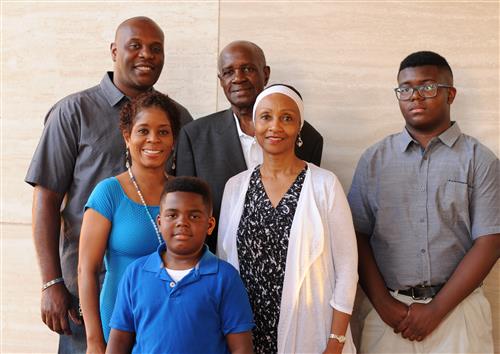 Williams High School Assistant Principal and 2019 Community Forum Educator Award Recipient Inge Dismuke-Stovall (left in blue) with her family.
Email your congratulations to Inge.
Additional Community Forum Plano ISD Honors
2019 Youth Award Recipient
Kennedy Easter a 2019 Graduate of Plano East Senior High School received the Community Forum Youth Award. Kennedy is an alumna of Plano East Senior is an active participant in church, Jack & Gill and has recently received the Girl Scouts highest award, the Gold Award. At Plano East Senior High School she was a member of the National Society of High School Scholars, Advancement Via Individual Determination (AVID), the Golden Girls drill team - the PESH Elite Steppers. She participates in her church ministry, the Praise Dance Team, youth orchestra and teaches Sunday school. She also volunteers at the North Texas Food Bank and the Plano Food Pantry.
Scholarship Impact Profile
Taylor Washington, 2011 graduate of Plano East Senior High School, received the Scholarship Impact Profile award. Taylor is a former recipient of the Dr. Martin Luther King, Jr. scholarship from the Plano Community Forum. She is currently a lawyer handling a broad range of entertainment transactions for clients in film, television and book publishing industries. "As a recipient of the Dr. Martin Luther King, Jr. scholarship I was awarded the resources and confidence needed to leave home in pursuit of higher education in Washington, D.C and internship opportunities in New York City."
Dr. Martin Luther King, Jr. Scholarship Recipients
Kennedy Easter, Plano East Senior High, attending Collin College, major psychology and forensics
Lauren Griffin, Plano West Senior High, attending Texas Tech University, major English with secondary teaching certification
Sumaya Mohammed, Plano Senior High, attending University of North Texas, major Elementary Education
Morayo Soetan, Plano West Senior High, attending Texas A&M, major in electrical engineering
Alondra Rayo Vergara, Plano Senior High, attending Texas Woman's University, major kinesiology
Kennedy Williams, Plano East Senior High, attending Baylor University, major accounting
Tanai Winston, Plano East, attending University of Houston, major computer information systems