Return to Headlines
Plano ISD Board of Trustees Approves 2023-24 Compensation Plan
May 16, 2023
The Plano ISD Board of Trustees approved a raise for the 2023-2024 school year, with a unanimous vote at the May 16, 2023 school board meeting.
The approved raise provides all employees with a 3% pay increase. Raises will be calculated using the percentage of the employee's actual salary rather than the control rate to provide an equitable increase to longer-tenured staff.
Additional adjustments include:
Increasing starting salary for teachers with a bachelor's degree with no experience from $58,250 to $60,000;
Increasing starting salary for teachers with a master's degree and no experience from $60,250 to $62,000; and
Increasing district contributions for employee health insurance from $315 to $330/month.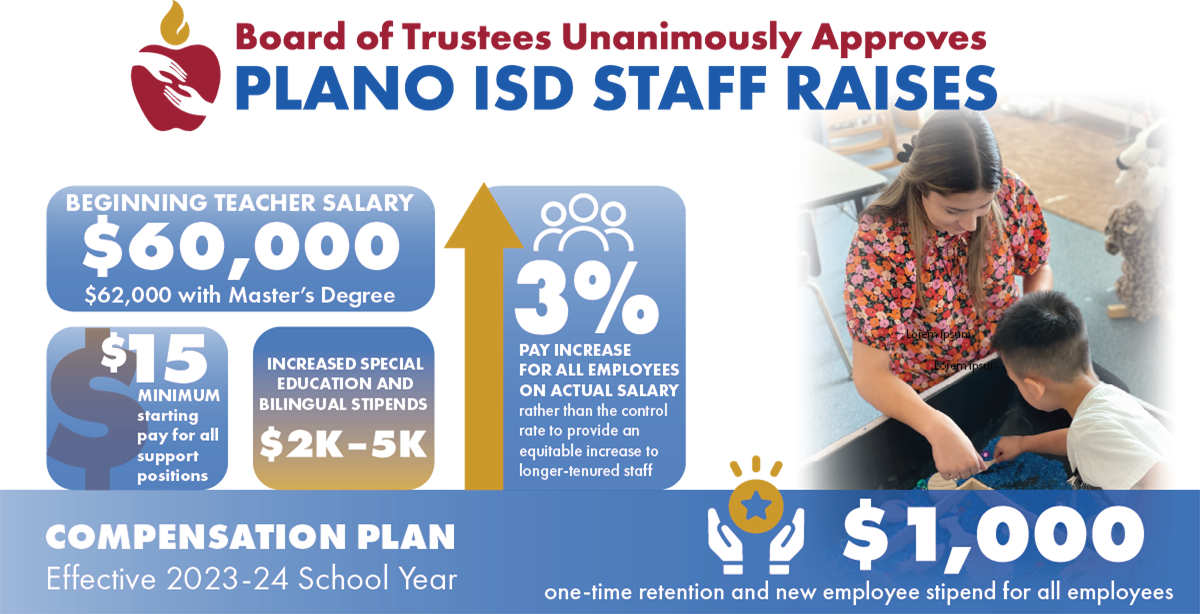 Adjustments were made to remain competitive with the local job market. Starting pay for campus support staff, cafeteria specialists, PASAR after school care, employee child care, bus assistants and other support staff will increase to $15 an hour, which is an average raise of 8%, and pay for employees currently in those positions will be adjusted to align with the updated pay scale.
Plano ISD will also use federal relief dollars to provide a one-time retention and new employee stipend of $1,000 for all employees (for staff members who are employed by Plano ISD on or before September 1, 2023, and who are still employed on the date the stipend is paid).
Moreover, strategic pay adjustments in the new compensation plan provide:
A $2,000 stipend for Special Education teachers
A $2,000 increase for school nurses
An increase in the following stipends:


Special education structured teacher to $3,500
Behavior instructional specialist to $3,700
Bilingual certified teacher to $5,000
It is important to note that per the approved academic calendar for 2023-24, students will have one less instructional day. As a result, all campus-based employees will have one less work day with no reduction in annual compensation.
With a budget impact of $15,470,144, the pay increase reflects the school board's long history of working to keep the district competitive when it comes to recruiting and retaining employees.
"Our employees are our most valuable resource and are vital to the growth, care and success of our students," said Superintendent Dr. Theresa Williams. "A competitive compensation plan is not only a way to show our appreciation for the hard work and dedication of our employees, it is also an investment in the future of our district."