Return to Headlines
May 17, 2019 - Intel International Science and Engineering Fair (ISEF) Winners Announced
Winners were announced in the Intel International Science and Engineering Fair (ISEF) which took place May 12-17 in Phoenix, Arizona. ISEF is the world's largest international pre-college science competition. Student competitors are ninth through twelfth graders who earned the right to compete at ISEF by winning a top prize at a local, regional, state or national science fair. Each year, qualifying students have the opportunity to showcase their independent research and compete for $5 million in awards. Approximately 1,800 high school students from more than 80 countries, regions and territories present their independent research. Congratulations to these 2019 category and special award winners from Plano ISD who took home a total of $34,000 in awards.
Category Award Winners
Intel ISEF Best of Category Award of $5,000 and First Award of $3,000: Robotics and Intelligent Machines
Kevin Meng, Plano West Senior High School, Looking through Walls with Artificial Intelligence: An Innovative Solution for Real-Time Retrieval of the Human Figure behind Visual Obstruction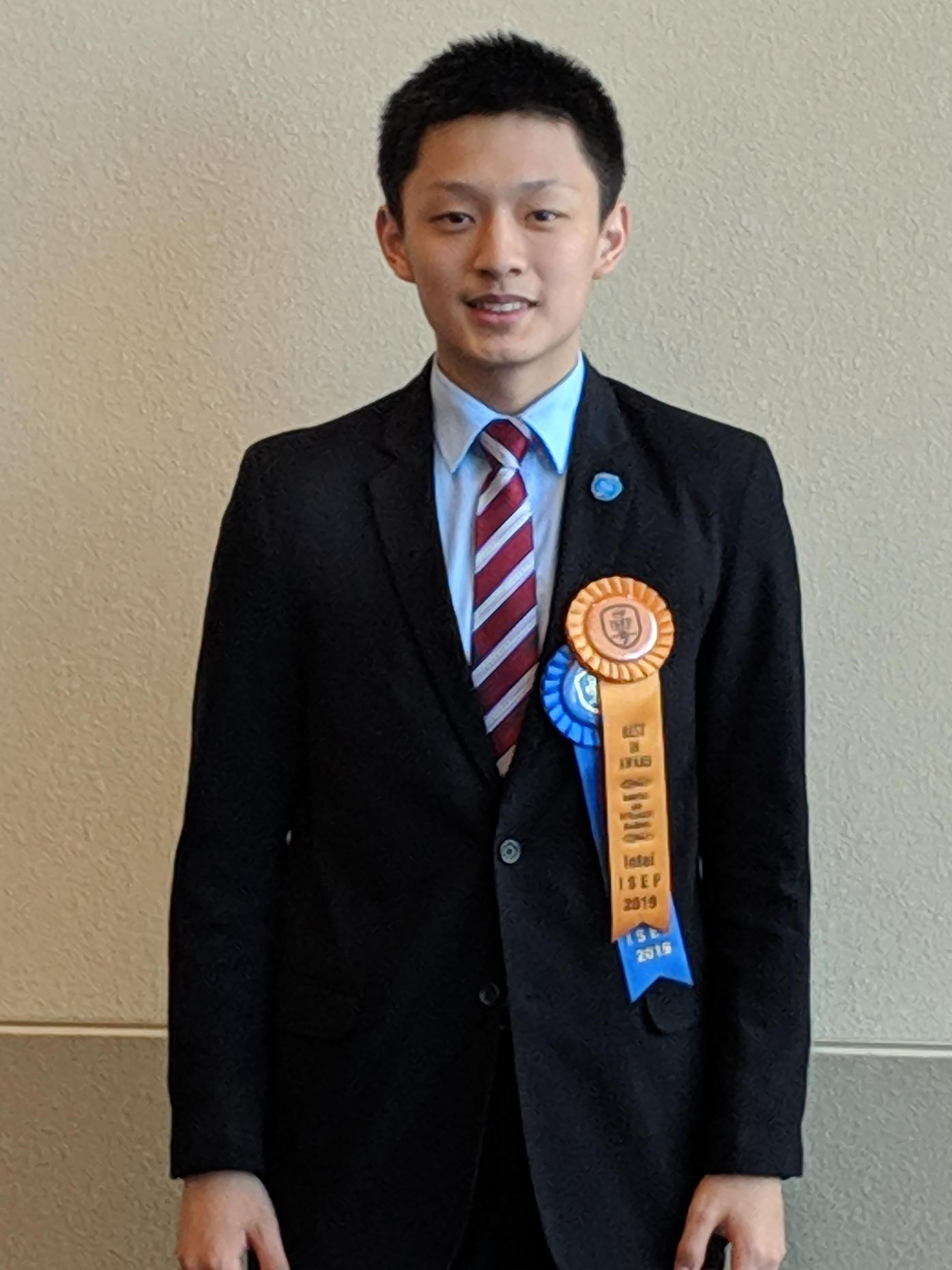 Kevin Meng, Plano West Senior High School, Robotics and Intelligent Machines: winner of best of category, first place, and $13,000 in special awards.
Second Award of $1,500: Biomedical Engineering
Andrei Spiride, Plano East Senior High School, TheraArm: Orthosis Therapy for Arm Rehabilitation and Movement Assistance
Second Award of $1,500: Energy: Chemical
Ashay Shah, Plano East Senior High School, Optimizing and Fine-Tuning Electrode Pore Sizes Utilizing Varying Ratios of the Immiscible Polymer Blend PAN-PS for High Energy Density and Wide Temperature Range Supercapacitors
Ashna Shah, Plano East Senior High School, Optimizing and Fine-Tuning Electrode Pore Sizes Utilizing Varying Ratios of the Immiscible Polymer Blend PAN-PS for High Energy Density and Wide Temperature Range Supercapacitors
Second Award of $1,500: Environmental Engineering
Risha Dianne Valera, Plano West Senior High School, Agrobotics: An Autonomous Arduino Uno/Due Computer Vision Based Raspberry Pi High Throughput Plant Phenotyping Precision Agriculture Robot Using Dual Linear Mechanisms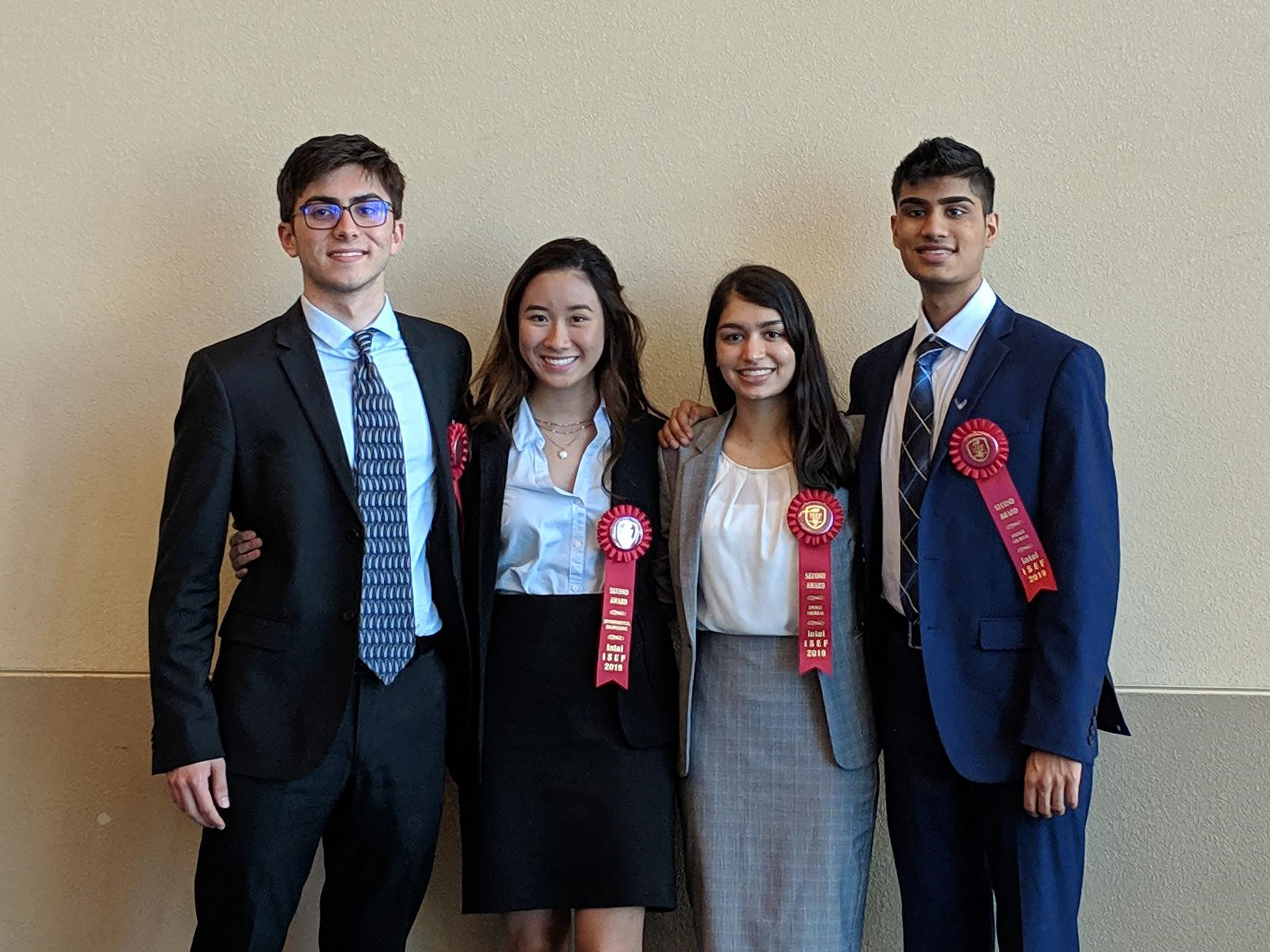 Second place winners: Andrei Spiride, Plano East Senior High; Risha Dianne Valera, Plano West Senior High; Ashna Shah, Plano East Senior High; and Ashay Shah, Plano East Senior High
Third Award of $1,000: Earth and Environmental Sciences
Sanjana Hiremath, Plano East Senior High School, Bioremediation of Tetracycline Polluted Soils: How Antibiotic Resistance Can Reduce Antibiotic Pollution in the Environment and a Solution to Groundwater Antibiotic Pollution
Sriya Teerdhala, Plano East Senior High School, Bioremediation of Tetracycline Polluted Soils: How Antibiotic Resistance Can Reduce Antibiotic Pollution in the Environment and a Solution to Groundwater Antibiotic Pollution
Third Award of $1,000: Systems Software
Humza Salim, Jasper High School, Preventing Left Turn Road Accidents Using Photosensory Technologies and Computer Vision
Yousuf Ahmad, Jasper High School, Preventing Left Turn Road Accidents Using Photosensory Technologies and Computer Vision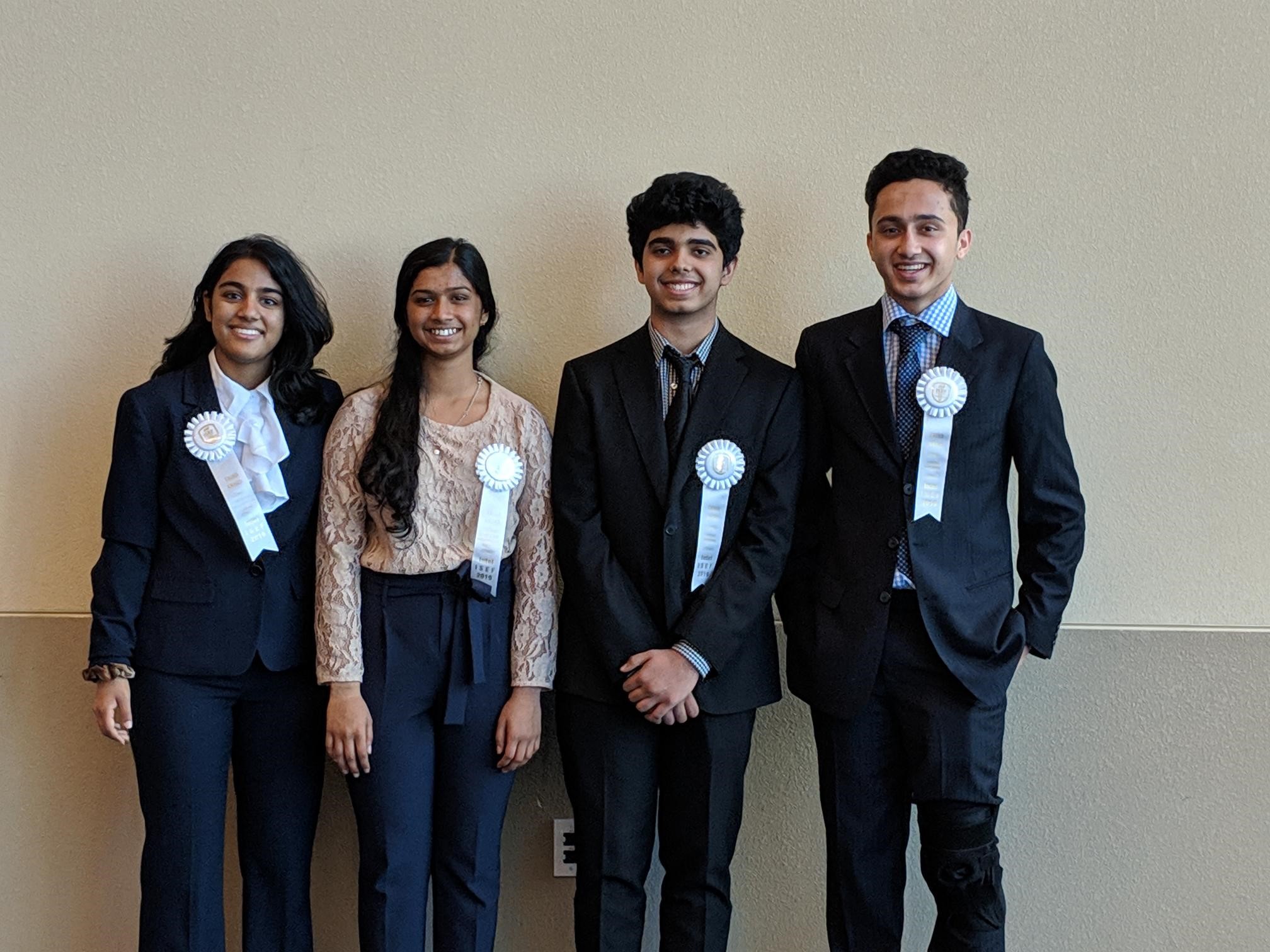 Third place winners: Sanjana Hiremath, Plano East Senior High; Sriya Teerdhala, Plano East Senior High; Yousef Ahmed, Jasper High School; and Humza Salim, Jasper High School
Special Awards
Kevin Meng, Plano West Senior High School, Looking through Walls with Artificial Intelligence: An Innovative Solution for Real-Time Retrieval of the Human Figure behind Visual Obstruction
First Award of $1,500: Association for the Advancement of Artificial Intelligence
Fourth Award of $500: Association for Computing Machinery
First Place Award "Cyber Pioneer" of $1,000: National Security Agency Research Directorate
The Chief of Naval Research Scholarship Award of $10,000: Office of Naval Research on behalf of the United States Navy and Marine Corps
Yousuf Ahmad and Humza Salim, Jasper High School, Preventing Left Turn Road Accidents Using Photosensory Technologies and Computer Vision
$750 Make Your Own Way Award: Go Daddy
Harshal Bharatia, Vines High School, Thermocloud: A Smart Collaborative Thermostat
Award of $5,000 for outstanding project in the systems software category: Oracle Academy
Ashay Shah and Ashna Shah, Plano East Senior High School, Optimizing and Fine-Tuning Electrode Pore Sizes Utilizing Varying Ratios of the Immiscible Polymer Blend PAN-PS for High Energy Density and Wide Temperature Range Supercapacitors
First Award of $750: Air Force Research Laboratory on behalf of the United States Air Force: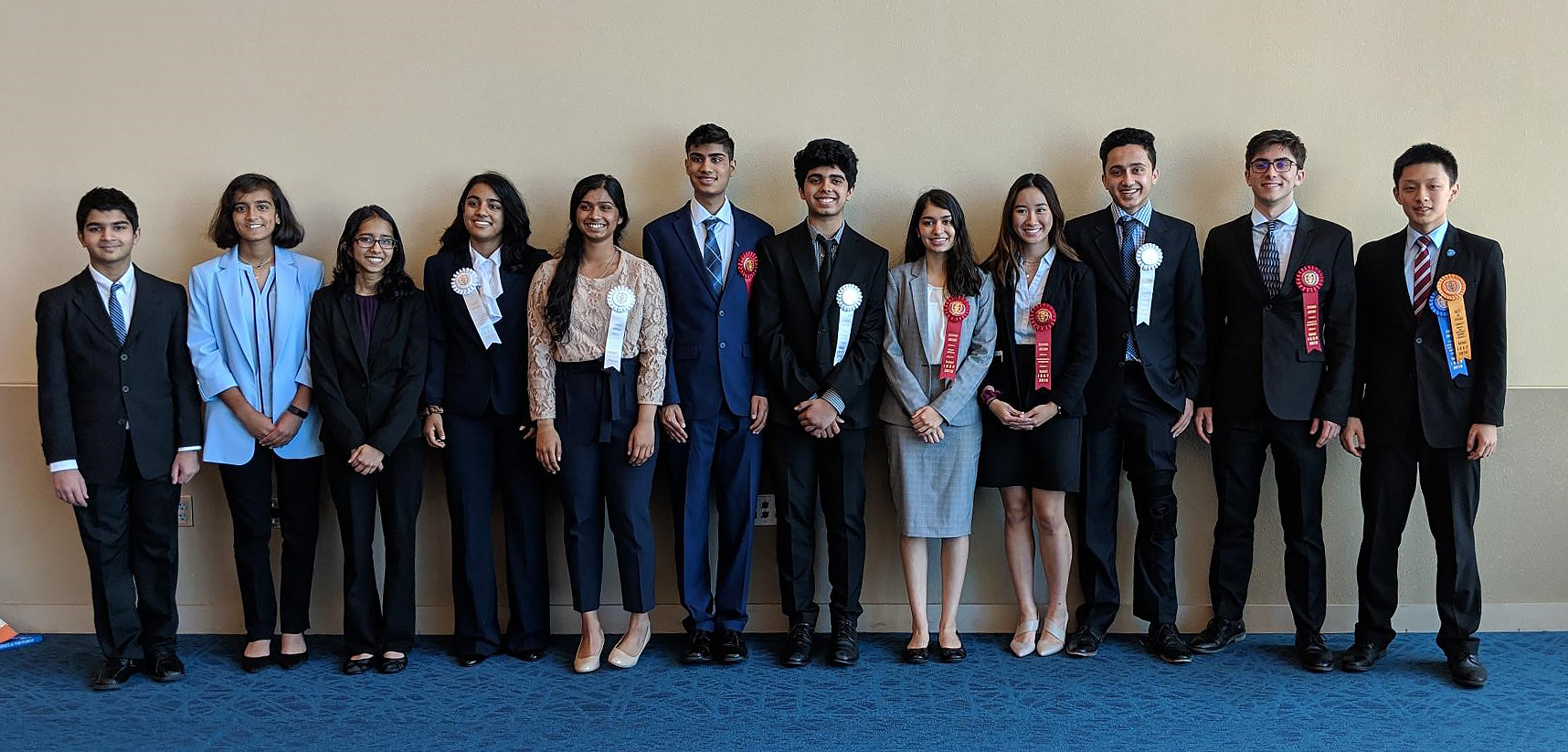 Harshal Bharatia, Rachel Mammen, Gargi Porwal, Sanjana Hiremath, Sriya Teerdhala, Ashay Shah, Yousef Ahmad, Ashna Shah, Risha Valera, Humza Salim, Andrei Spiride and Kevin Meng