Return to Headlines
Neil Milburn, Plano West AP Chemistry Teacher, Named 2019 DFW-American Chemical Society Schulz Award Winner
September 3, 2019
Neil Milburn AP chemistry teacher at Plano West Senior High School has won the DFW Chapter of the American Chemical Society (ACS) Werner Schulz Award for High School Chemistry Teaching. The awards ceremony takes place at Plano West Senior High School on September 25 as part of the DFW ACS meeting.
The Schulz Award is awarded to high school chemistry teachers who bring something extra to the teaching of chemistry. Nominees for the award exemplify excellence in chemistry teaching as demonstrated by testimonials from students and fellow teachers, results in student competitions and diligence in updating and expanding scientific/teaching credentials. The honorarium for the Schulz Award is $1,000. A traveling plaque will remain at Plano West for the year of the award. Neil joins four distinguished DFW-Schulz awardees from Plano ISD.
1995 Jerry Mullins, Plano Senior High School
2000 Robyn Shipley-Gerko, Plano Senor High School
2008 Jennifer Bernabo, Plano East Sr. High
2014 Karen Compton, Plano East Senior High School
This is Neil's thirteenth and last year of his teaching career, as he plans to retire from teaching. He began his teaching career in 2003 at Plano East teaching IB and AP physics. He took a three-year sabbatical to work on a NASA Lunar Lander project, and then returned to teaching, this time at Plano West teaching AP chemistry. He is a 2016 finalist for the TI Foundation Innovation in Teaching Award and in 2015, he was one of three finalist for the Tech Titans Math and Science Teaching Award. He is a Commercial Spaceflight Federation board member, has served on the Advisory Board at the University of Texas at Dallas Department of Natural Science and Mathematics, as well as the National Academy of Science Honorary Board of Educators.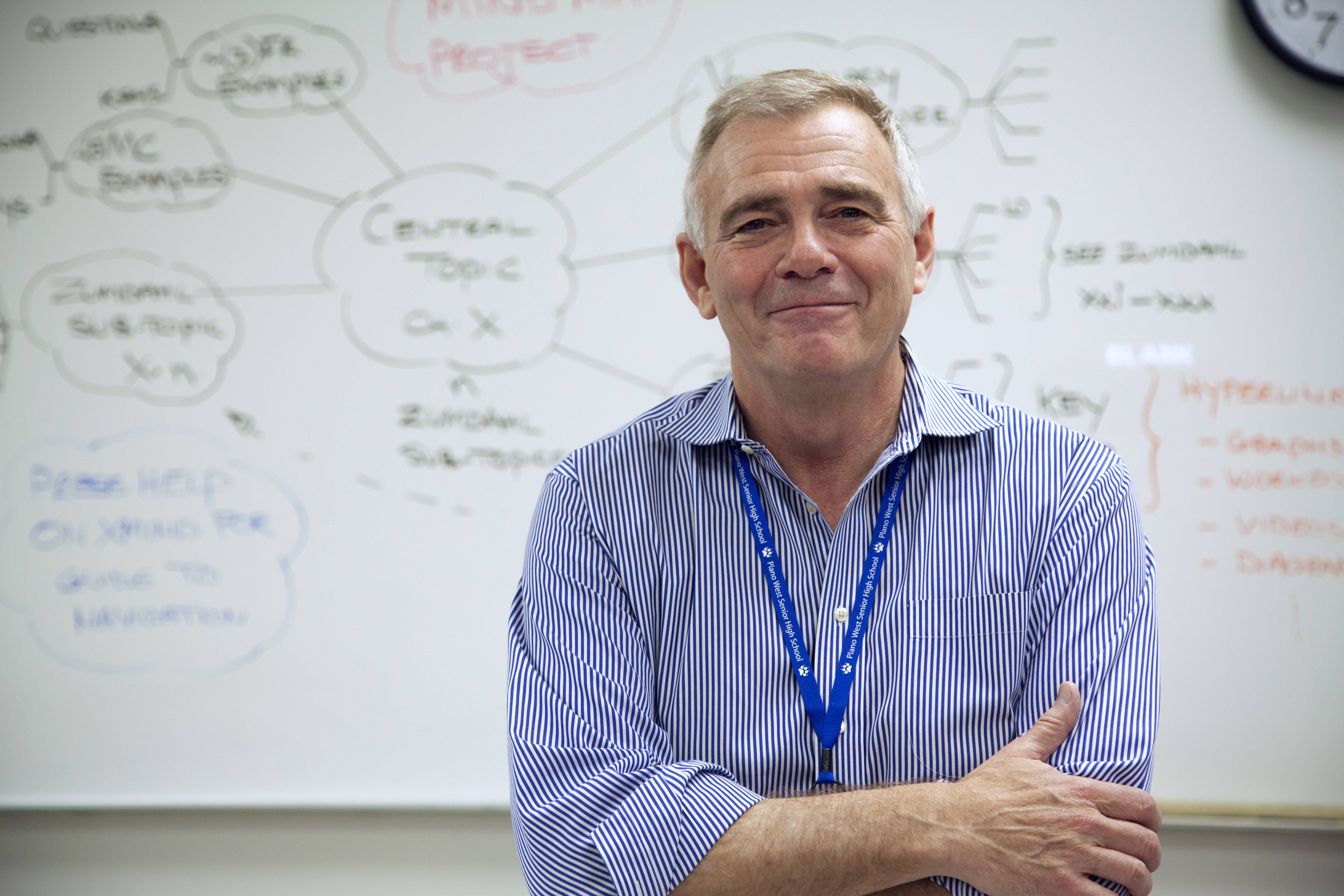 Prior to his teaching career, Neil worked in the engineering field for more than 30 years taking on challenges in engineering, sales, marketing, company management and turnaround consulting, but he says, "I don't think that anything can fully prepare you for teaching. I started learning HOW to teach the first day in the classroom. I had some great mentors, Nancy Coe and Marjean Nielson at Plano East and Nicole Lyssy at Plano West. What my engineering career did provide was the ability to relate current learning to real world applications. Something his students appreciate. Brandon Chen, 2019 Plano West Salutatorian said that his "...favorite teacher is Mr. Neil Milburn, AP chemistry. I learned how to self-study and be a more independent learner from his class, and his stories from his career before teaching are also really inspiring."
Neil, who received his education in England, had teachers who inspired him to take an interest in "all things science" and professes to entering the teaching field to payback his teachers. It sounds like Neil was a difficult student to forget. During one of his journeys in learning all things science over 50 years ago, he caused an evacuation of the chemistry lab, "...with an unauthorized experiment involving some rather foul smelling compounds and an electromagnetic hover train that punched a hole through the physics lab wall."
As a teacher, Neil is very involved in his students' science fair projects, and students conduct experiments or review results with him before and after regular class hours in preparation for presentations at high-level competitions. He is the LASER (Learning About Science and Engineering Research) sponsor at Plano West, and he encourages students to take on extra challenges with summer internships. Through his professional contacts, he has found summer research opportunities for students who want to experience the challenges of working in a world-class laboratory where many students are at work on science fair projects. Plano West alumna Nicole Wojtania said, "Without his initial guidance and support, I would not have achieved all the successes I had at international level (Intel International Science and Engineering Fair (ISEF), International Sustainable World Energy Engineering Environment Project Olympiad), national level (Regeneron Science Talent Search, Siemens), and state science competitions. I have seen his personal commitment to scientific research and discovery numerous times over the past few years when he has introduce various students to professional research opportunities. I am forever grateful for Mr. Milburn's help."
When asked what he finds most rewarding about teaching, he says that, "The AP chemistry students are incredibly smart and diligent with aspirations of careers in diverse fields. I live vicariously through their successes, and I know that I've done a good job when they come back to visit and share their progress."
Neil's teaching philosophy is based on two complimentary tenets that he learned as a student of the sciences 50 years ago. Neil works to provide relevance to the subject matter to real-life applications and strives to tie together the different disciplines of scientific study, demonstrating how they are all interrelated, i.e., biology, chemistry, physics, mathematics and engineering. He found in his own education that his teachers failed to provide relevance to the subject matter. "I was blissfully unaware of the practical applications of the knowledge. The problem with this lack of knowledge was that it did not make me evaluate potential career choices. Perhaps if I had been more aware, I would have pursued a career in medicine or particle physics."
His second tenet of teaching science is to daily demonstrate his passion and fascination for STEM. "This was something that my early teachers and mentors all shared - a passion for their subject. I see one of my fundamental roles as a teacher is to inspire students to take up careers in the sciences. At a more fundamental level, I want them to become critical thinkers, founded in the scientific method and to become questioning skeptics."
A willingness to keep up-to-date in the field is part of the criteria for the Schulz award. He recently completed his masters in science and mathematics teaching nd has completed summer programs in research labs to augment his own knowledge base and providing more opportunities to mentor students in biomed related projects and contacts for placement of students in research settings.
According to Neil chemistry hasn't changed much since he was a student, with some exceptions like quantum mechanics. But teaching techniques, like the flipped classroom that he has successfully implemented at Plano West, have changed. His presentation at the awards is titled "He's Flipped": The Flipped Classroom in AP Chemistry." He sites the flipped classroom as a part of the legacy he will leave behind at Plano West when he retires. He says that "while subject matter knowledge and mastery is essential, it is the art of teaching that separates great teachers from good teachers."
David Carroll, Plano West science department chair said, "If you were to observe Neil's classroom, you would see instruction and classroom management on par with that of a master teacher. He is a natural-born teacher. His sense of humor keeps the students engaged and excited about learning, bringing relevance to the classroom by using a wealth of examples from his past experiences."
Thirteen years of teaching may seem like a bad omen to some, but Neil is ready to concentrate on his many other interests. "An aerospace hobby that turned into a business back in 2000 has turned into an overnight success … after 19 years. When I "retire" next year it will only be to take up aerospace again full time, as we branch out into Italy and Brazil building and flying orbital vehicles." And he in character with his inquisitive nature he will continue being a life-long learner.
Email congratulations to Neil: neil.milburn@pisd.edu