Return to Headlines
Thank You Back-to-School Fair Sponsors & Volunteers!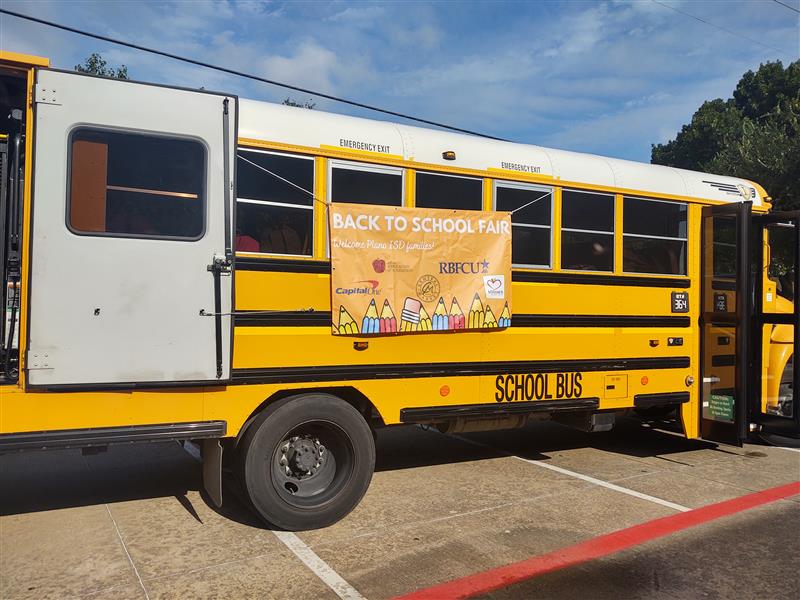 August 24, 2020
For the second consecutive year, Plano ISD held Back-to-School Fairs for families. This year, because of the greater need in our community due to the COVID-19 pandemic, the district added an extra fair for a total of three fairs in 2020. The fairs were located one per feeder pattern beginning with the east-side schools on July 28 at Williams High School, central schools on July 31 at Carpenter Middle School and west-side schools on August 4 at Renner Middle School.
The fairs were held rain or shine and until donated supplies were gone. Pouring rain and the August heat did not deter thousands of families, sometimes multi-families per vehicle, who waited in line in their cars to drive through the distribution stations to safely receive donated back-to-school resources and essentials necessary for a successful school year. Families received backpacks filled with schools supplies, transportation assistance program information and information regarding mental health assistance programs, as well as a collection of vouchers and coupons. New this year, was the inclusion of a box of shelf-safe foods from Minnie's Food Pantry. Nearly 1,000 boxes of food were provided at each fair. All food and supplies were distributed.
With an awareness of the expanded need in the community, organizers Sharon Bradley, director of Plano ISD's family and social services department, and Denise Hammersla, truancy prevention facilitator, coordinated the many moving pieces of each fair including the donations, volunteers and getting the word out to parents. Special thanks to James Thomas, student services coordinator, who was also on hand, and who actively helps connect families with resources throughout the school year.
The fair could not have taken place without the support of our Plano ISD community of generous businesses and organizations who provided supplies, funds and volunteers. Many thanks to the following sponsors for their help with getting this challenging school year off to a great start for our students.
Capital One: provided school supplies for backpacks
Central Market: contributed $2,000 in school supplies
Kappa League: donated back packs and volunteers
Minnie's Food Pantry: non-perishable foods and backpacks
Plano Council of PTAs: Provided masks and volunteers
Plano ISD Education Foundation: The Foundation contributed 1,400 backpacks stuffed with donated school supplies from the Foundation's CORE Store
Randolph-Brooks Federal Credit Union (RBFCU): contributed $5,000 as an event sponsor, and 1,500 bags used for distributing vouchers and coupons to families
Immunizations were made available at each fair through Passport Health/Staying Healthy Medical Services. Plano ISD Health Services Director Staci Antelo and teams of school nurses were on hand to help families determine what immunizations their children need to meet the immunization requirements for the new school year. Immunizations were free to qualified attendees with documentation.
A special shout out to the many Plano ISD employees from across the district, who volunteered at the fairs. Your contribution of time is appreciated by all, and to the Plano ISD Education Foundation for their ongoing mission to help all students achieve their full potential. Each of these three fairs were attended by so many families that traffic control was needed by the Plano Police Department, and the district is grateful for their contribution to the safety of the community.
According to Sharon Bradley, director of family and social services, "It was heartwarming to see so much community support for our students and the needs of so many families being met, but it was also a little heartbreaking to see so many families who needed extra help this school year. As the lines of cars wrapped around the blocks at the fair locations, we know that future fairs will need more operating space. We hope to make these back-to-school fairs an annual event using the lessons we have learned these past two years." Denise Hammersla, event coordinator, said that, "Getting Plano ISD children ready for a successful year takes everyone. It's very rewarding to see our sponsors, families and district staff working together to make success in school important."