Return to Headlines
Plano East Team Wins HackRice 2nd Place in International Competition
September 28, 2020
Four computer science students from Plano East Senior High School competed in Rice University's virtual HackRice X 2020 on September 18-20. Over the 36-hour virtual hackathon, nearly 350 participants and 83 teams from all over the world submitted projects. This is the 10th year for the competition and this year's theme was health and sustainability - social, environmental, public, community and personal.
This data science challenge, sponsored by the D2K Lab at Rice University, provided participants with the opportunity to work on real-world data science challenges, brainstorm innovative solutions and transform data into knowledge and actionable insights. HackRice X 2020 hackers were encouraged to use technology to make the world a better place.
Working as a team, Plano East students Kanishk Garg, Ishaan Javali, Shrey Joshi and Madhu Sharma presented their project titled "RetnoScan: AI-Based Retinopathy Diagnosis" a mobile app that uses deep learning to diagnose eye images for indicators of diabetes retinopathy and then packages the data in an Android app which can be used by anyone anywhere. After taking a picture of the eye, the model predicts if the eye is retinopathic or healthy. Results can then be shared with the individual's doctor. The team earned the overall competition's second place award and won first place for the D2K challenge.
"HackRice X was a really great experience that encouraged us to innovate a solution to a worldwide problem in just 36 hours. We definitely pushed ourselves to create RetnoScan and learned a lot about machine learning and app development in the process," said team member Ishaan Javali.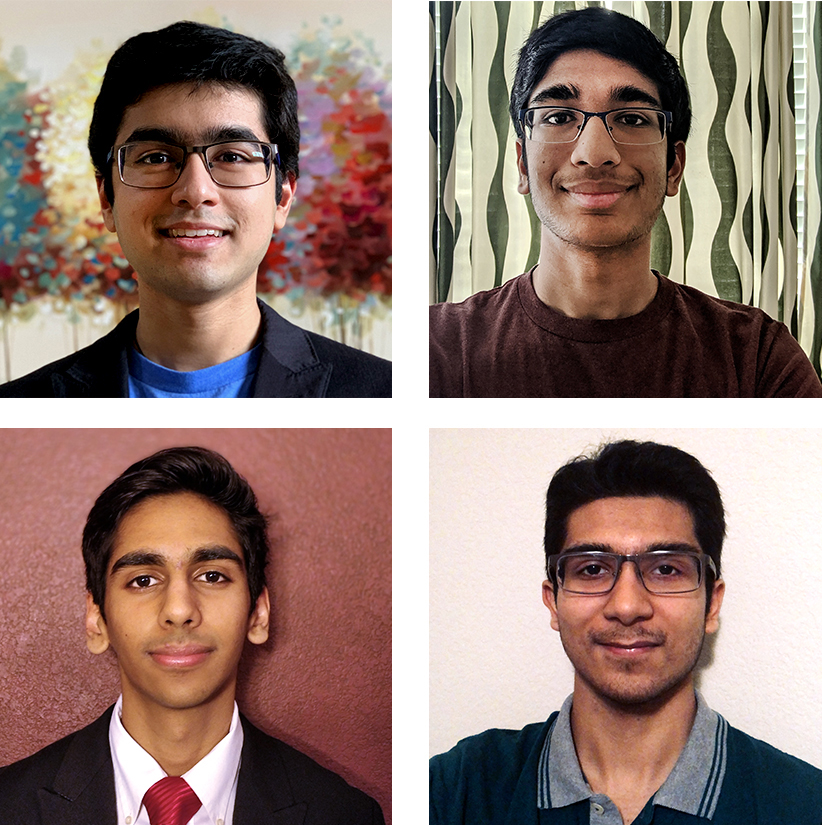 The HackRice X team: Ishaan Javali (Top left), Kanishk Garg (top right), Madhu Sharma (bottom left) and Shrey Joshi (bottom right).
Read more about the team's app:
Projects were judged on the following criteria:
Technical difficulty: technically advanced solutions to technically challenging problems
Creativity: Original ideas or new angles on existing ideas
Design and polish: aesthetically pleasing project with a smooth and clear user experience
Practicality and usefulness: socially good project that people would use
The Team's Inspiration
"According to the World Health Organization, there are approximately 2.2 billion people globally who have issues related to their eyes. Out of these 2.2 billion, it's estimated that 1 billion of these issues could be prevented or have gone undiagnosed. The leading causes of eye issues within the world are due to addressing these issues once it has become too late. Today, we will be investigating diabetic retinopathy, one of the possible eye complications. Diabetic Retinopathy is a complication of diabetes that is caused by damage to the blood vessels in the tissue at the back of the eye, which is the retina. Currently to combat eye diseases, treatment options are not affordable for everyone. There is an expensive diagnosis that is required in order to know if you have a complication. If the diagnosis is taken late, then the complication could have caused more damage to the eyes resulting in more expensive treatments."
More Information about HackRice X
HackRice is Rice University's annual hackathon. Teams of four develop a project and showcase their projects after 36-hours of hacking. Annually nearly 400 hackers participate. This competition is an opportunity for students to build a network of creators, to receive internships and/or job offers from world-class sponsors, as well as learn tools and systems.