Jacqueline Rosenquist, Elementary Teacher of the Year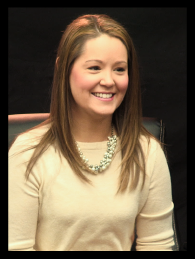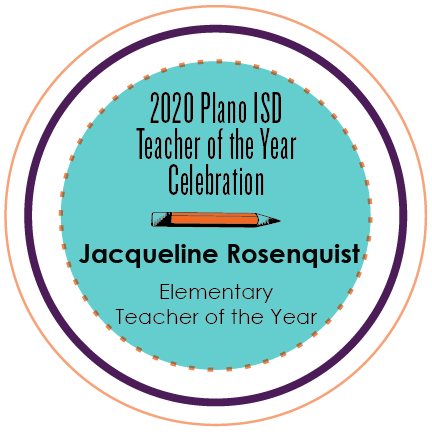 Hughston Elementary School - Fifth-Grade Teacher
Teaching Philosophy
I am Plano proud. I have been since I was seven-years-old, walking through the doors of Hughston Elementary School on my first day of second grade. It was a new school, a new district. But I immediately knew it was special, largely due to my new teacher, Mrs. Niece. She greeted me in a way that no teacher ever had. She hugged me, walked me around the room and made sure I felt like I belonged. I did belong in her classroom. Since that day, I have had the privilege of being cultivated by outstanding teachers. These men and women helped develop my belief that education serves to provide students with the tools, knowledge and character to be a contributing member in today's world. In my classroom, I strive toward these ideals by building strong relationships, promoting lifelong learning and influencing student growth.
When I walk through the doors of Hughston Elementary School today, I walk in with my stereotypical "teacher bag" and coffee cup. I walk to my classroom, a space where magic happens. It is a place where laughing is contagious; learning is multidimensional; and trust is built. Teaching is so much more than what we see in stock photos. In fact, it encompasses far more than any job description posted to a district's website that details the responsibilities and tasks that one will perform as a teacher. In actuality, the real duties of an educator fall into many wide-ranging job titles. In a single day, we are asked to fill a number of roles and oftentimes we subconsciously switch between them at a moment's notice. We are "counselors," moderating conflict resolution between two students who argue about whose turn it is to operate the microscope. We are "coaches," throwing a football with our kids at recess while showing them how to grip the ball for the perfect spiral. We are "parents," delivering a much needed hug when toxic stress spills into a kiddo's school day, and they can't hold back their tears. We are managers, nurses, planners, data analyzers, diplomats, performers and the list goes on and on. This job is so much more than a list of duties on a job description. It is a passion.
My passion is fueled by the relationships I create with my students and their families. It is these bonds that are the fundamental building blocks of teaching. It doesn't happen overnight; it truly is a forging. I am lucky to have exceptional educators who stand out from my own school years. I don't remember them because I got an "A" in their class or because I grew significantly in their core subjects. The common theme is that these teachers took the time to get to know me as me - Jacqueline Carley. From Mrs. Niece at Hughston Elementary School, to Mr. Arp at Plano Senior High School, I experienced educators who sincerely saw me and deeply respected me. It is this strength of my former educators that I try to emulate every day as I build genuine relationships with my students (or as I refer to them, my kids). These connections spark during moments that may seem small. Relationships are forged when I make time for the learning to stop so we can honor a spontaneous class giggle-fest. This demonstrates to my students that not only can learning be fun, but that fun learning should be a requirement. Relationships are forged when I pull a kiddo aside to ask how things are going on their new soccer team. This shows my students that they are so much more than a data point. Relationships are forged when I promise a struggling student that we will work together to make this school year different. This proves to my students that I am right there with them; they will never be alone during their fifth-grade journey. Relationships are forged when I genuinely listen to a parent's concerns and tell them I will work alongside them to help their child be successful. Effective teaching must begin with these relationships. Without them we are no better than Charlie Brown's teacher at the front of the room. In the spirit of Maya Angelou's famous quote, students may not remember my lessons or learning targets, but they will surely remember how I made them feel.
I have the privilege of promoting lifelong learning every day. I have the wonderful responsibility of doing so as I excite students about science and U.S. history. It is a fun challenge to look at a standard and piece together an engaging lesson to help grow my students' love of learning. My students know that science class will involve explorations and interactives. They look forward to going to the science lab to explore hands-on concepts like weathering or relative density. It is not uncommon to hear hoots and hollers as we race toy cars down ramps of different heights or bounce laser beams off mirrors. In social studies, my students know history is a treasured story about our nation's past meant to influence its future. It is an opportune time to weave in high-level discussions that allow students to freely share their ideas. We value each other's opinions in the safe space of our classroom and productively debate as friends. My students look forward to learning how historical events tie into their modern lives. They understand they are all active members in our learning community. They know they are just as essential to the lesson as I am. This empowerment allows them to come in eager to learn each day and leave longing for more. I take delight in the email from a parent who tells me their child proudly pointed out the primary and secondary consumers in the ecosystem during their family vacation to the beach. I beam with pride when a mom stops to tell me that their family received a lesson at dinner the night before on the events leading up to the Great Depression. When a student independently connects what is being taught to something outside of my classroom, I know real learning has occurred.
Oftentimes the most growth that I witness in a student has nothing to do with academics. Some of my proudest moments involve meaningful connections beyond a standardized skill. I smile as I watch my students actively work on a project, engaged in effective time management. I hold back tears when kindness and empathy are genuinely practiced. I proudly observe as students put their newly learned conflict resolution skills to work as they solve a dispute on the soccer field. It is in these moments that students feel empowered and capable. They believe in their own abilities as a result of lessons that were deliberately taught in the safe environment of my classroom. Most of the time, the lessons originate authentically due to situations that cannot be planned. In these instances, I make a deliberate decision to have this be a teachable moment. Over the course of the school year, I begin to see these life lessons start to shape my students' behavior. It is my belief that assessing growth is not limited to a test, but rather encompasses how a child interacts with the entire world around them.
It is my philosophy that the purpose of education is to produce individuals who will be successful beyond the walls of my classroom. It is how I strive to achieve this goal that is as unique as my own fingerprint. Perhaps that's why they say teachers have the ability to touch their students' lives. I have the privilege to help shape children into the best version of themselves for the time they are with me. I challenge my students to believe in themselves, while being kind-hearted to others. I ask them to give me their best, and I provide strategies to help them do just that. I laugh with them to create an environment that is equally as entertaining as it is safe. I prepare my students for life beyond my classroom, so that my tears are bittersweet when they leave me. As an educator, I fill a multitude of roles with a copious amount of responsibilities. I thank my teachers who helped shape my teaching philosophy by showing me firsthand that teaching is not a job. It is a calling, a calling that I proudly accept.
Principal's Recommendation
Dear Members of the Nominating Committee,
On January 20, 2012, I wrote a letter of recommendation for Hughston Elementary School's Beginning Teacher of the Year, Ms. Jacqueline Carley Rosenquist. In the letter, I shared how Ms. Rosenquist had come full circle as a former student at Hughston and now teacher at Hughston. Imagine my pride today, eight years later, to be recommending Ms. Rosenquist for Plano ISD Teacher of the Year. One teacher at Hughston shared, "Jacqueline is a passionate teacher who always tries to think big picture about what is best for the kids. She works tirelessly to ensure that they are learning the curriculum, but also learning life skills." Another colleague wrote, "Ms. Rosenquist has outstanding ideas and a vision for our campus. She has volunteered on different committees to share her vision, even if that meant spending her personal time to better our campus. She strives daily to bring positive energy into the building, whether that be a "pep in her step" or fun messages on the staff lounge board. Her positive energy represents Hughston well." One can glean from the following remarks that Ms. Rosenquist is a teacher who cares about her students and her school family. She works continuously to improve her craft and expertise as an educator. Her colleagues recognize these admirable character traits. As principal, I recognize her impeccable talent to engage her students in meaningful learning and to provide each child in her class, opportunities to build on his or her strengths.
I believe Ms. Jacqueline Rosenquist is highly deserving of the title Plano ISD Teacher of the Year and, therefore, I make the recommendation without reservation.
Sincerely,
Mrs. D'Argo
Principal