Jonathan Cao, Secondary Teacher of the Year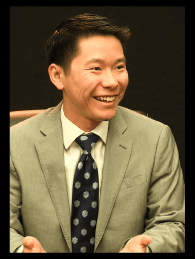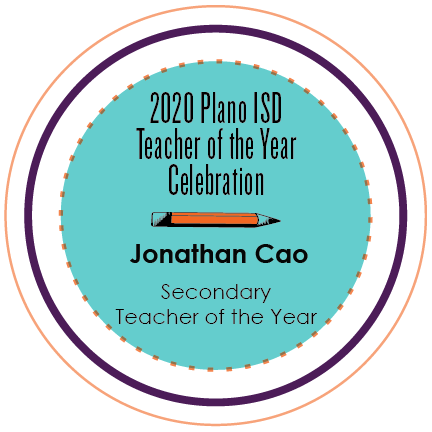 Vines High School - Fine Arts Teacher
Teaching Philosophy
"This is the land I have been looking for all my life, though I never knew it till now... Come further up, come further in!" – C. S. Lewis, The Last Battle
Many of us can point to a specific people in our lives who have challenged us to achieve greater joy and success than we could have imagined for ourselves – they may even be the reason we became educators. Each day, I have the opportunity to invite my students to discover the joy of learning by welcoming them as they are and leading them on a journey toward greater knowledge and skill than they can picture for themselves, so that they may in turn contribute positively to their communities as young adults.
As a Band director, my role in students' lives is unique in that I have the privilege of teaching my students for seven years. I typically meet my students for the first time in fifth grade during their instrument selection appointment. For most students, this is like the sorting process in Harry Potter – exciting with a touch of nervousness. To the students and parents, this initial meeting is primarily about choosing an instrument and finding out what instrument supplies they need to secure before the start of sixth grade. This process is one of my favorite days of teaching each year because I get to set the tone and vision for a new student's adolescence. In choosing an instrument – to be in our Band – they are choosing opportunities to learn discipline, responsibility, cooperation, prioritization, maturity, compromise and dedication. My second-favorite day of teaching each year is the final spring concert of each student's final year in our program, when I get to watch the seniors perform their last notes, and I reflect on the remarkable growth that I have witnessed in each of these young adults – not just as musicians, but more importantly, as people. In their time with us they have learned not only how to play their instruments and march at halftime, but they have also learned how to manage peers positively, collaborate successfully and independently of adult supervision and most importantly, bring joy to one another in service and performance.
When I began my role as the Director of Bands at Vines, I prioritized the development of our cluster's culture. I wanted every student from sixth through tenth grade to know that they had a place at Viking Band – no matter their skill level. Many times, students who are in the non-varsity ensembles feel like they are unimportant, when in fact they are incredibly vital to our success as a program. We do this by supplying our lowest-achieving students with the most resources, offering scholarships for private lessons and planning extra tutorials and instructional time with a lower student-teacher ratio. We show them that we care about their success as musicians, and we build relationships with them to show them that we care about their success as humans.
When we perform at Halftime, we wear the same uniform – there is no distinction between All-Region player and last chair. We are one of the few team activities where there is no second-string. This can seem daunting to many of our younger members, as they have taken three years just to learn the fundamentals of their instrument. For many of our non-varsity students, Viking Band is the only time in their careers that they will have contributed to an award-winning performance. Every rehearsal is an opportunity for me to set a vision of their success ahead of what they think they are able to achieve.
Each week, we have a character development lesson to help our students apply the abstract concepts of leadership to their lives outside of Band. These lessons include advanced concepts like leading by example, service, self-care, integrity, conflict resolution, accountability, honor and pride. In Band, every rehearsal is a micro-lesson in these concepts when we prioritize one instrument's melody above another's, or transfer it to a different section. Making music and putting on a show requires that very young students maturely lay aside their selfishness for the success of the entire group. I constantly remind them that these skills apply everywhere – regardless of profession or station in society. We should strive to be known as the best that our school and community has to offer.
My time at Vines has been a tremendous growing experience, as I've been given the charge to steward this storied program for this season. I am honored to represent our staff, students, alumni and community.
Principal's Recommendation
Teacher of the Year Committee:
Mr. Cao has been in the District for eight years, four of which have been at Vines High School. Mr. Cao is our music director and organizes many committees and clubs we have at Vines High School. Mr. Cao is currently a leadership instructor for Texas A&M Commerce and for Bands of America. He is also an All-Region Band Organizer for Region 24 TMEA. Mr. Cao's students consistently receive Division 1 and Sweepstakes ratings at UIL Marching and Concert Bands. The bond between Mr. Cao and our students is very strong. He is so approachable and his top concern is always what is best for the students and the community. Since Mr. Cao has been at Vines, we have seen a noticeable difference in the school spirit within the fine arts programs, as well as, the whole student body. He is able to get students, parents, teachers and staff to work together and focus on the goals at hand. The level of commitment that Mr. Cao shows to our community, school and students is second to none.
Mr. Cao is always committed to his students and how they learn. He takes on a new discipline every year just to remind himself what it's like to learn a new activity. This helps him with his students who are struggling because he can pull on his experience of being a beginner at something. Mr. Cao also performs with the Dallas Symphony Chorus and is always relating his experiences from that arena to his students. He encourages them to go to concerts and experience music at a professional level. Mr. Cao is always pushing his students to extend their boundaries and try new things.
Mr. Cao is the definition of professionalism. The way he communicates with students, parents, staff and administration is always friendly, organized and on point. He holds himself to the highest standard of our profession. His expectations for himself and his students shows through his work and his students' accolades.
Mr. Cao is most deserving to be named Teacher of the Year at Vines High School. He exemplifies all of the amazing attributes a successful teacher should possess and he is constantly advancing his own skills by being an avid learner. He is beloved by his students and colleagues and is a major asset to our community.
Sincerely,
Julie-Anne Dean
Principal