Kevin Moore, Secondary Teacher of the Year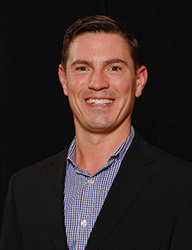 Shepton High School, Humanities Teacher
E-mail congrats to Kevin.Moore@pisd.edu
View Kevin's acceptance speech.
Teaching Philosophy
Growing up on the mean streets of Spring Creek Parkway, I was not your typical '8Os Plano kid. Whenever I rode my bike from the apartment I shared with my mom and sister to one of my friend's Deerfield mansions, I was aware of the differences between my family and other families.
Instead of beach vacations, I summered at Schimelpfenig Public Library and eagerly awaited September when school would start again. When I transported my tote tray from one partitioned Carlisle classroom to the next, I wasn't an "apartment kid;" when I was rehearsing for the Haggard Middle School play in the cafetorium or helping teachers with my fellow PALs, I didn't think about Eddie, the bully that chased me home from school almost every day of seventh grade. School was my safe place. After college, I was working as an actor and office assistant in Chicago when the Twin Towers fell on 9/11. After that tragic day, I found myself reevaluating my purpose ... and seeking out my safe place. Teaching has given me both.
Throughout my 14 years at Shepton High School, whether I am in a world geography classroom helping students simulate a Soviet factory to illustrate the workings of a communist economic system, coaching students on the finer points of cross-examination in debate, or I am giving vows to 50 freshman and sophomore "monks" in humanities as they recreate life in a secular version of a medieval monastery, my philosophy has remained the same: provide students with challenging and relevant experiences in a safe environment, and they will meet (or exceed) even the highest of expectations.
My students live in a fact-retrieval culture; the answer to virtually any question is a Google search away. If students, however, can take information and think critically about it in new ways, then I am teaching them skills that they will use for the rest of their lives. Instead of giving a test on Aristotle's unities and assigning an essay on the theme of blindness in Oedipus the King, I see much more value in asking students to write their own tragedy which adheres to Aristotelian rules and follows the structure Sophocles and Euripides used. The suspension of Kim Kardashian's lnstagram account and her subsequent decline in fame due to her vanity might not have the gravitas of Medea killing her own children to scorn her husband, but I promise that my students will never forget what a catharsis is.
I have always believed that risk-taking is essential. Whether declining automatic admission to the University of Texas to take a chance on a liberal arts school that was smaller than my graduating class at Plano Senior High or moving to Chicago sight-unseen to live the artist's life, I have learned that risks truly breed rewards. Mistakes are inevitable, but they are also an invaluable component of the learning process. Oftentimes, students are afraid to take risks or engage in thought processes that are outside the norm or beyond expectations. Given a set of multiple-choice options, today's students should be allowed the freedom to choose "none of the above." The reality in which my gifted and talented students live presents a challenge to this outlook. It is easy for me to encourage learning through failure, but try telling that to a ninth-grader who is obsessed with every decimal point of their GPA as they compete with their peers for class rank and early acceptance to the most elite universities in the country. This is why I work hard to earn the trust of my students — if they believe that I see their success and growth as my top priority, then they will be more likely to reach beyond their comfort zone. This fall, I offered optional writing conferences for students to discuss their first major essay. Around 8O% of my students came in before school, after school or during lunch to get one-on-one feedback; my goal was not only for students to see their next essay grade improve, but to have more joy when writing. The responses I got from students as they turned in their next essay were overwhelmingly positive. They saw what I know to be true — a commitment to improving one's self is rewarded in my classroom.
I try not to take myself too seriously in or out of the classroom, and I encourage the same of my students. Over the years, I have taken numerous pies to the face for good causes, spent time in our mascot costume, appeared in cameo roles in school plays, sung countless off-key songs, shared all kinds of embarrassing childhood anecdotes and cat photos, and poorly danced the Dab, the Wobble, the Oougie, the NaeNae, and the Cupid Shuffle. I think it's important for my students to know that I am human. Every single year, I commit to taking this journey with them. Together we will celebrate successes, grow from mistakes and learn about ourselves and others. I hope my students know, as I have learned from my humble beginnings as an "apartment kid," that it's not where you start that matters; it's where you go from there.
Principal's Recommendation
Dear Teacher of the Year Selection Committee,
Mr. Moore is the epitome of this award! Mr. Moore takes an enormous amount of pride in his work which shows every single day. Mr. Moore sponsors our National Honors Society, is a member of our campus leadership team, is a mentor to beginning teachers, leads campus professional development, and volunteers for every available opportunity to serve Shepton! Here are a few examples of Mr. Moore's wonderful spirit.
With a new professional development requirement placed upon our staff this year, Mr. Moore wanted to assist. He has taken the initiative to organize and provide a book study for any staff interested. From sending surveys to select the book, to coordinating times to meet, to communicating the details, to leading the study, all exemplify Mr. Moore's selfless approach to serving Shepton.
As a campus administrative team, we surprised our staff by delivering snacks to each teacher on a random afternoon. Most, if not all, teachers ran to the hall in appreciation of our treats despite the timing of our interruption in their lesson. Well, not Mr. Moore, as he was more concerned with finishing his lesson than with our goodies. I had to personally drag Mr. Moore out of his classroom for his small surprise. Yet another example of his service and commitment to his students above all else, even caffeine and sugar!
Ultimately, Mr. Moore is a lifelong learner. As he receives professional development, reads a periodical, or attends a conference, Mr. Moore is always eager to share his learning with our students and staff. He frequently leads, sends out, and shares his knowledge with our campus. As an example, Mr. Moore has pioneered the use of Google classroom on campus by using it not only for a classroom platform, but to incorporate a digital live tutorial for students in the evenings.
Mr. Moore is an invaluable asset to our students, parents, staff, community, campus, and district! He currently teaches our gifted and talented students, however Mr. Moore has taught every level at Shepton. Regardless of what or who he is teaching, Mr. Moore has a heart for kids and believes that all students can succeed. It is without reservation and without a doubt that Mr. Moore is Plano ISD's Teacher of The Year!
Jeffery Banner
Principal
Shepton High School