Comegys sinks eagle on 18th to win 6A title; Plano West, Marcus finish top 10
By Matt Welch | Star Local Media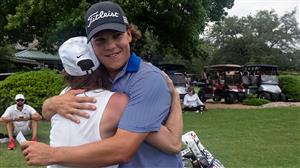 Plano West senior Matt Comegys saved his best for last.
It came with half of his golf ball covered in mud, flanked by tall glass and just right of the green on the 18th hole Tuesday afternoon at Georgetown's Legacy Hills Golf Club at the Class 6A state tournament.
Wolves head coach Joe Cravens made sure to remind Comegys of what was at stake for potentially the final hole of his decorated high school career: A birdie would force a playoff and an eagle would outright win the 6A state title.