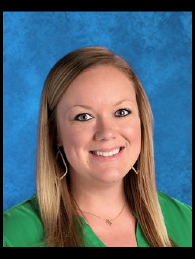 Jackson Elementary School, Fourth-Grade Teacher
Teaching Philosophy
As an educator, my philosophy of teaching is to promote fun learning, build relationships to be remembered, and to always find joy in the rewards teaching provides for us.
What makes me an outstanding teacher? An outstanding teacher is someone who not only helps their students grow, but also helps their colleagues grow. I can honestly say that I do this each day. When it comes to helping students grow, I strive to make learning fun. My goal is to make the learning experience engaging so that students do not even realize they are learning in the moment! I fully understand that every student learns differently, and I intend to teach them in the best way for them. Each lesson in my classroom has the different learning styles built in, whether it be visual, kinesthetic, etc. I do this to help capture the attention to grow my students' knowledge of the content being taught in the lesson. Not only do I enjoy watching my students learn and grow, but helping teachers is a passion of mine. I have spent many afternoons helping teachers learn better ways to enhance their students' learning through new technology skills, and how to incorporate AVID strategies into any lesson plan. When offered leadership positions to help teachers, I always jump at the opportunities! I feel that within these opportunities is where I can challenge myself to get out of my comfort zone. During the day you can find me engaging my students in learning, and by the afternoon you will find me helping teachers at Jackson and sometimes on a virtual training helping other teachers in Plano!
There are many rewards in teaching. Some rewards that stand out to me are growing as an educator, helping my peers grow their teaching practices, and the infamous light bulb moments. I attend, and teach, many after school professional development trainings to help myself, and others, grow as a teacher in a forever evolving world. These trainings benefits myself, my students, and my peers. I am able to apply these professional practices to better my teaching. During a community circle meeting last year, my class asked me what is my favorite part of teaching. My answer was simple. My favorite reward from teaching in the infamous lightbulb moments. They looked at me blankly until I explained... The lightbulb moments are the moments where my students' eyes light up because they were so engaged in their learning that they learned something new! From that point forward, they loved when I would point out when they had lightbulb moments in class.
If one were to ask how my beliefs about teaching are demonstrated in my personal teaching style, they would learn I believe teaching is all about relationships. Each year I focus on learning about my students. While working in a Title I school my whole career, I am able to relate my students on a personal level. I grew up in a low income household, and I attended school in a higher income district. Knowing this common background knowledge about my students and myself, I strive to make all of my lessons as engaging as possible for all learners. I especially strive for this in order to catch the attention of most of my learners with difficult home lives on their minds. I also understand that students are more likely to learn the new essential skills if I am able to relate it to something they are interested in. I love it when I have those real-world conversations about something my students can relate to on a personal level.
My philosophy of teaching has changed over the years, but some stays true year after year. I believe that teaching is not always going to be a "cookie cutter" experience. There are trials and tribulations day by day, especially when working in a Title I setting. I believe that as long as my students can leave each day having engaged in learning new content, it has been a successful day! I just hope to be an educator that will be remembered as the teacher who made a difference in the lives of my students, like many of my teachers and mentors throughout the years.
Principal's Recommendation
Amanda Blumenberg has been a teacher for 9 years and has spent 7 of them serving the Jackson community. In that time, she has developed her leadership capacity, grown her pedagogical skills, and made a difference in the lives of the children she has served.
Ms. Blumenberg exemplifies the core values of Plano ISD on a daily basis through her outlook and actions and makes Jackson Elementary proud to be represented by her.
Committed to Excellence
Ms. Blumenberg goes above and beyond for her online students. She records all lessons, checks for missing work, and sends out several reminders to parents regarding Jackson events. She realizes that all students can learn, just not in the same way. She is great at differentiation and her classroom (both physical and remote) are accessible by all learners of varying abilities. She welcomes all students and embraces their cultures. Staff members and parents respect and admire Amanda's work ethic and ability to connect with students and their families. She is professional and positive! Ms. Blumenberg has a great working relationship with her colleagues and strives to connect with parents as well as to ensure student success. Amanda has taken a first year teacher and her co-virtual teacher on her team under her wing and has helped guide and mentor her throughout this challenging year. She also steps up for any leadership role that is offered to help improve her skills, mentor others and increase her knowledge. She even has a student teacher this year! It is a great responsibility and privilege to shape and train our future teachers!
Dedicated to Caring
Amanda has been so helpful and knowledgable to the staff and district this year with online learning. She is not only helping virtual teachers, but is helping face to face teachers with online learning when needed. She is ALWAYS willing to help out. When we went remote back in March, teachers in all grades were turning to her for help with Google and she was happy to help everyone. Parents have requested her because older siblings had her and the parents really appreciate her. Amanda takes an active role in learning about her students even though it is all virtual. Ms. Blumenberg offers her students to have lunch together virtually once a week. She provides students with visuals and supports to guide them in being independent! Amanda asks students about their likes and dislikes to get to know their backgrounds more and checks with them daily. She meets with her students virtually for small groups in reading and math on their levels so that each child gets what they need. Ms. Blumenberg also provides fun activities to keep engagement high for online learning.
Powered by Learning
Ms. Blumenberg is powered by increasing her learning as well as empowering other teachers by helping them learn more. She is always working hard to gain more knowledge and insight about Google Classroom and all other platforms we use for remote learning. She is Google certified level 1 & 2. She helps anyone who needs technology help. She is the co-leader of the technology committee, AVID coordinator, member of the blended learning committee for the district and taught district technology trainings over the summer. Ms. Blumenberg has been an incredible resource for all the teachers working online. She is always willing to help with any Google Classroom issue and she always has great online resources for the classes. During planning she is always ready with ideas to support her team. Ms. Blumenberg is the AVID coordinator at Jackson and takes time to make sure teachers understand AVID strategies to support learning for all kids. She is always willing to help with organization ideas for the kids and ideas for the teachers to better support their students. Ms. Blumenberg is also always looking for ways to make learning fun! Colleagues turn to her for help and advice when it comes to technology and enhancing learning. Even prior to Covid, she was dedicated to growing in her knowledge of Google Classroom.
Plano ISD Proud
Amanda has taken on leadership roles at Jackson and also leads training for the district. If there is a spirit night at Jackson or picnic, Amanda is always there to support her students. She always participates in spirit days and encourages her students to do the same. She is Jackson proud and Plano ISD proud! Ms. Blumenberg cultivates a warm and welcome culture for all.
Sincerely,
Crystal Roach
Principal
Jackson Elementary School