Shanae Austin, Excellence in Secondary Teaching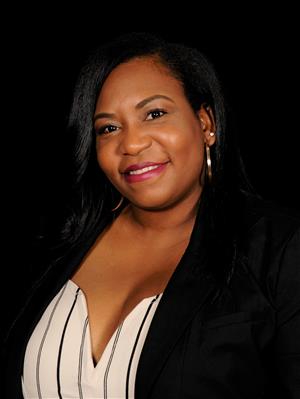 Renner Middle School - Science Teacher
E-mail congrats to shanae.austin@pisd.edu
Teaching Philosophy
My Educational Philosophy
Children spend more time in school than anywhere else. Therefore, it is essential that students receive the best educational experience possible. I believe one of the most important objectives of being a middle school science teacher is to first build a relationship with them. Then, help them learn the fundamentals of science. Science is a field in which students should discover facts, not just learn them by repetition without a real understanding; therefore, students will need some background information. If I am successful at teaching them how to discover information, they will have a more effective way of absorbing the background information and looking at new information when it is presented. Effective teachers achieve this by recognizing a student's prior knowledge and life experiences, engaging students in learning, and challenging students to do their best.
The first part of my philosophy involves recognizing student's prior knowledge and life experiences by building a meaningful relationship with them. Recognizing a student's prior knowledge and life experience contributes to new learning's in the classroom and helps us to build motivation and interest for a lesson. I feel it is important to understand the skill. Before understanding the skill, the students should feel safe and secure to speak with me about any successes, problems, or concerns they may have. My students know I have their back and will support them from the time they step into my classroom throughout the rest of their life. I have found that it is critical to know where (geographically, economically, socially, and educationally) my students are coming from. The demographics of the students are crucial to the success that I have found as a teacher. New knowledge cannot be built effectively on a weak foundation, thus it is important to determine where student's prior knowledge is, where it contains inaccuracies, naive assumptions, and/or misunderstandings of the contexts and conditions in which to apply particular skills.
My philosophy also includes engaging students in learning. A science classroom is one in which students are actively engaged in learning. When students are actively engaged, they are participating and working in a way that is active, full of energy and motion, and they are involved and interested in what is being learned.The classroom should be a place where students feel comfortable, safe, and eager to learn. All students should feel comfortable to speak their minds, ask questions, and engage in problem-solving. To achieve this type of atmosphere, it is essential for the teacher to have excellent classroom management techniques and engagement strategies. Furthermore, the teacher should (1) act as a guide, (2) allow the child's natural curiosity to direct his/her learning, and (3) promote respect for all things and all people.
The final part of my philosophy is that students should be constantly challenged to do their best work. I believe that students should be taught above their current level of ability. Through the use of scaffolding students should consistently be pushed to reach the next level in scientific critical-thinking and problem solving. Students must always be engaged, motivated, and diligent because a brief lack of effort could result in them falling behind or having difficulties with new content. Students should not be pushed beyond their capabilities, but should be encouraged to dig a little bit deeper to reach their full potential.
Our students deserve an outstanding education that will help them become productive in life. As an educator my goal is to motivate students in discovering their inner strengths, abilities, and what truly inspires them. I aim to provide a stimulating learning environment that encourages student to trust their own opinions, while encouraging confidence for students to realize their full potential. I want my students to understand that learning should take place not only in the classroom, but throughout their everyday lives. I strive to help them become life-long learners and to take hold of their own opportunities to gain knowledge. Students of today are the future of tomorrow, and it is the responsibility of teachers to prepare them for the changing world.
Principal's Recommendation
Dear Selection Committee,
Please accept this letter as a heartfelt recommendation on behalf of LaTunya "Shanae" Austin for Plano ISD's Teacher of the Year. Shanae has been a dynamic science teacher at Renner Middle School for six years, Science fair lead for two years and our current Science department head. Shanae's influence and inspiration expand far beyond the hours of the school day and the walls of our building as she tirelessly and boldly leads our science department, science fair, and several clubs.
During my time working with Shanae, I have experienced her exceptional service to our students, school, and community. Her performance extends well beyond the parameters of her classroom as she works with a variety of students with different needs and goals in the classroom and after school. Shanae has sponsored several clubs and volunteered for after school programs such as National Junior Honor Society, dance club, diamond leadership club and late bus tutorials. She possesses those special and unusual characteristics that lead to great success in working with all students. Shanae truly has a passion for science and for students, and she approaches every day as a beautiful new opportunity to help kids make discoveries.
Her community awareness and involvement are superb. Her outreach and impact on the community has been noticed as the PTA recognized Shanae as a Lifetime Member Award recipient last year. Her colleagues also recognize Shanae's humble, servant leadership and acknowledge that she puts others ahead of herself. Michelle Conway, Shanae's fellow grade level teacher, said that Shanae "works really hard to build personal relationships with her students, and that makes a huge difference in how her students perceive their education in her classroom. She always does what is best for the student, not just what is easiest or required of her." In addition to motivating her students, Shanae is a positive force within our building. Shanae is growth-minded with her willingness to become a better teacher through collaboration, trying new ideas and getting feedback from her colleagues. She is a teacher whom everyone knows; she is a go-to person for advice, a quick laugh, and a positive voice. She steps out of her classroom and works to form relationships with people all over the building.
At Renner, Shanae Austin is viewed by the entire campus as a professional asset to her school community, as a dedicated instructor and a compassionate leader. Shanae possesses the traits that are necessary for reaching and teaching children. She is a caring colleague in the hallways and a passionate co-learner in her classroom. I am confident that you will experience the same dedication, professionalism, and service excellence that she demonstrates in her work at Renner Middle School.
Sincerely,
Jill Engelking, Renner Middle School, Principal