Return to Headlines
Jun. 28, 2018 - Plano East Culinary Arts Student Named Gold Medalist in Restaurant Service at National Leadership and Skills Conference
Plano East Senior High School culinary arts student, Lana Vong, was crowned as the gold medalist in the restaurant service competition at the 54th annual National Leadership and Skills Conference (NLSC), where nearly 16,000 people — including students, teachers and business partners participated on June 25-29.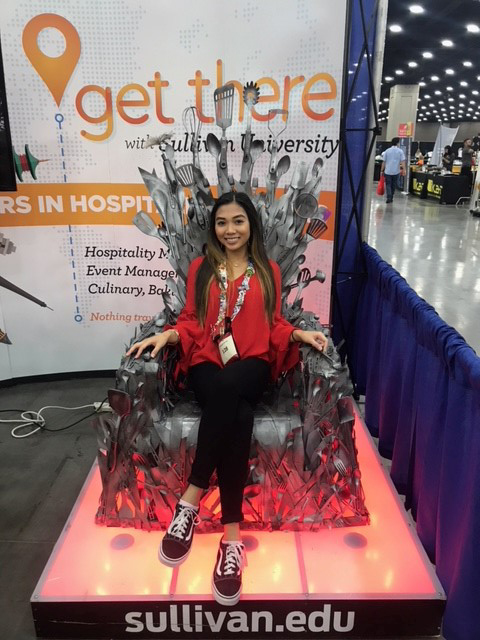 SkillsUSA Restaurant Service National Champion Lana Vong, Plano East Senior High School.
More than 6,000 outstanding career and technical education students – all state contest winners – competed in in 100 different trade, technical and leadership fields. Students work against the clock and each other, proving their expertise in occupations such as electronics, computer-aided drafting, precision machining, medical assisting and culinary arts. Contests are run with the help of industry, trade associations and labor organizations, and test competencies are set by industry. Also competing at the national competition were state gold medalist in Television (Video) Production Eugenio Gonzalez and Jack McDonald from Plano West Senior High.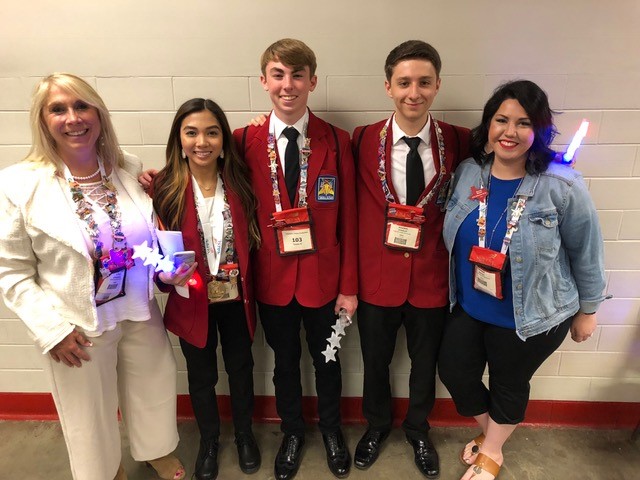 Plano East Senior High Culinary Arts teacher Lois Conwell; Lana Vong Restaurant Service National Champion; Jack McDonald and Eugenio Gonzalez from Plano West State Gold Medalist Television (Video Production); and Plano West CTE teacher Sarah Mateo.
About SkillsUSA
SkillsUSA is a vital solution to the growing U.S. skills gap. The nonprofit partnership of students, instructors and industry ensures America has the skilled workforce it needs to stay competitive. Endorsed by the U.S. Department of Education, the association serves more than 360,000 member students and instructors each year in middle schools, high schools and colleges. This diverse talent pipeline covers 130 trade, technical and skilled service occupations, the majority STEM-related. More than 600 corporations, trade associations, businesses and labor unions actively support SkillsUSA at the national level. SkillsUSA empowers its members to become world class workers, leaders and responsible American citizens as it improves the quality of our nation's future skilled workforce. SkillsUSA supports its student members through the development of SkillsUSA Framework skills that include personal, workplace and technical skills grounded in academics. Local, state and national championships, designed and judged by industry, set relevant standards for career and technical education and provide recognition opportunities for students. SkillsUSA also offers technical skill assessments and workplace credentials through the Career Essentials program, a cutting-edge solution that defines, implements and measures career readiness skills for students. For more information.