Return to Headlines
Oct. 12, 2018 - Fifth Graders Attend Camp through December 2018
Mendenhall, Hickey and Carlisle Elementary Schools kicked off the 2018 fifth grade outdoor school at Collin County Adventure Camp on September 24. Camp continues through December 14 when the final schools on the schedule finish the camping season. See photo gallery.
Gulledge Elementary girls out on the lake.
At camp - rain or shine - the students, staff and camp volunteers are outside learning hands-on science lessons, making new friends, taking notes, doing experiments and having fun. They may be boot deep in squishy mud exploring with a net in hand; paddling a canoe over a mirror-like lake or experiencing an evening campfire that crackles, sparks and makes the world's best S'mores. Camp is the sound of fishing lines plopping into the water and the slippery struggles of small fish trying not to be caught and kissed (ask a fifth grader). And everyone's favorite, the dining hall with the welcome aroma of a hot meal after tramping the trails in a misty October rain. There is nothing as delicious as camp food (ask a fifth grader).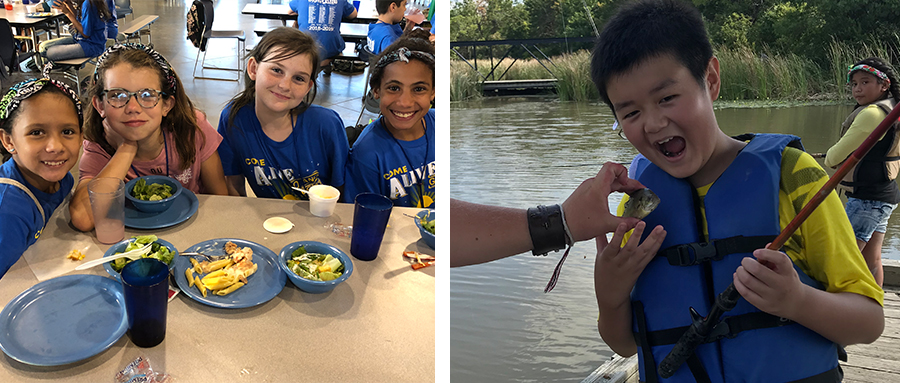 Shepard Elementary students in the dinning hall and a Hickey Elementary successful fisherman.
Outdoor School classes are an extension of the school curriculum providing lessons teachers can reinforce back in the classroom. Students take an active part in classes during their stay at camp. They explore the camp's forest ecosystem and the aquatic habitats at Lindberg Lake. They fish and canoe on the lake. They learn the fundamentals of archery. During the "Challenge Course" students work together to solve physical and mental challenges. And in "Race through Time" students enjoy competing in teams with their classmates to solve problems that people may have encountered back when you couldn't go to the grocery store for food or turn on a tap for water – students step back in time to when the land was wild and environmental knowledge was a matter of survival.
Aldridge students hiking the trails; Wells archer makes a bulls eye; and Dooley student explores the aquatic habitat.
And, not to be forgotten are the friendships made and confidence gained by new experiences outside the school building. Campers are busy creating many lasting memories along with the lasting knowledge (ask a fifth grader about their camp experience).
There is a tuition cost for camp. Some families need help; by donating to the Education Foundation, you can help send every Plano ISD fifth grader to camp.