Return to Headlines
Oct. 18, 2018 - Environmental Star of Excellence Awards
The Environmental Star of Excellence is awarded by the City of Plano in recognition of outstanding environmental leadership and achievements by the community. The award celebrates successful local projects and organizations who promote: waste minimization, recycling, composting, litter prevention, beautification, water conservation, energy conservation, air quality initiatives or other green practices.
Plano ISD Environmental Star of Excellence - School Award Winners
The environmental school awards are designed to recognize schools and school groups that make outstanding contributions toward involving Plano students in environmental activities and programs. The competition is open to all Plano ISD schools, regardless of location. In the school category of the competition, the following Environmental Stars of Excellence were awarded to Plano ISD programs and individuals:
Community Outreach Individual – Youth: Tanya Magesh, Robinson Middle School
As a 2017-18 eighth grader at Robinson Middle School, Tanya implemented structured cafeteria recycling in her school to minimize the amount of waste that goes to the landfill and to maximize the amount that is recycled. Due to Tanya's efforts, Robinson Middle school was the first school in Plano ISD to have an organized cafeteria recycling program. According to Robinson Middle School Principal Billie-Jean Lee, Tanya's recycling project continues to benefit the Plano environment even though Tanya is now a freshman at Jasper High School. What a legacy she has left behind.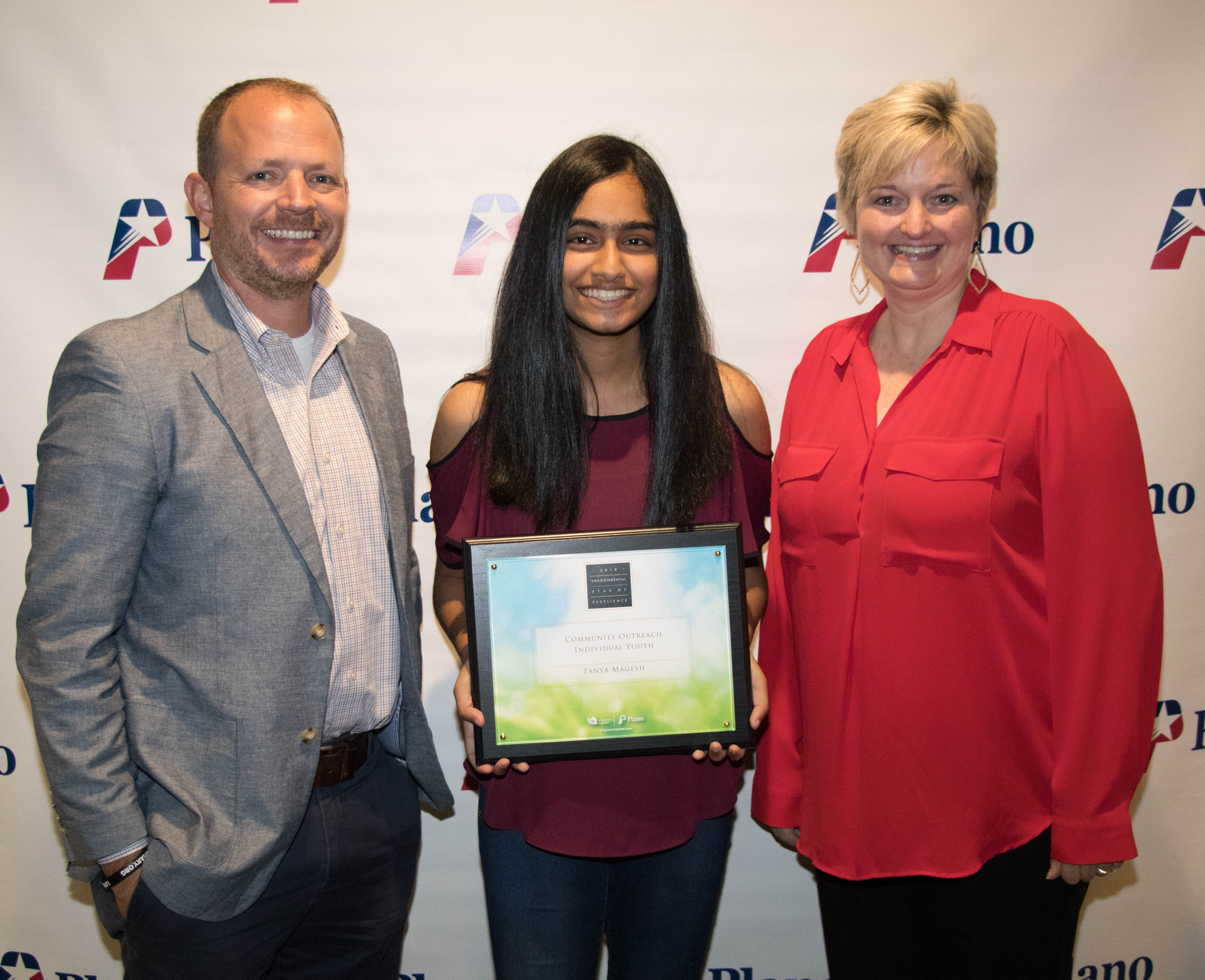 Jasper High School Assistant Principal Bryan McCord, award winner Tanya Magesh and Robinson Middle School Principal Billie-Jean Lee
Educational Institution: Bettye Haun Elementary PTA
Bettye Haun Elementary PTA organized a Fun Run to fund the purchase and planting of trees on their campus. The PTA saw the need and seized the opportunity to beautify their campus. As one of the few elementary schools without an adjacent City park, the PTA took on the challenge of bringing a park-like setting to Haun for future generations, showing students the benefits of enhancing and preserving their environment. Congratulations to the PTA on their Environmental Star of Excellence.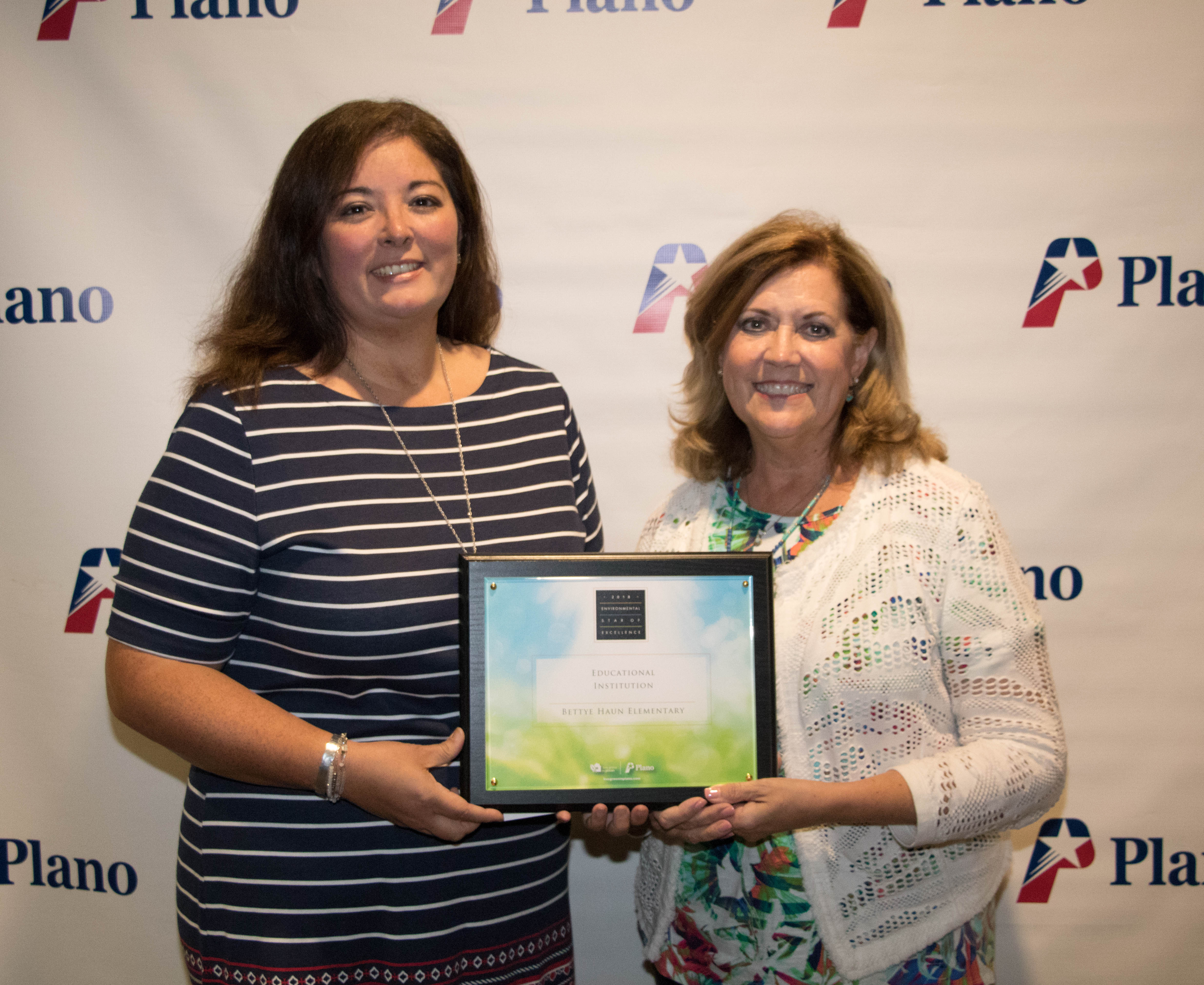 Haun PTA President Yuki Olinger and Haun Principal Jayne Smith with the Educational Institution Environmental Star of Excellence Award.

Haun students take part in the Fun Run fundraiser; Parker Olinger (middle) and Will Olinger (right) work to water the saplings planted on the school grounds.
Existing Environmental Outreach Group: Murphy Middle School
The Murphy Middle School Environmental Club promotes a multitude of sustainability topics to its students. This year the club assisted with an Eagle Scout project to build a butterfly garden for the school. Students played an active role in researching the plants that were best suited for butterflies in the garden and registered it as a Monarch Waystation.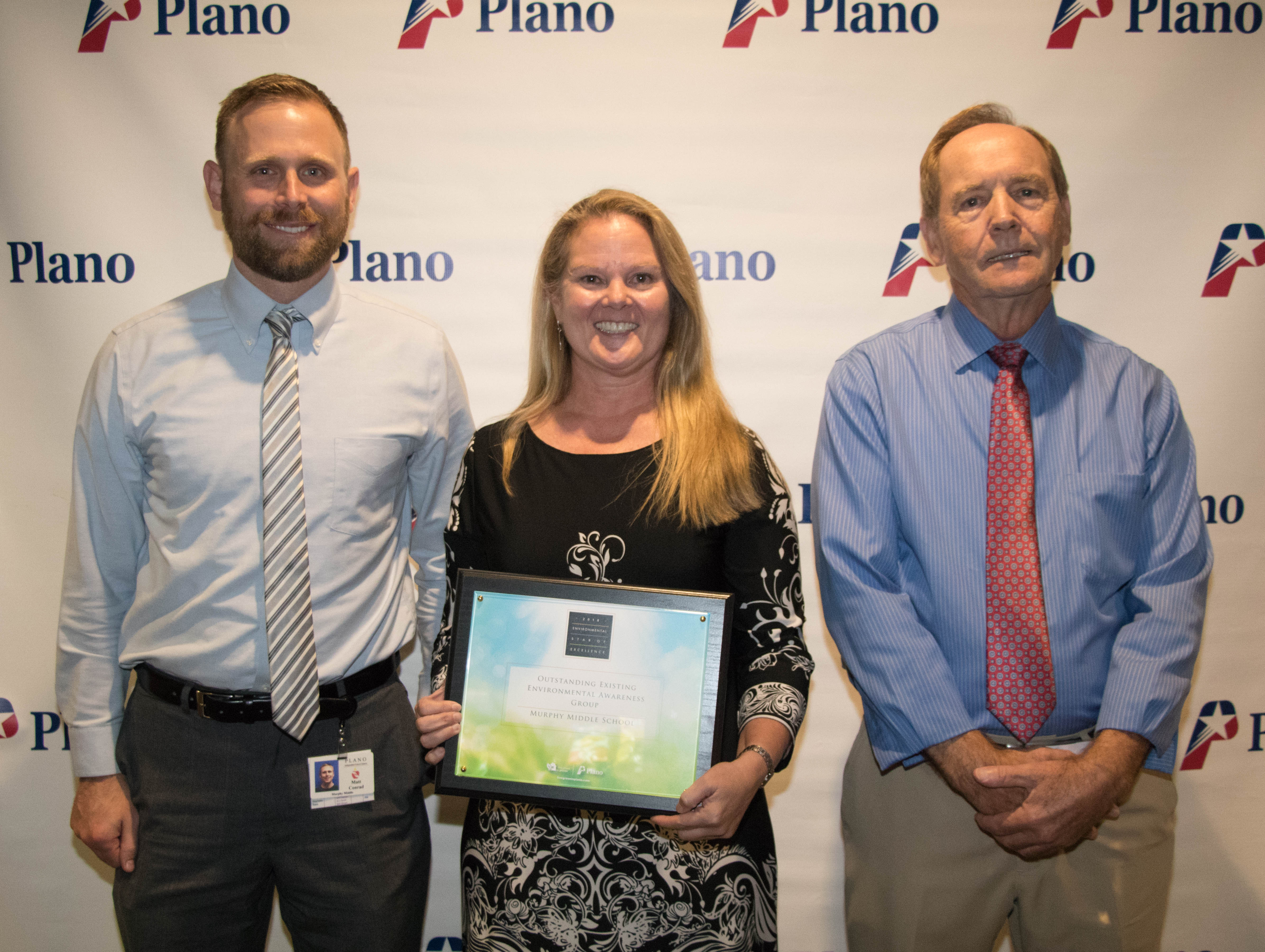 Murphy Middle School Principal Matthew Conrad, Murphy Science Teacher Tina Pilgrim and community volunteer Mike Hendrix accepted the award.

A visiting monarch butterfly; Environmental Club members working to create the garden.

Murphy Middle School Environmental Club members gather in the butterfly garden.
New Environmental Outreach Group: Rice Middle School Eco-Club
The goal of the Rice Middle School Eco-Club is to increase recycling and encouraging students, staff,and parents to care for the environment. In addition to their other recycling programs, this year the Eco-Club collected thousands of plastic bottle caps and created a 3 'x 12' mural with the recovered plastic caps to showcase the importance of recycling. They performed many environmental activities as well keeping students busy and involved.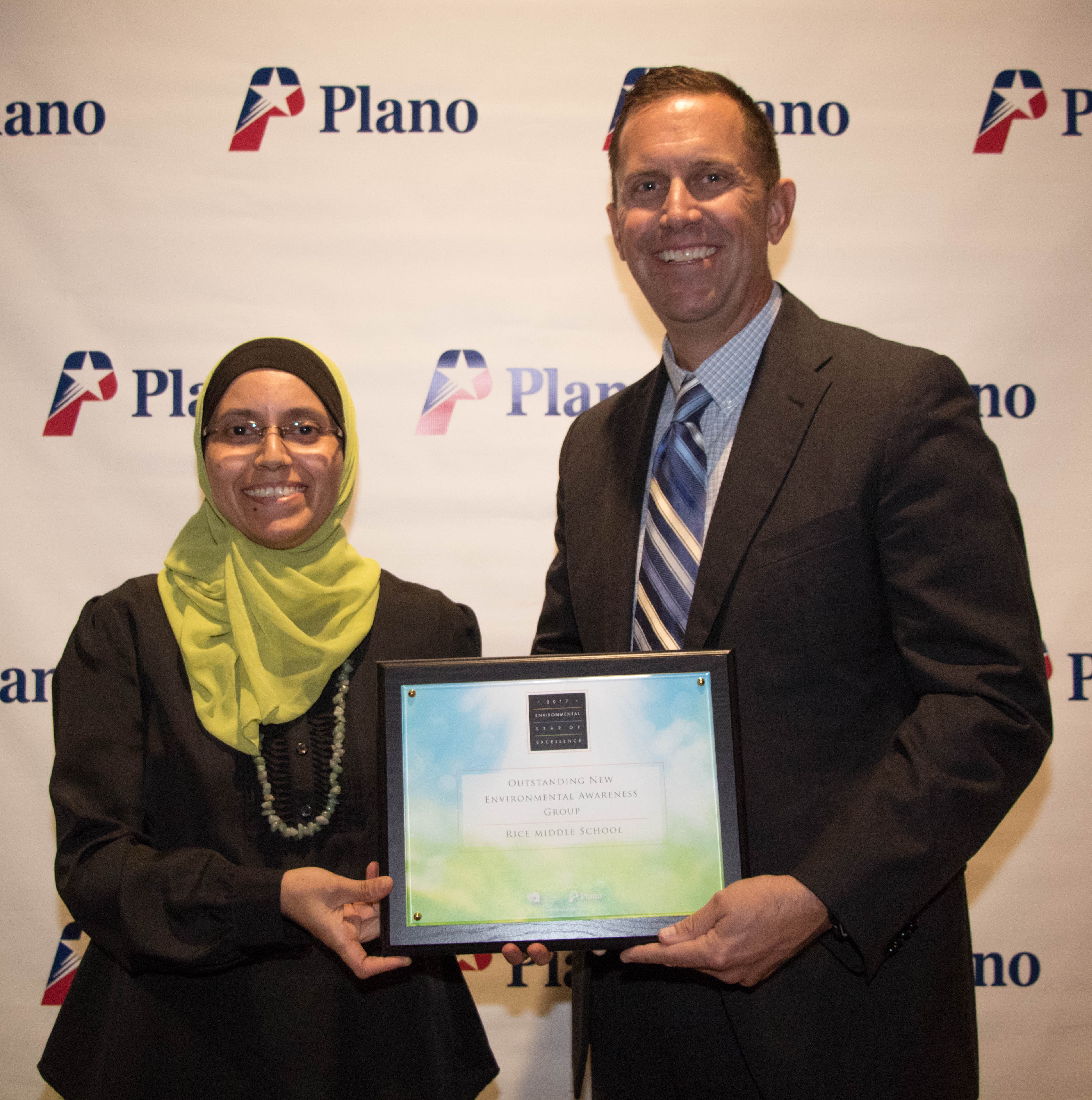 Rice Middle School Spanish Teacher and club sponsor Rocio Martinez-Mendoza (left) with Rice Principal Chris Glasscock.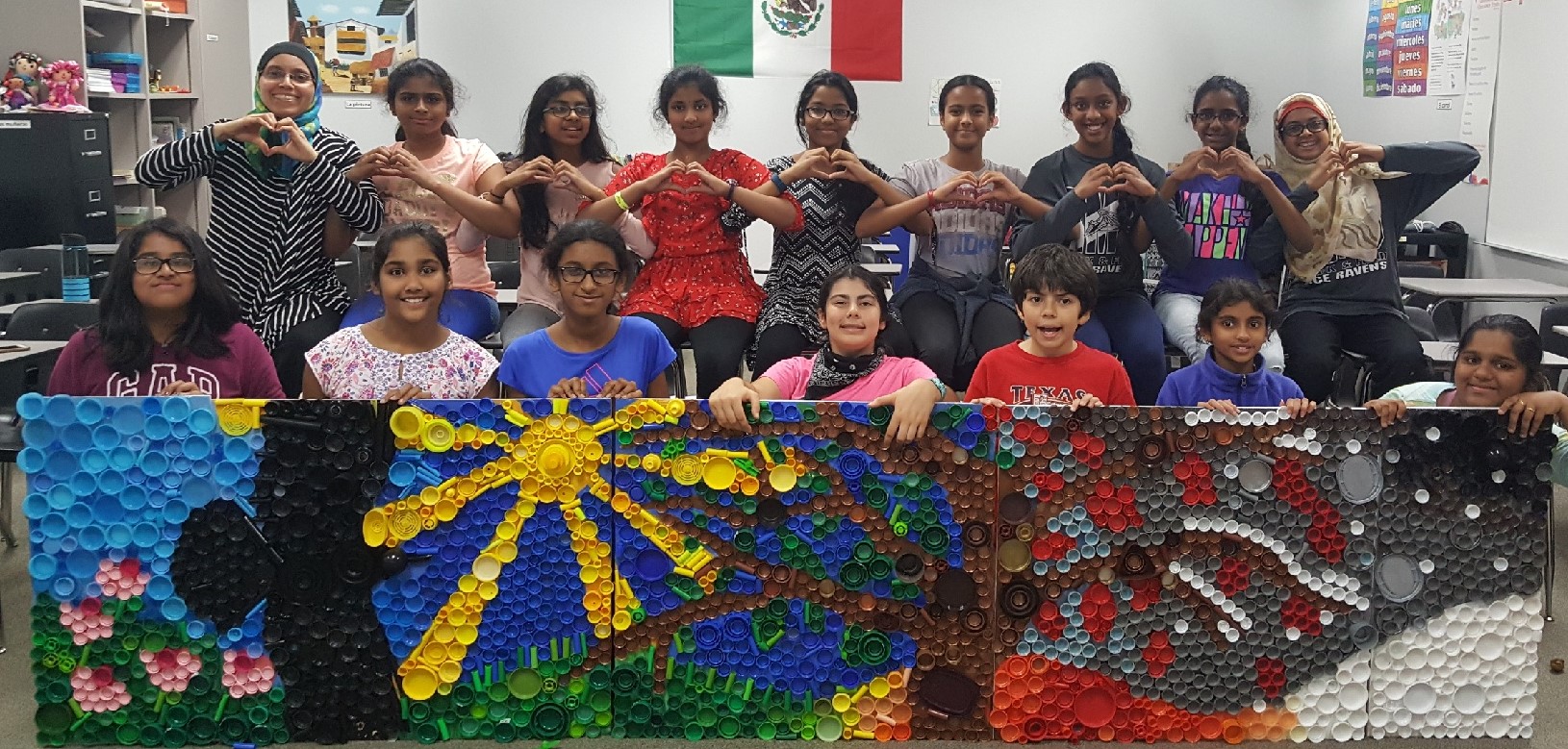 Eco-Club Members display their bottle top art.
Club members participated in many environmental projects such as clean up and recycling plastic bottles as pencil holders.