Return to Headlines
Nov. 15, 2018 - Fire Prevention Poster Contest 2018 City-Level Winners
Update, April 24, 3019
Fourteen Plano ISD students selected as District Winners. Read more in Headline News.
---
Each year, Plano ISD and Plano Fire and Rescue sponsor a Fire Prevention Poster Contest using the theme provided by the National Fire Protection Association's Fire Prevention Week. This year's theme is "Look. Listen. Learn. Be aware – fire can happen anywhere." Students across Plano created posters and competed at the school and city levels. City-level winners are chosen by Plano firefighters. See photo gallery of winning posters.
The awards ceremony was held in October. The city-level winning posters move on to district level competition in March 2019.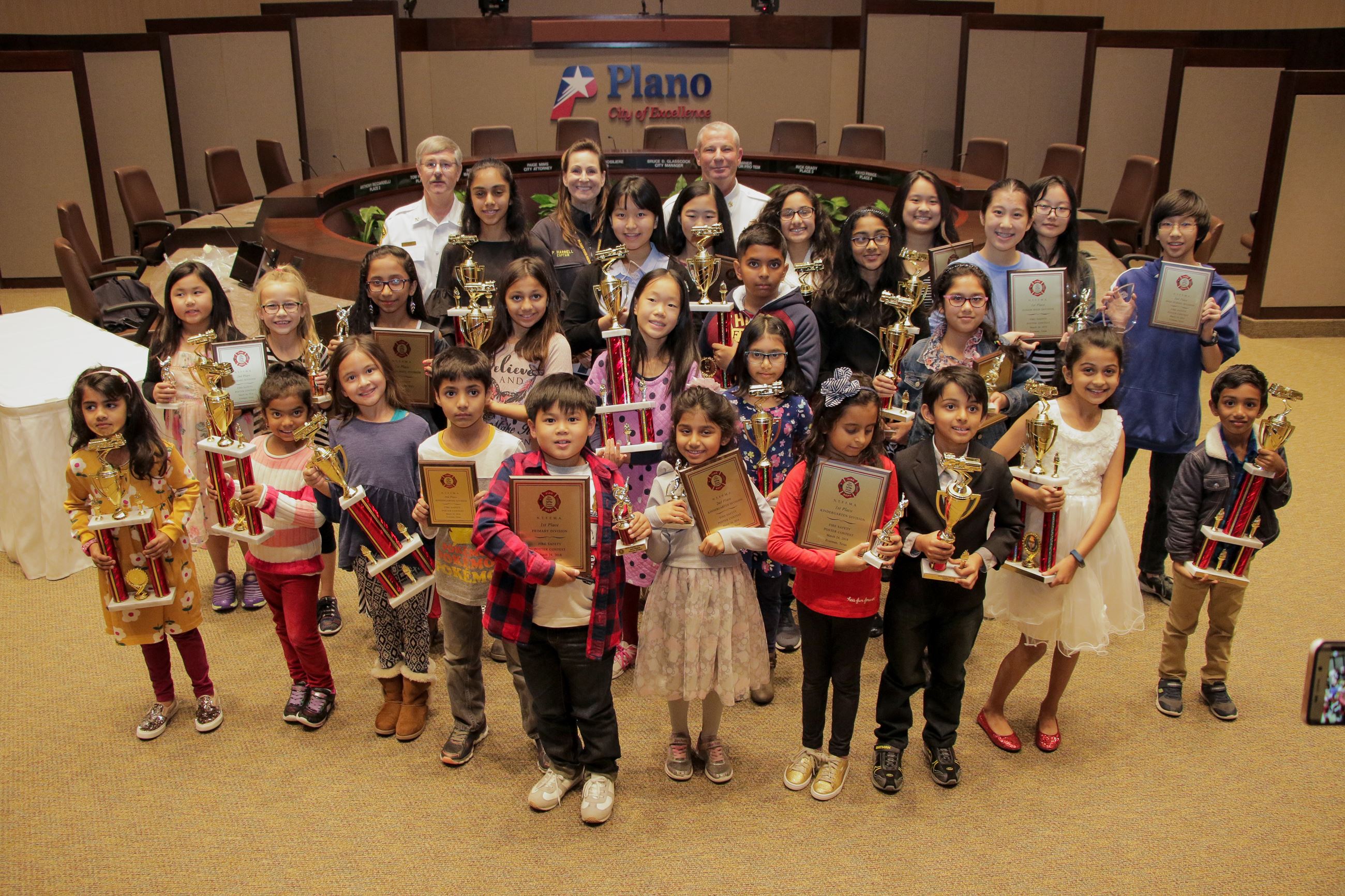 City-level winners at the awards ceremony with Deputy Chief, Fire Prevention David Kerr (back row left), Captain Peggy Harrell and Fire Chief Sam Greif. Photograph courtesy of the City of Plano.
Kinder Division (PreK and Kindergarten)
Pranav Balakrishnan, first place, Gulledge Elementary, kindergarten, teacher: Regina Smith
Livia Abraham, second place, Hunt Elementary, kindergarten, teacher: Carole Greer
Abdullah Mohammad, third place, Haun Elementary, kindergarten, teacher: Tracy Olson
Primary Division (Grades 1 and 2)
Olivia Weir, first place, Carlisle Elementary, 2nd grade, teacher: Kristie Schmidt
Joanna Koduvath, second place, Hightower Elementary, 1st grade, teacher: Kathryn Pickle,
Akriti Sutrave, third place, McCall Elementary, 2nd grade, teacher: Cynthia Hill
Intermediate
Division (Grades 3 and 4)
Annika Wong, first place, Schell Elementary, 3rd grade, teacher: Melissa Ankenbauer
Naisha Shrivastava, second place, Gulledge Elementary, 3rd grade, teacher: Maddy Bird
Angela Campbell, third place, Miller Elementary, 4th grade, teacher: Brenda Ruth
Middle
Division (Grades 5 and 6)
Isabella Wang, first place, Skaggs Elementary, 5th grade, teacher: Sara Wales
Tanish Chauhan, second place, Barksdale Elementary, 5th grade, teacher: Debbie Bird-Cornell
Aadhya Gaur, third place, Rose Haggar Elementary, 5th grade, teacher: Michelle Tatro
Junior High
Division (Grades 7 and 8)
Olivia Embess, first place, Rice Middle School, 7th grade, teacher: Sara Aminzadeh
Ishi Chakravarthy, second place, Schimelpfenig Middle School, 7th grade, teacher: Anne Quaintance-Howard
Christina Mathew, third place, Murphy Middle School, 7th grade, teacher: Nadia Anetopoulos
High School
Division (Grades 9 - 12)
Joshua Wang, first place, Jasper High School, 10th grade, teacher: Adriane Anderson
Yu Mei, second place, Plano West Senior High School, 12th grade
Minji Kwon, third place, Jasper High School, 9th grade, teacher: Sara Stevens