Return to Headlines
Nov. 8, 2018 - Grants to Educators, Powered by Capital One, Delivered $125,00 to Plano Teachers for Innovative Programs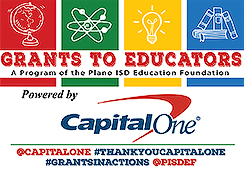 The 2018 Grant Patrol was powered by Capital One, the presenting sponsor of this year's Grants to Educators. On the morning of November 8, the Grant Patrol began their secret journey across Plano ISD (traveling in cars courtesy of Park Place Lexus sponsor and event host) to surprise grant-winning teachers in their classrooms. Celebrating with pompom, noisemakers, hugs and tears of happiness Plano ISD Education Foundation board members, program sponsors, district staff and parent leaders personally delivered $125,000 in monetary awards, a record breaking year for grant giving.
This year, Grants to Educators funded 122 innovative instructional programs. See summaries of the funded grants. Earlier in the school year, teachers had the opportunity to complete applications for these grants for programs to benefit their classrooms, schools or joint programs at multiple schools.
"The Education Foundation is honored to assist our teachers by providing resources for innovative programs that enhance student learning in their classrooms. The Grants to Educators program is one of the best ways that private donors can assist outstanding classroom programs by supporting educators across Plano ISD." said Plano ISD Education Foundation Board President Jennifer Jamieson.
Funding for the Grants to Educators program comes from the following generous sponsors: Presenting Sponsor Capital One, SKI Plano, Park Place Lexus, the Plano ISD Council of PTAs, CoServ Charitable Foundation and GCA Services Group. Grants are also funded through the Plano ISD Education Foundation's Parent and Community Honor Roll Annual Fund Drive and Annual Giving Campaign and the Plano ISD employee campaign. SKI Plano, the foundation's largest fundraising event, is held annually and open to the public. This coming year's SKI Plano event will be held on February 9, 2019, at the Plano Marriott at Legacy Town Center.
The Plano ISD Education Foundation Grants to Educators program exists to help Plano ISD educators enhance instruction in schools and classrooms across the district. Find out more about the Plano ISD Education Foundation and all of their funded programs or call (469)752-8272.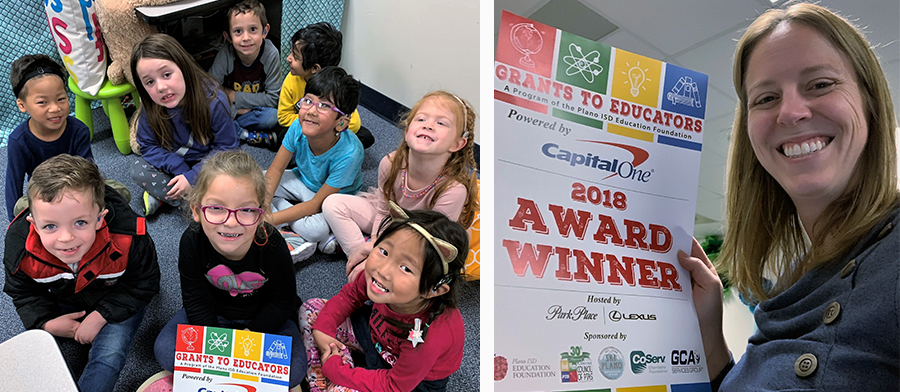 A Grant was awarded to Kimberly Birch at Davis Elementary School (pictured with her kindergarten students): Students who rely on assistive listening devices such as cochlear implants require daily equipment checks, battery charging or replacement, and frequent part replacements. Because of the cost and model-specifications of these replacement parts, school budgets are not typically able to provide replacement parts or batteries during school hours. Therefore, when a student's cochlear implant battery depletes during school hours, the student does not have access to sound until they arrive home to charge their battery. The loss of access to sound greatly affects the student's ability to access instruction and communicate with peers and adults. I propose the purchase of one battery unit per model of cochlear implant (Cochlear, Advanced Bionics, and MedEl) be housed at the school campus in the event a student's device battery depletes during the school day. By purchasing a battery unit for each of the three cochlear implant brands, teachers will be able to restore sound access to a student for the duration of the school day. A central location, check out system, and advocacy program will be in place to ensure the accessibility and success of this lending program. Thank you Grants to Educators, sponsors and volunteers for making this proposal a reality for students at Davis!
The Plano ISD Education Foundation Grants to Educators program exists to help Plano ISD educators enhance instruction in schools and classrooms across the district.

The Plano ISD Education Foundation is a 501(c)(3) nonprofit organization with a mission to help all students in the Plano Independent School District achieve their full potential by providing financial support to educators and academic programs.
Since 1993, the Foundation has generated private support for priority projects for which tax dollars are not available. Almost $18 million has been gifted to Plano ISD for programs and services of importance to the school district.
The Foundation's commitment to support quality education for Plano ISD students remains strong. We continue to identify and fund needed programs and work to increase community and corporate involvement in support of our schools.
The Board of Directors consists of business and community leaders who recognize the importance of excellent public schools to the Plano community. Support generated by the Plano ISD Education Foundation ensures Plano ISD remains one of the best public school districts in the nation.