Return to Headlines
Jan. 24, 2019 - MLK Tribute Celebration: "I Am Plano ISD"
Plano ISD honored the life and teachings of Dr. Martin Luther King, Jr., and celebrated who we are as individuals. Each unique person in this community is a part of the rich tapestry of culture that makes Plano ISD the diverse district we enjoy today. With this Tribute to Dr. Martin Luther King, Jr., we celebrate our students, staff and community and what makes them proud to say, "I Am Plano ISD." View "I Am Plano ISD" video montage and event photo gallery.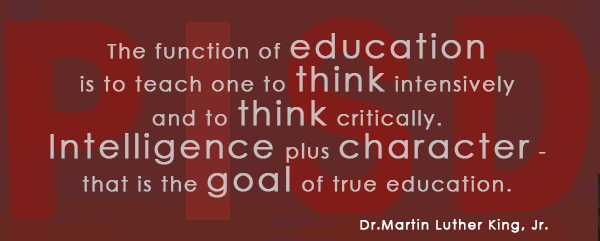 Posting of the Colors
The Williams High School Panther Battalion Color Guard under the direction of Command Sergeant Major – CSM (retired) Michael Franklin posted the colors at the event.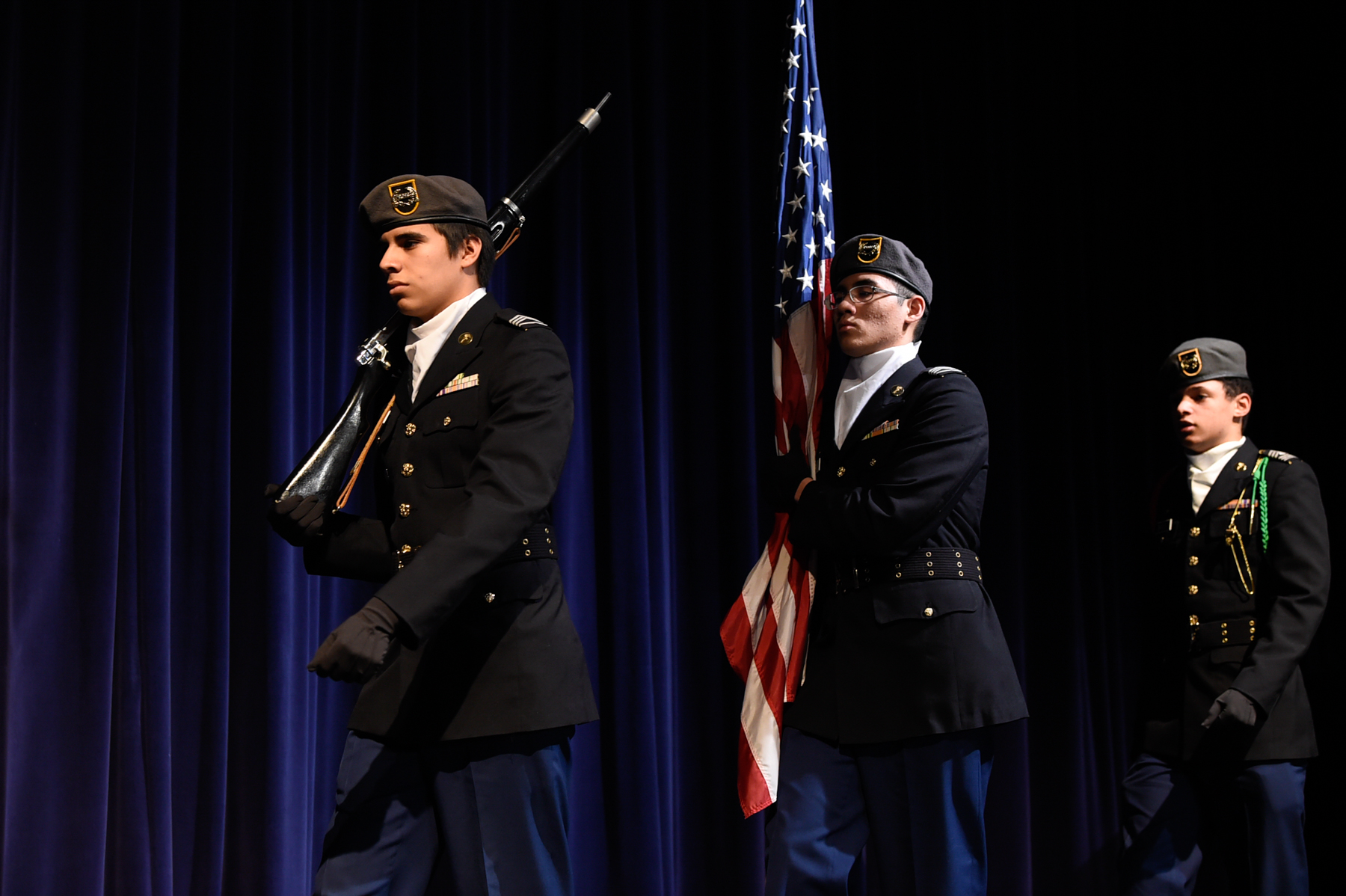 Williams High School Panther Battalion Color Guard
Color Commander: Cadet First Sergeant Jeremiah Bates
American Guard: Cadet Staff Sergeant Eric Aguilar
American Flag Bearer: Cadet Staff Sergeant Alexander Rivera
Texas Flag Bearer: Cadet Staff Sergeant Jamie Bartolo
Texas Guard: Cadet Private First Class Jessie Buzo
Award Presentations
Diversity Leadership Awards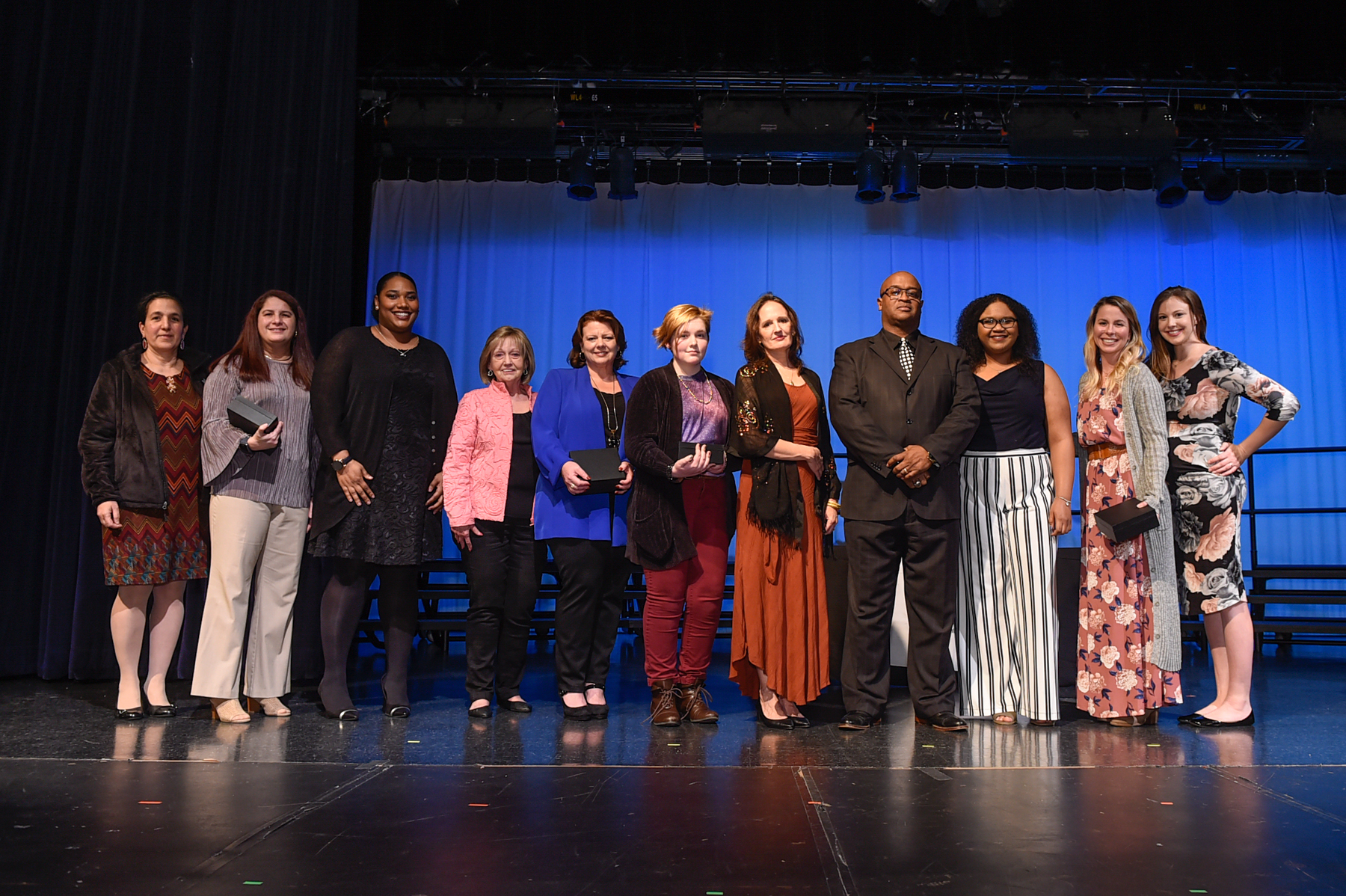 Diversity Leadership Award nominees and winners pictured with Assistant Director for Employee Recruitment Autry Daniel (fourth from right)
Diversity Leadership Awards were presented by Plano ISD Diversity Advisory Committee Chairman Sandy Spoonemore and Plano ISD Assistant Director for Employee Recruitment and Retention Autry Daniel.
The Diversity Leadership Award winners and nominees are.
Shannon Carter, Jasper High School
Lisa Hamid, Skaggs Elementary School
Dominika Phipps, Vines High School
Claudia Romanczukiewicz, Haggard Middle School
Volunteer Tutoring Outreach Program, Plano East Senior High School
Art Contest Award Finalists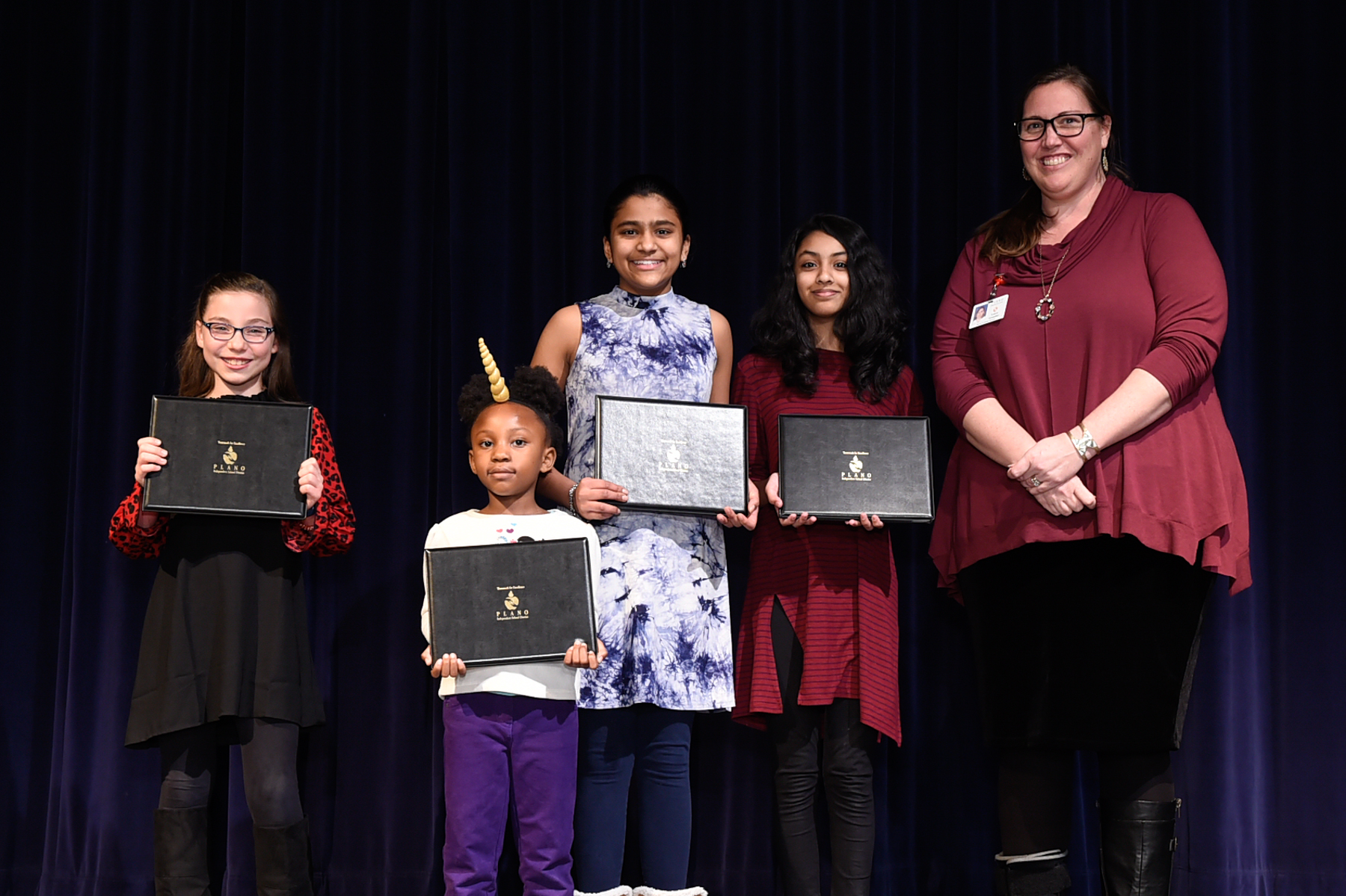 Art contest award finalists Eva Villalpando, Ariel Barnes, Eesha Gundam and contest winner Saher Kamal pictured with Visual Arts Coordinator Laura Grundler - See photo gallery of artwork
Board President Missy Bender announced the art award finalists and Plano ISD Visual Art Coordinator Laura Grundler presented the certificates to the finalists. In November, Plano ISD students grades kindergarten through twelve entered their original artwork in the Martin Luther King, Jr. Tribute art contest. Finalists and semifinalists were award in four groups: K-second grade, third-fifth grades; sixth-eighth grades; and ninth-twelfth grades. Works were displayed at the event. Finalists in each group were awarded fifty dollars and the overall winner received one hundred dollars. Special thanks to the MLK art contest sponsor: Plano ISD Education Foundation. Link to photo gallery semifinalist and finalist student contest artwork
Ariel Barnes, Hughston Elementary School
Eva Villalpando, Mathews Elementary School
Eesha Gundam, Rice Middle School
Saher Kamal, Jasper High School (contest winner)
Writing Contest Winners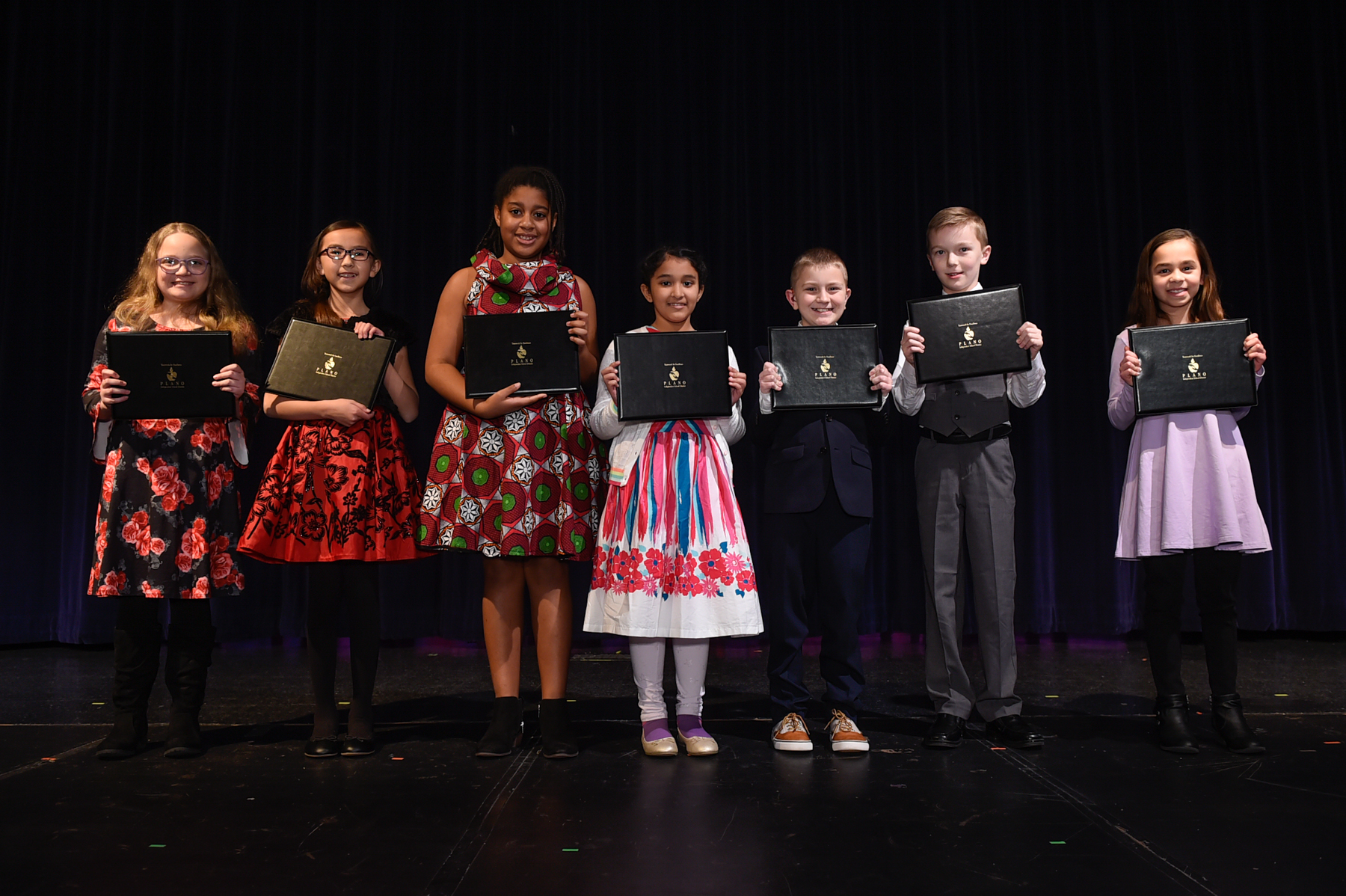 Student writing winners: Sofia Salazar, Sarah Raishe, Analise Potter, Aria Mellacheruvu, Stephen Kent, Peyton Banks and Riley Akolkar
Student writing contest winners were announced by Elementary Teacher of the Year Dr. Keishon Ireland and Secondary Teacher of the Year Michelle Johnson. The student work was themed "I Am Plano ISD." A video of each of the winning students reading their work played during the program.
Musical Performances
See the full program video to enjoy these musical performances.
Pre-program entertainment was provided by the Rice Middle School Orchestra, directed by Barbara Fox.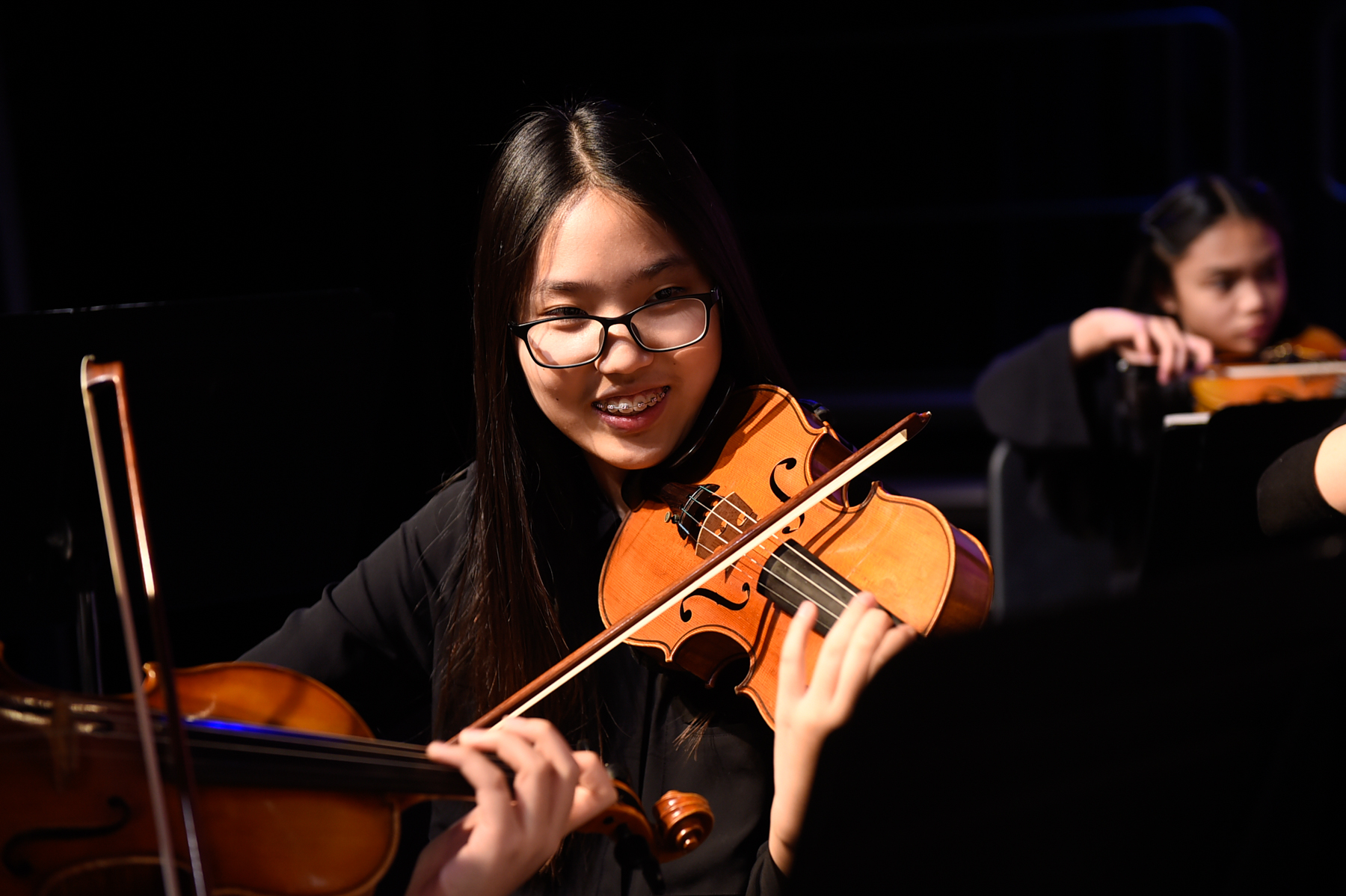 Rice Middle School Orchestra violinist
The Star Spangled Banner was performed by Hands in Harmony from Davis Elementary, directed by Bunny Jones, Whitney Merritt and Ashleigh Watson.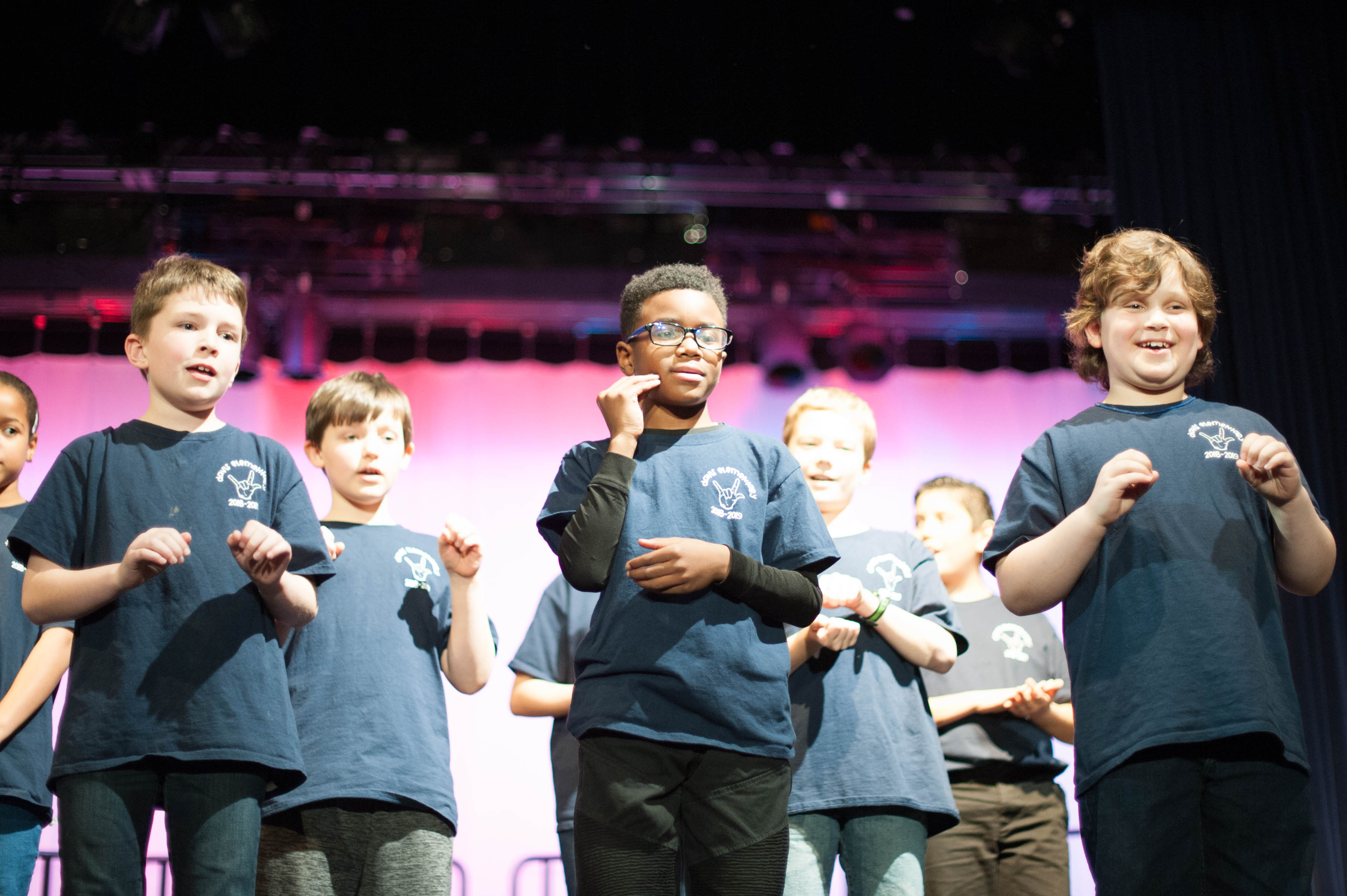 Hands in Harmony, Davis Elementary students
The Plano Children's Chorale performed Sisi ne Moja by Jacob Narvenud. The Plano Children's Chorale is a fifth-grade ensemble selected by audition and representative of the entire district. The performance was directed by Karen Patton, Christie Elementary, with assistance from Co-Director Virginia Asiatico, Daffron Elementary and Administrative Assistant Robyn Moore, Hughston Elementary. Accompaniment was provided by Alex Kirton, Weatherford Elementary.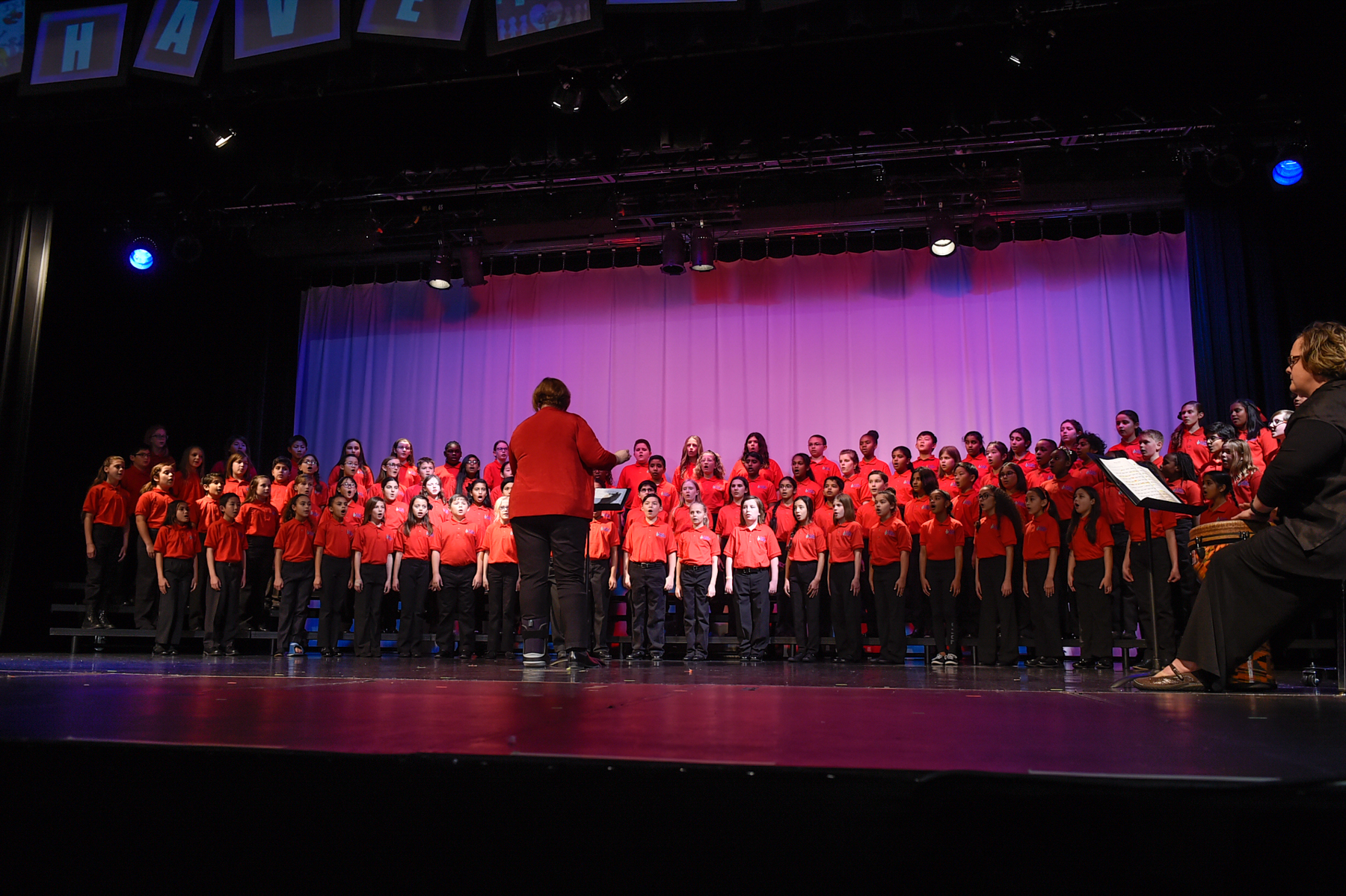 Plano Children's Chorale
I Lived by OneRepublic was performed by Hands in Harmony from Davis Elementary School. Followed by a collaborative performance of I Am. We Are. written by Stef Cambra and performed by speech students from Bowman Middle School, Clark High School, Frankford Middle School, Haggard Middle School, Jasper High School, Otto Middle School, Plano Senior High School and Schimelpfenig Middle School.
Performance of I Am. We Are. performed by speech students from Bowman, Frankford, Haggard, Otto and Schimelpfenig Middle Schools, and Clark, Jasper High School and Plano Senior High Schools.
The program finale was a group performance of This Is Me, from The Greatest Showman by Benj Pasek & Justin Paul, arranged by Mac Huff and performed by the Clark High School Choir: directed by Eric Feldman and Reza Azizi, Sign Language Soloist Morgan Raney from Plano Senior High School, Davis Elementary School Hands in Harmony and The Plano Children's Chorale.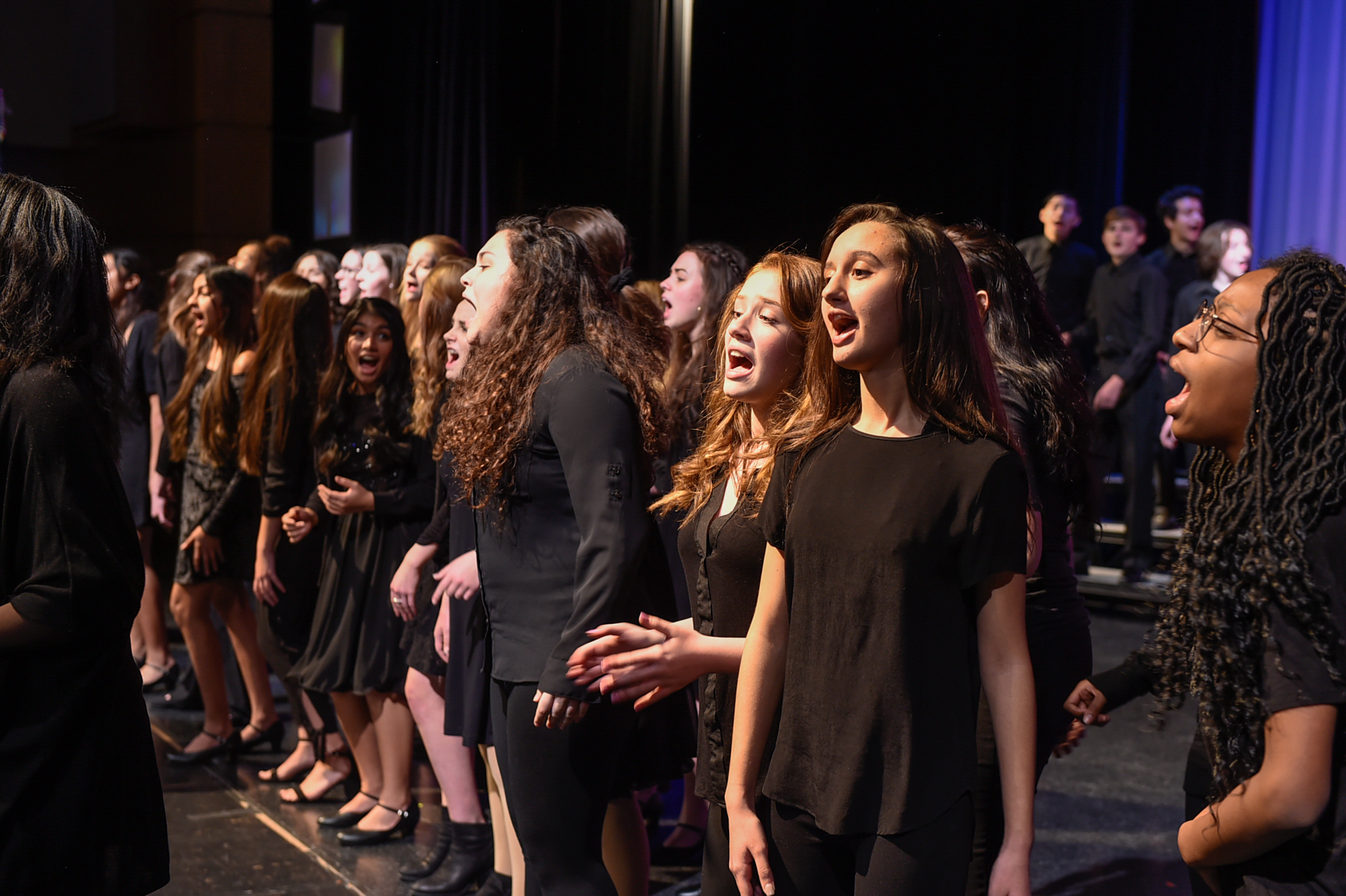 Clark High School Choir performing during the finale of This is Me