Return to Headlines
Mar. 1, 2019 - Computer Science Students Capture Awards at HP Code Wars
Prior to their Hewlett Packard (HP) Code Wars competition, thirty-six Plano ISD computer science students from Plano East, Plano and Plano West Senior High Schools visited two Plano technology companies: Finastra and Critical Start. First stop was Finastra who creates software for the international banking industry. Students participated in a mini-hackathon, generating ideas for problem solving. Afterwards, Finastra staff shared with students their own paths to their role in the company. Next students visited Critical Start, a cyber-security company whose mission is to protect customer brand and reduce customer risk. Students learned how to better secure systems through strong passwords. Critical Start staff and executives walked students through how they provide their "white hat" services to companies. Students then learned about each executive and staff members' path to their current role in the company.
Upon completing the tours, Plano ISD computer science students headed to Houston for the HP Code Wars competition. On Saturday, March 2, hundreds of students competed in novice or advanced categories. Code Wars is an annual programming competition for high school students grades 9-12. The March 2 event was held on the Hewlett-Packard campus in Houston, Texas. The first Code Wars competition was held in 1998. This contest is divided into two divisions: novice and advanced. There are separate grading and ranking for each division. A team registers as an advanced team if at least one of its team members has completed at least one year of computer science classes.
Students use Java (Java 7u51 or later), Python (version 3.4 or later (Python 3), or version 2.7 or later (Python 2); an ANSI-compatible C/C++/C# compiler that can create a self-contained Windows command-line executable. Both the novice and advanced teams share a common pool of around 15-20 problems. Each problem carries a point value, with values increasing with problem difficulty. The goal is to solve as many problems as possible in 3 hours. At the end, the teams with the most points win.
In 2019, Code War competitions will also take place in Bangalore, India; Barcelona, Spain; Ft. Collins, Colorado; Roseville, California and Taipei, Taiwan as well as the March 2 competition in Houston attended by Plano ISD students.
"We are proud of the hard work and effort that all Plano computer science teams put into this competition. They represented their campuses and the district very well." Dan Blier, Computer Science Curriculum Specialist. Congratulations to all the Code Wars competitors and to the following winning teams:
Advanced Division
First place: Plano West team of Autumn Tan, Jett Wang and Eric Zhang - coach Robin Bailey, Plano West math teacher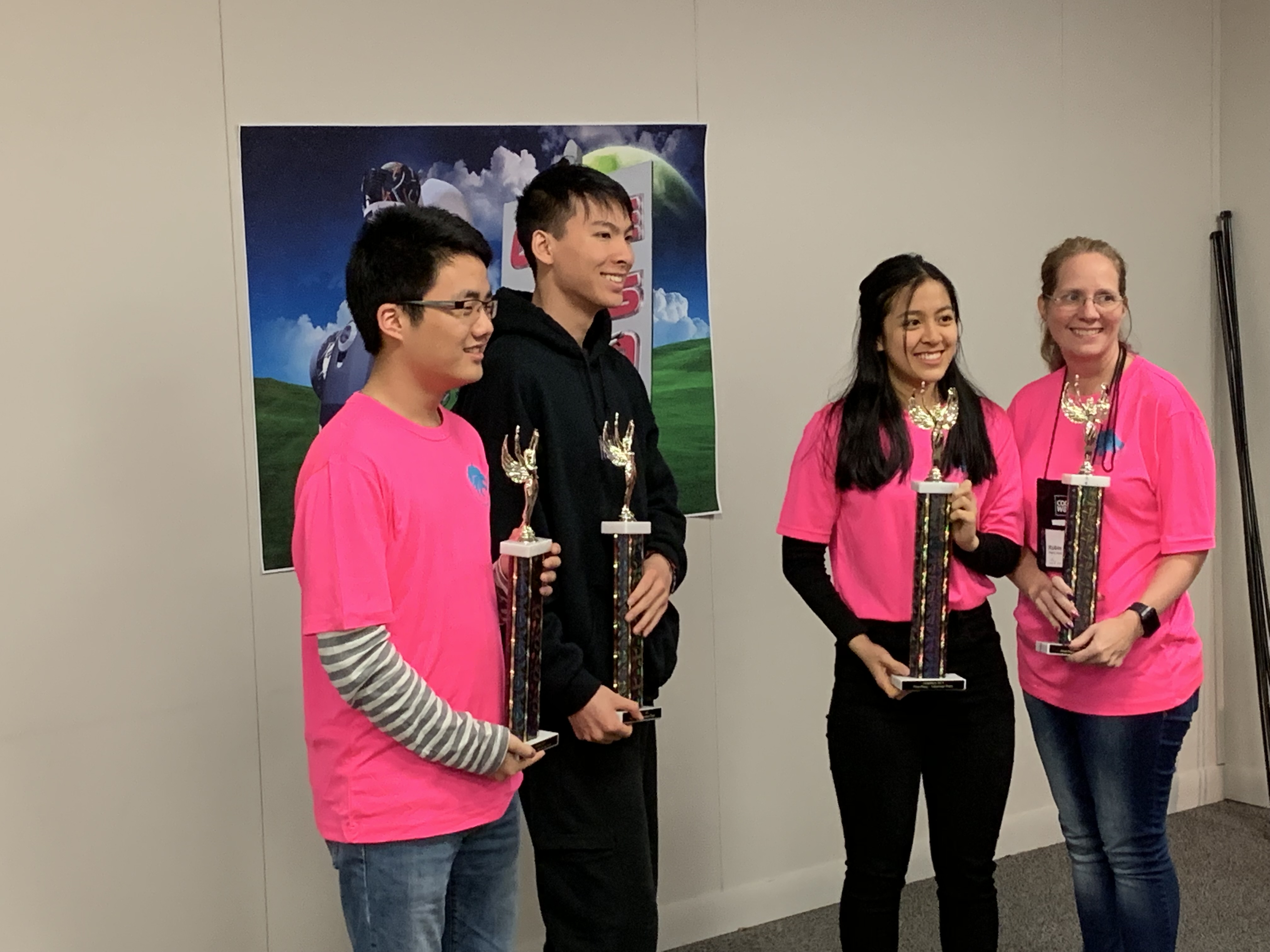 Pictured are Eric Zhang, Jett Wang and Autumn Tan with Coach Robin Bailey.
Novice Division
First place: Plano West team of Jimmy Ding, Maxwell Jiang and Kevin Meng - coach Robin Bailey
Fourth place: Plano East team of Aditya Mantri, Daniel Parks and Justin Yu - coach Ann Horton, Plano East career and technical education (CTE) teacher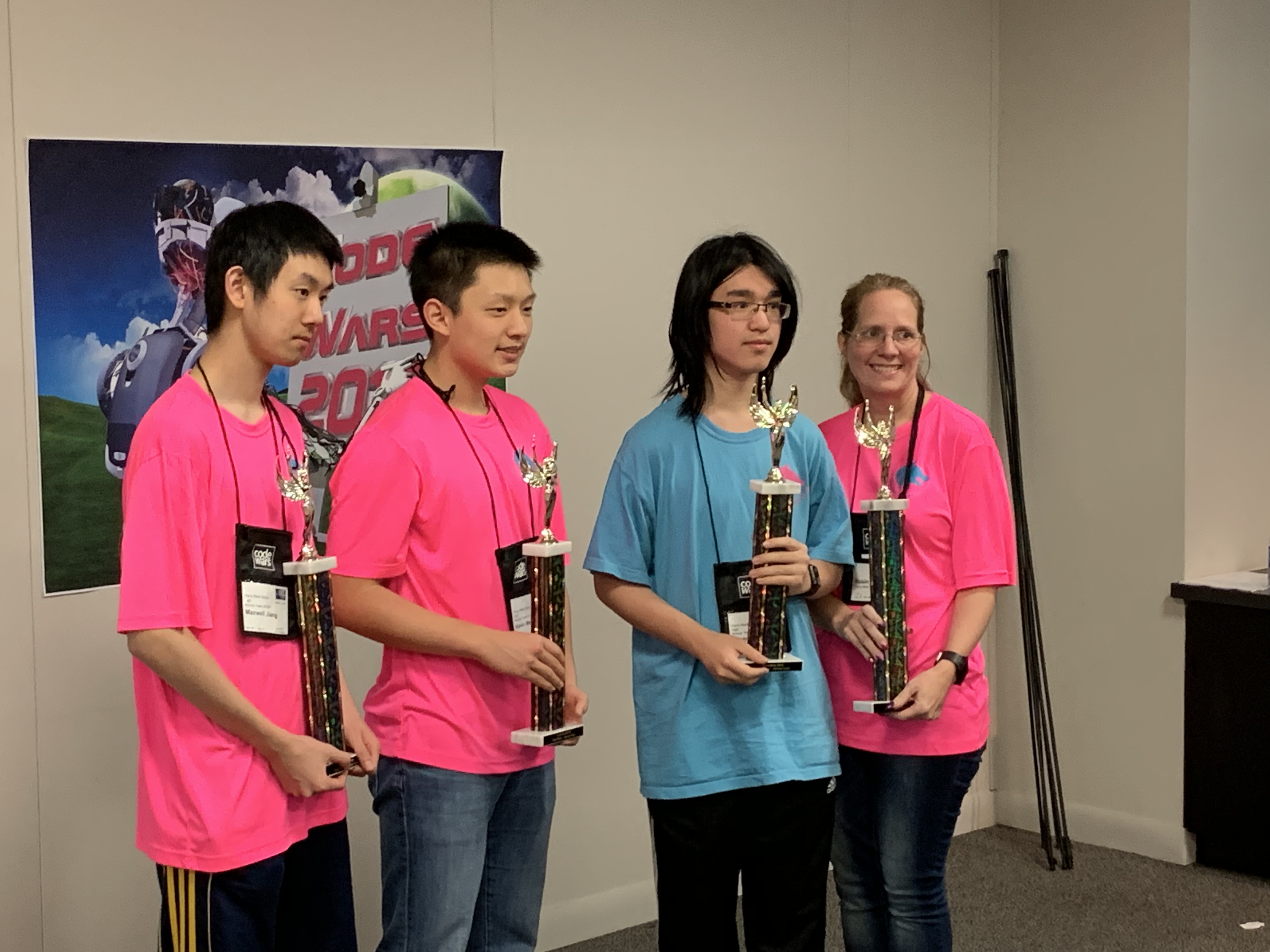 Pictured above are Plano West novice division first place winners: Maxwell Jiang, Kevin Meng and Jimmy Ding with Coach Robin Bailey, Plano West math teacher.
And pictured below is Coach Ann Horton, Plano East CTE teacher with fourth place novice division winners: Plano East students Aditya Mantri, Daniel Parks and Justin Yu.