Return to Headlines
Feb. 6, 2019 - Dr. Joe Russell Selected for "Memorializing the Fallen" WWI Study and Travel to Europe
Dr. Joe Russell American studies teacher at Plano East Senior High joins eighteen educators from across the country who have been selected to participate in Memorializing the Fallen — a teacher professional development program from National History Day®. Over 300 applications were received for this highly competitive program. As one of only eighteen selected, Dr. Russell has the privilege and the opportunity to bring this era in history to life for his students.
Sponsored by the U.S. World War I Centennial Commission and the Pritzker Military Museum and Library, Memorializing the Fallen takes the teachers on a journey to rediscover the history of World War I and to revitalize its teaching in America's classrooms. In June 2019, the selected educators will travel to Europe where they will make stops at Somme American Cemetery, St. Mihiel American Cemetery, Meuse-Argonne American Cemetery, Oise-Aisne American Cemetery, Suresnes American Cemetery, Aisne-Marne American Cemetery as well as battle sites and monuments at Belleau Wood, Verdun and Meuse Argonne. This elite program pays for travel to these locations as well as lodging, meals, books and more. Teachers will attend the 100th anniversary of the signing of the Treaty of Versailles at the Palace of Versailles on June 28. This will be the highlight of his trip according to Dr. Russell.
During the program, Dr. Russell will attend virtual lectures, participate in discussions and research a service member who never returned home. All of the activities offered during the program support the development of a lesson plan and a Silent Hero® profile that the participating teachers will develop, including in-depth lesson plans that focus on the legacy of the conflict. Both the lesson plans and the fallen hero profile will be released during the 2019-2020 academic year.
Dr. Russell has selected his fallen hero, Major Maynard Ames Well who died at 44 years of age on July 27, 1918 at the second Battle of the Marne. The major's unit took heavy casualties retaking territory that a German counter-offensive had seized, thereby threatening the French control of the area around Paris. Dr. Russell chose Major Wells because most high-ranking officers were brought home and buried here, but he was the highest-ranking Texan in the battle to be killed, and he was buried with his men. "That just really moved me on a personal level because he was about my age, and his men were boys about the age of my students. That just really got me to imagine that kind of burden," said Dr. Russell.
Dr. Russell was honored at the February 6 meeting of the board of trustees for his selection in the elite Memorializing the Fallen Program.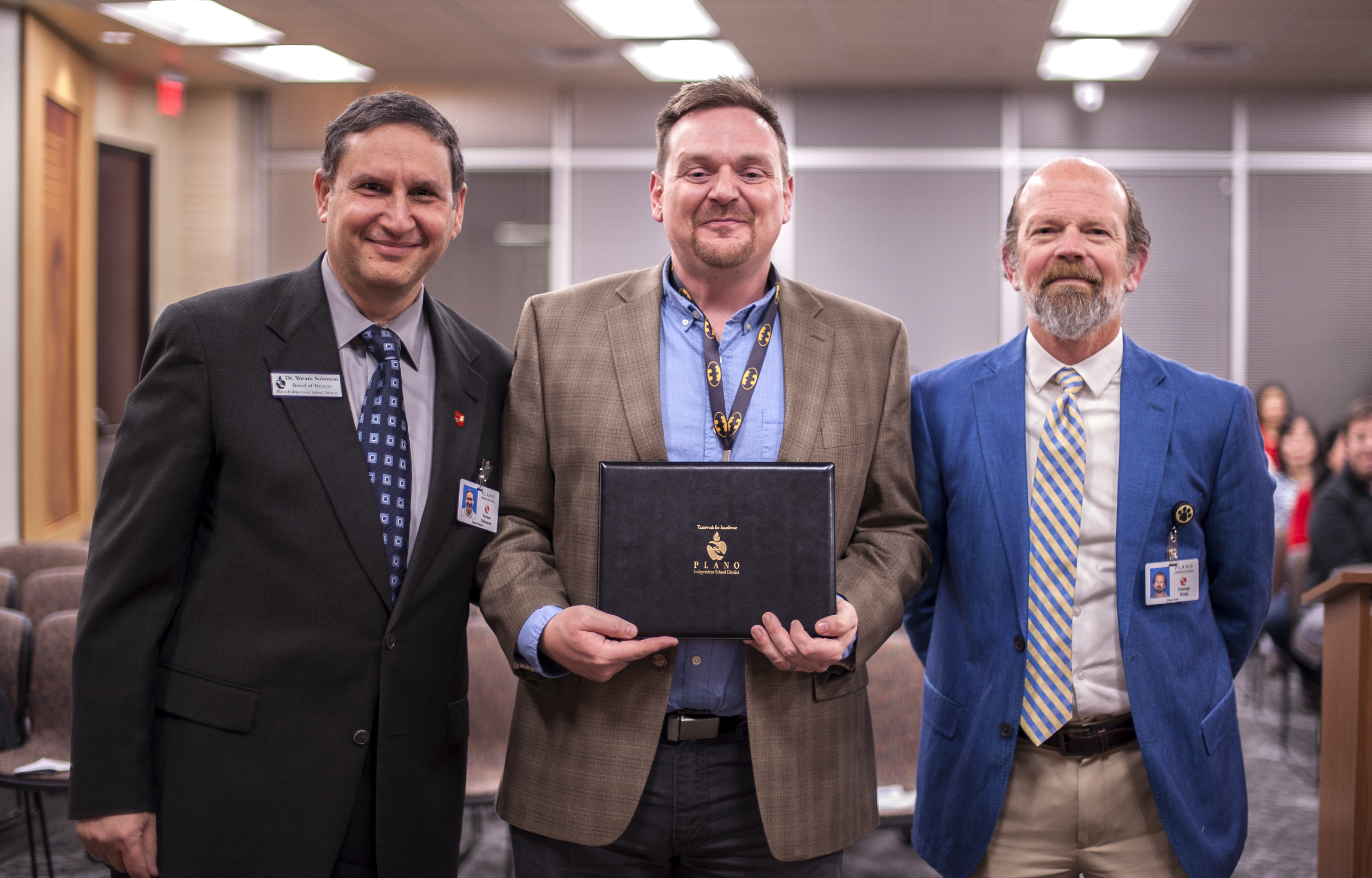 Board Vice President Dr. Yoram Solomon presented Dr. Joe Russell with a certificate of recognition on the boards behalf. Pictured are Dr. Solomon, Dr. Joe Russell and Plano East Senior High School Principal George King.
Program Sponsors
National History Day (NHD)
NHD is a non-profit organization that seeks to improve the teaching and learning of history. The National History Day Contest was established in 1974 and currently engages more than half a million students in conducting original research on historical topics of interest.
U.S. World War I Centennial Commission
The World War I Centennial Commission was created by Congress in 2013 to provide educational programs, public outreach, and commemorative events, regarding America's involvement in World War I.
Pritzker Military Museum and Library
Founded in 2003, the Pritzker Military Museum and Library, located in Chicago, is a nonprofit center where citizens and soldiers come together to learn about military history and affairs. The Museum and Library feature an extensive collection of books, programs, artifacts and rotating exhibits covering many eras and branches of the military.