Return to Headlines
Mar. 26, 2019 - Notice to Plano ISD Parents Regarding Email Phishing Scam
Plano ISD would like to inform our parent community that a handful of Plano ISD staff email accounts (fewer than 20) were recently compromised by an email phishing scam designed to capture email login credentials. Parents at campuses that were affected by the issue were notified directly to please be on the lookout for an email that fits the following description, and to delete it immediately. Please do not click on the "Display trusted message" button or enter any personal information if prompted.
The email arrives as an official-looking message from a familiar contact—in this case it may be from a Plano ISD staff member—and once launched, the phishing site prompts users to enter their "password." The email contacts of those affected users become potential targets for new phishing attacks. The subject line of the email may vary, but the body of the email usually states "Open before Wednesday" or "Open before Thursday," or any other impending day of the week. The next item is a button, which has been seen in red or green, which reads "Display trusted message." Please see the image below as an example.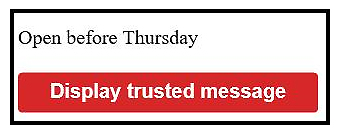 Plano ISD technology department has worked to repair compromised accounts and has notified all Plano ISD employees to be diligent in their efforts to notice and delete these messages. As some of the affected staff accounts have parent emails in their address books, we wanted to make parents aware of this potential email scam. Once you delete a compromised message without clicking the button or entering the requested password, no further action is required.
---
Aviso a los Padres del ISD de Plano sobre la Estafa de Suplantación de Identidad (Phishing) por Correo Electrónico
El Distrito Escolar (ISD de Plano desea informar a nuestra comunidad de padres que algunas cuentas de correo electrónico de empleados del ISD de Plano (menos de 20) fueron comprometidos recientemente por una estafa de suplantación de identidad por correo electrónico (conocido como phishing) diseñada para capturar los credenciales de inicio de sesión de correo electrónico. Los padres de los campus afectados por el problema fueron notificados de forma directa, pidiéndoles estar pendientes de un correo electrónico que cumple la siguiente descripción, y de eliminarlo inmediatamente. Favor de no hacer clic en el botón "Display trusted message" (Visualizar mensaje de confianza) o ingresar ningún dato personal si se le pide hacerlo.
El correo llega en forma de un mensaje con aspecto oficial enviado por un contacto conocido—en este caso, puede ser de un empleado del ISD de Plano—y una vez iniciado, el sitio de phishing pide a los usuarios ingresar su contraseña (password). Los contactos de correo electrónico de los usuarios afectados se convierten en posibles blancos para nuevos ataques de phishing. El línea de asunto del correo puede variar, pero en el texto mismo del mensaje típicamente dice "Open before Wednesday" (Abra antes del miércoles), o "Open before Thursday" (jueves), o algún otro día próximo de la semana. La siguiente cosa es un botón, que ha aparecido de color rojo o verde, que dice "Display trusted message" (Visualizar el mensaje de confianza). Favor de mirar el ejemplo en la imagen a continuación.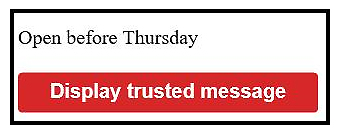 El departamento de tecnología del ISD de Plano ha trabajado para reparar las cuentas comprometidas y ha informado a todos los empleados del ISD de Plano para que sean diligentes en sus esfuerzos por notar y eliminar dichos mensajes. Ya que algunas de las cuentas afectadas del personal incluyen en sus directorios las direcciones de correo electrónico de padres de familia, queremos notificar a los padres de esta posible estafa por correo electrónico. Una vez que elimina un mensaje comprometido sin hacer clic en el botón o ingresar la contraseña solicitada, no es necesario tomar ninguna acción adicional.