Return to Headlines
Apr. 26, 2019 - Food & Nutritional Services Receive Gold Level Award for Excellence in Summer Meals
Plano ISD Food and Nutritional Services (FANS) has been recognized for Excellence in Summer Meals for the second year in a row. For the summer of 2017, FANS earned a silver level of excellence, and for the summer of 2018, they have been honored as a gold level of excellence site.
More than half of the children in North Texas receive free or reduced-price meals during the school year, but although eligible, only a fraction receive meals in the summer through the federal Summer Food Service Program. The Excellence in Summer Meals Campaign is designed to increase child participation through the promotion of best practices in meal provision. The campaign annually evaluates summer meals providers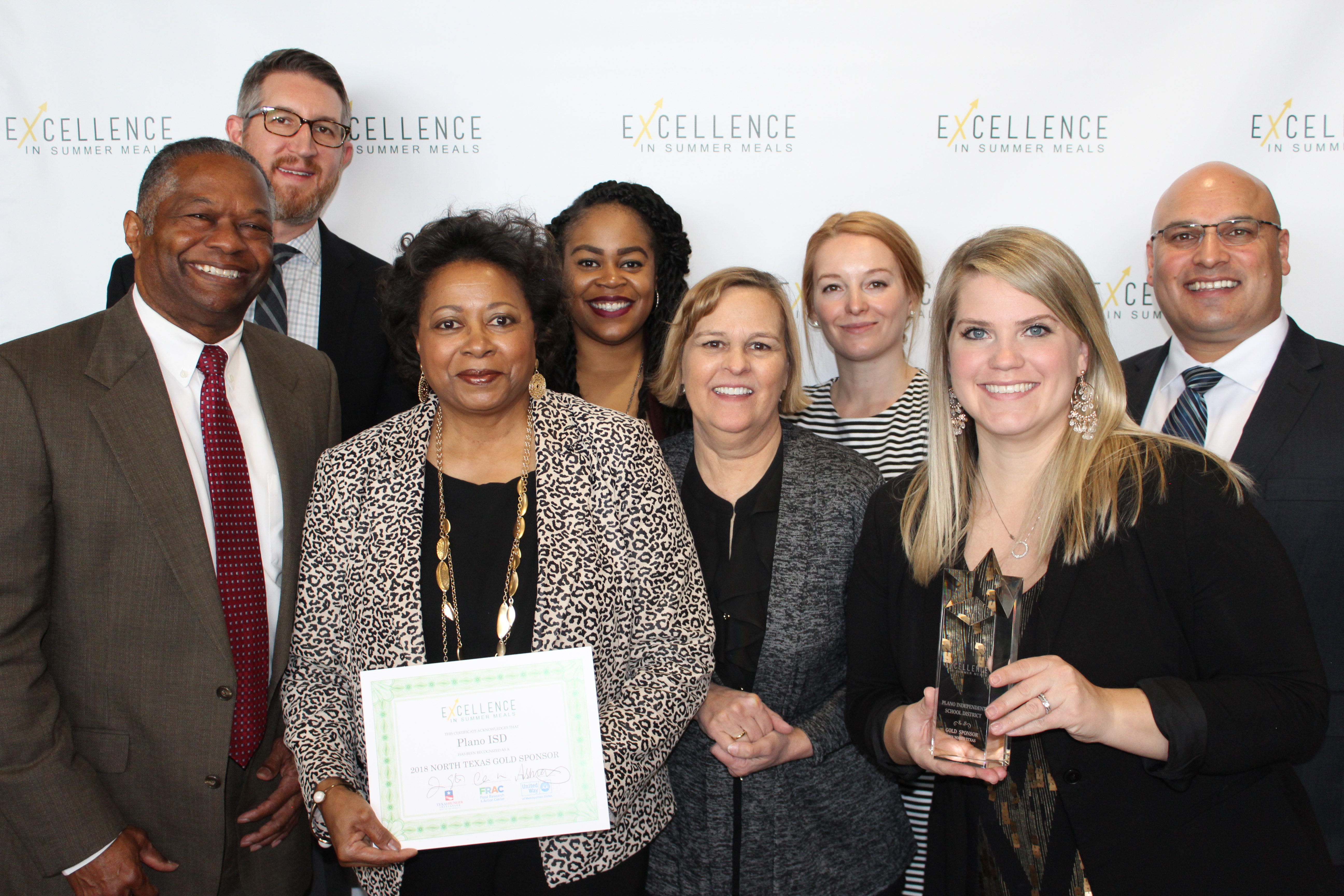 Pictured with their gold level award are (front row) James Thomas, Coordinator Student Services; Cynthia Lee, Food & Nutritional Services Director; Janet Howell, Nutrition Specialist; and Meredith Bolin, Marketing Specialist. (Back row) Excellence in Summer Meals representatives from the Texas Hunger Initiative, Food Research and Action Center, and the United Way of Metropolitan Dallas.
Three categories of best practices are evaluated – programming and operations; food quality; and marketing and outreach. Providers are also judged on the satisfaction of the staff at the meal sites who coordinate with providers to distribute meals.
The Food Research & Action Center (FRAC) identifies three levels of quality summer food sites - bronze, silver and gold.
Bronze sites go beyond the minimum requirements for a summer food site. They serve a variety of food, including fresh fruits and vegetables, throughout the menu cycle; the food is appealing; the site is welcoming to children of all ages and backgrounds; and the site staff conducts basic outreach activities to promote summer meals.


Silver sites exceed the requirements of a bronze site. They include a greater variety of fruits and vegetables; incorporate low fat dairy products and whole grains into the meals; offer opportunities for nutrition education and physical activity; conduct stronger outreach that is culturally appropriate; and maximize the number of meals allowable under SFSP.


Gold sites surpass bronze and silver requirements. They offer children choices of meal components, additional servings of fresh fruits, vegetables and whole grains; offer more variety in the menu; operate the majority of days that school is out; offer nutrition education once a week; provide daily opportunities for physical activity; and conduct extensive community outreach by targeting children of all ages, canvassing neighborhoods and using all possible community resources.