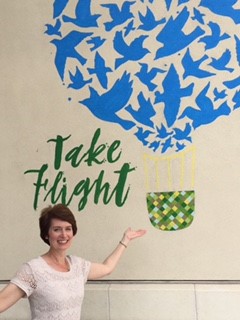 Phone: 469-752-3876
Email:
Degrees and Certifications:
Angela Krape

Welcome to Wyatt! My name is Angela Krape and I'm the campus instructional specialist and certified dyslexia therapist. It is my pleasure to serve our school in this role, and I do that in a variety of ways. First, I work with students struggling to read. I teach the Take Flight program for identified dyslexic students, as well as pre-dyslexic therapy using Rite Flight, Touchphonics, and Herman. I work with our staff to share ideas in planning and all curriculum areas to support them with differentiation in the classroom. Second, I also serve as the campus CMIT (Campus Monitoring Intervention Team) and 504 coordinator. I meet with parents and teachers to document student needs and accommodations to meet those needs. Third, I am the team leader for our amazing Academic Specialists' team: PACE, ESL, Library, Technology, and Literacy.

I grew up in the heart of the East Texas oil field. I graduated with my Associate's Degree in Elementary Education from Kilgore Junior College. I graduated magna cum laude from the University of Texas in Tyler with my BS in Elementary Education and a specialization in English. I graduated summa cum laude from Texas Woman's University with my M.Ed. in Reading Education, and received the Reading and Bilingual Departmental award for my professional paper on using poetry with young children. I was awarded Wyatt's teacher of the year in 2011 and received the PTA Lifetime Achievement Award in 2016. In 2019, I became a certified academic language therapist and certified dyslexia therapist. I have 22 years of teaching experience, and I still love to see a child learn to read!

I'm married to my college sweetheart, David, and we have two children. Our son, James, is a senior at Texas Tech University in Lubbock, and our daughter, Caroline, is a sophomore at the University of Texas at Austin.