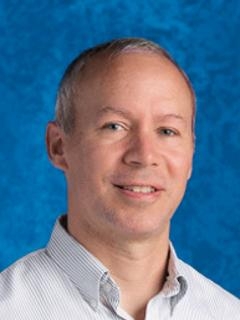 Phone:
Email:
Degrees and Certifications:
Mr.

Jeremy Cooper

Mr. Cooper has been teaching since 1995. He spent four years teaching in Dallas and the remainder in Plano. He has taught 4th and 2nd grades as well as PE. He is a native of Kansas and graduated from Kansas State University in 1995. He is certified in grades 1-8 and also has his gifted certification. Mr. Cooper enjoys playing tennis, working out or spending time with his friends and family when he is not teaching.
Mr. Cooper's Tutoring Schedule:

Monday: Reading 2:45 - 3:30

Tuesday: Math 2:45 - 3:30

Wednesday: NONE - Staff/Department Meetings

Thursday: Math 2:45 - 3:30

Friday: NONE

Please arrive on time to pick up your child, as we finish at 3:30. Thanks!!
5th grade Math for January.

January 4-12: Data Analysis: Dot Plots, Scatter Plots, Stem & Leaf Plots, Bar Graphs (5-6 days). Topic 15 Test will be on Friday, January 12th.

January 15-February 9: Algebraic Reasoning: Order of Operations, Understanding & Evaluating Algebraic Expressions, Simplifying Expressions, Addition/Subtraction Expressions, Multiplication/Division Expressions, Solving Equations, Ordered Pairs, Graphing Additive and Multiplicative Patterns, Graphing Equations (20 days)
Math Rocks: Here is what we will be learning in January:

Envisions: Data Analysis: Dot Plots, Scatter Plots, Stem & Leaf Plots, Bar Graphs. The Topic 15 test will be given on Friday, January 12th.

Algebraic Reasoning: Order of Operations, Understanding & Evaluating Algebraic Expressions, Simplifying Expressions, Addition/Subtraction Expressions, Multiplication/Division Expressions, Solving Equations, Ordered Pairs, Graphing Additive and Multiplicative Patterns, Graphing Equations (20 days)

Math Rocks Lessons: Explain it with Algebra I and Explain it with Algebra II, Using Notations in Computations. These are lessons from Dr. Butts who write some of the Math Rocks curriculum.

CMP/Connected Math Program: Variables and Patterns (Interpreting, analyzing, reading, and making tables and graphs). Bits and Pieces II (Multiplying and Dividing Fractions, Using fraction benchmarks, estimating sums)