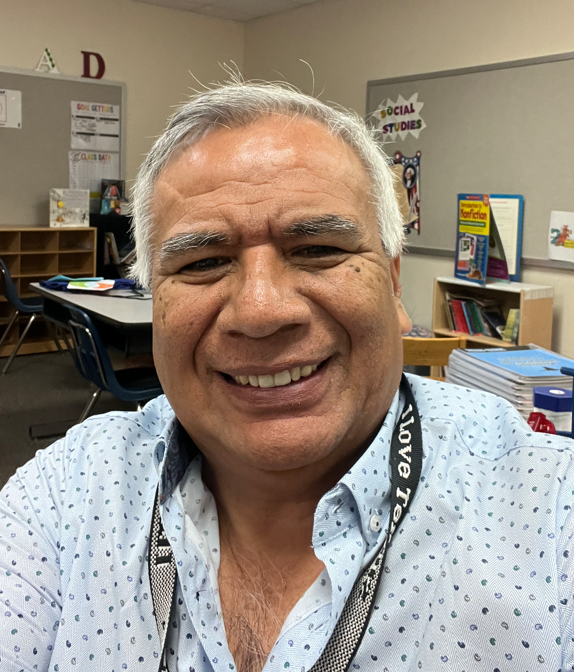 Phone: 469-752-2630
Email:
Degrees and Certifications:
Bachelors Psychology Bachelors Economy Masters Education Certification K-4
Estimados Padres,

¡Bienvenidos al año académico 2023-2024! Espero con entusiasmo la oportunidad de conectarme tanto con ustedes como con sus hijos, y de trabajar estrechamente juntos para asegurar el éxito de sus hijos. Como padres y tutores, reconozco su papel crucial como los principales educadores en la vida de sus hijos. Este reconocimiento subraya mi profundo aprecio por la responsabilidad compartida que tenemos en guiar a su hijo hacia sus metas. Permítanme tomar este momento para presentarme.

Soy Milton Rojas y me siento verdaderamente honrado de tener la oportunidad de ser el maestro de sus hijos este año. Procedo de Lima, Perú, una región rica en herencia incaica. Con más de dieciocho años de experiencia en educación, me he dedicado exclusivamente al nivel primario. Durante este período, pasé trece años enseñando tercer grado, seguidos de tres años en cuarto grado y dos años en quinto grado. Mi trayectoria académica me llevó a obtener títulos en Psicología de la Universidad Garcilaso de la Vega y en Economía de la Universidad San Marcos, ambas prestigiosas instituciones ubicadas en Lima, Perú. Además, poseo una Maestría en Educación de la Universidad Texas Wesleyan, situada en Fort Worth, Texas.

Me enorgullece compartirles que llevo felizmente casado 33 años y soy padre de tres maravillosos hijos. Mi hijo mayor, Milton Jr., acaba de celebrar cinco años de matrimonio. Álvaro, mi segundo hijo, tiene 30 años, y mi hijo menor, Bruno, tiene 25 años.

Fuera del aula, encuentro placer en deportes como el tenis, el fútbol y el voleibol. También soy un ávido jugador de ajedrez y tengo un profundo interés en leer biografías. Mi actual búsqueda literaria es "La Vida de Benjamin Franklin".

La enseñanza es una pasión inquebrantable que recorre la familia Rojas. Mi esposa también es educadora y se desempeña como Coach de Matemáticas en el Distrito Escolar Independiente de Irving. Siguiendo nuestros pasos, mi hijo, Milton Jr., es un dedicado maestro de PK en el Distrito Escolar Independiente de Dallas. Además, su esposa, Karen, aporta sus habilidades como maestra de primer grado en el DISD de Irving. Siento una inmensa alegría al educar a mis estudiantes, fomentar su independencia y promover el aprendizaje de por vida. Presenciar su progreso es una verdadera fuente de satisfacción para mí. Mis estándares tanto para mí como educador como para mis estudiantes son excepcionalmente altos, y he encontrado que estas altas expectativas sirven como un catalizador para el éxito. Al embarcarnos en este nuevo año académico, mi aspiración es que sea estimulante, productivo, desafiante e inspirador para todos mis estudiantes.

Una vez más, les doy una cordial bienvenida al año escolar 2023-2024. Creo firmemente que nuestros esfuerzos colectivos contribuirán a hacer de este un año verdaderamente excepcional de aprendizaje y crecimiento.

"La educación no es una preparación para la vida; la educación es la vida misma."
I am Milton Rojas, and I am truly honored to be your children's teacher this year. I come from Lima, Peru, a region steeped in Incan heritage. With over eighteen years of dedicated experience in education, I have exclusively focused on the elementary level. During this time, I spent thirteen years teaching third grade, followed by three years in fourth grade and two years in fifth grade. My academic journey led me to earn degrees in Psychology from Garcilazo de la Vega University and in Economics from San Marcos University, both esteemed institutions located in Lima, Peru. Furthermore, I hold a Master's Degree in Education from Texas Wesleyan University in Fort Worth, Texas.

I am proud to share that I have been happily married for 33 years and am a father of three wonderful children. My eldest son, Milton Jr., recently celebrated his fifth wedding anniversary. Alvaro, my second son, is 30 years old, and my youngest, Bruno, is 25 years old.

Beyond the classroom, I find enjoyment in sports such as tennis, soccer, and volleyball. I am also an avid chess player and have a keen interest in reading biographies. My current literary pursuit is "The Life of Benjamin Franklin."

Teaching is an enduring passion that runs through the Rojas family. My wife is also an educator, serving as a Math Coach in the Irving Independent School District. Following in our footsteps, my son, Milton Jr., is a dedicated PK teacher in the Dallas Independent School District. Additionally, his wife, Karen, contributes her skills as a 1st-grade teacher in the Irving ISD. I derive immense joy from educating my students, nurturing their independence, and fostering lifelong learning. Witnessing their progress is a true source of fulfillment for me. My standards for both myself as an educator and for my students are exceedingly high, and I have consistently found that these elevated expectations act as a driving force for success. As we embark on this new academic year, my aspiration is for it to be engaging, productive, challenging, and inspiring for all my students.
Once again, I extend a warm welcome to the 2023-2024 school year! I firmly believe that our collective efforts will contribute to making this a truly exceptional year of learning and growth.

"Education is not a preparation for life; Education is life itself."