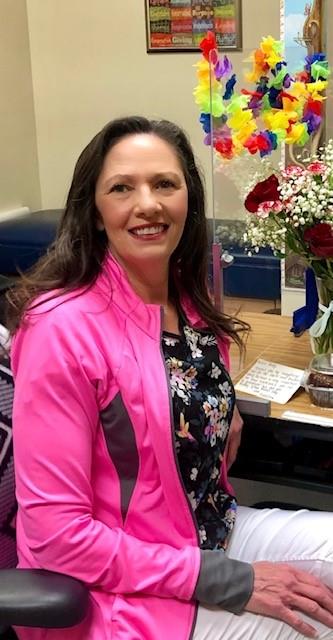 Phone: 469.752.1909
Email:
Degrees and Certifications:
Mary Palmer, BSN, RN, School Nurse

College(s): The University of Tennessee

Nursing History: I am thrilled to be returning to Huffman for my 7th year as school nurse!! I passionately love children and am dedicated to keeping our Huffman children healthy so they can continue their learning experience! Prior to Huffman, I was a PISD substitute nurse for 5 years. Before PISD, I worked in the hospital setting in a variety of areas including coronary and intensive care, medical-surgical, and orthopedic units. I love my position with Huffman because I can help our children learn everything about being healthy.

Family: When I'm not at Huffman I love spending time with my husband, Kelly. We have two grown boys that attended PISD schools K-12. Our oldest son graduated from the United States Military Academy at West Point with a chemical engineering major and was commissioned as a 2nd Lieutenant. He recently graduated from Cambridge University, UK, for his masters degree prior to serving in the US Army. Our youngest son is working on several educational experiences, including physics, piano, and languages.

Interests/Hobbies Outside of School: When I have additional time, my husband, Kelly and I enjoy reading, going to the movies, walking, biking, exercising, cooking, hanging out on Texas beaches, and traveling to new places.

Why did you want to start the IB PYP at Huffman? I love that the IB PYP philosophy focuses on the whole child so students can become knowledgeable, caring, and responsible members of their own community and beyond.
Office Hours

8:00am-3:00pm