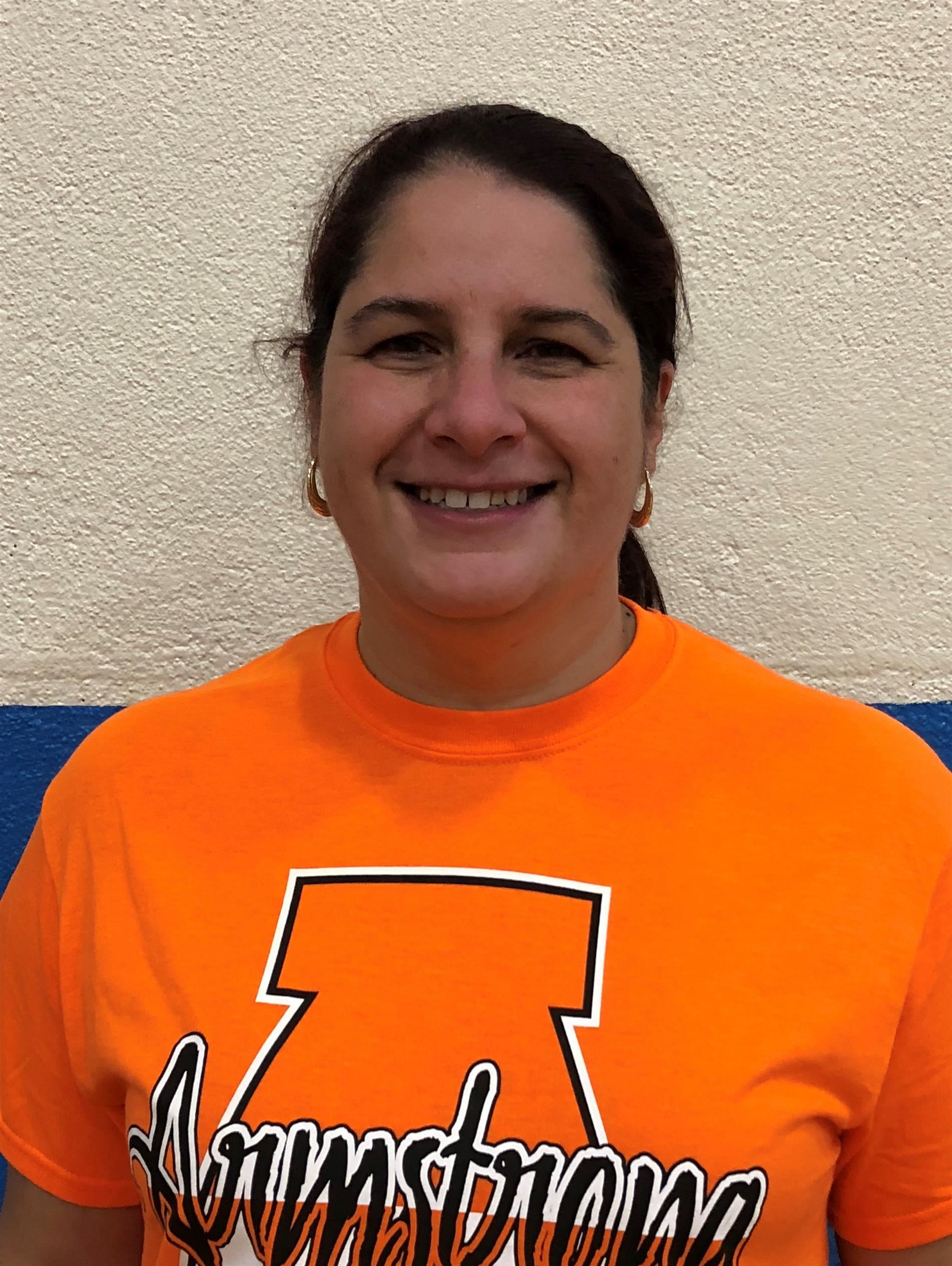 Phone: Phone: (469) 752-4646
Email:
Degrees and Certifications:
Mrs.

Kattia Prado Saenz

My name is Kattia Prado and I'm the Parent Liaison at Armstrong. I'm from Costa Rica and I'm the proud mother of two PISD students.

My first contact with the school was as parent, volunteer and PTA member. I became a believer of the importance of parent participation in the school, and I saw firsthand, all the wonders that can be done when the families and the school work together as a single community.

My goal in Armstrong, is to build stronger connections between the families and the school, to get programs and opportunities for parent involvement, and just be there for any needs the families may encounter though the year.

* * * * * * * * * *

Mi nombre es Kattia Prado y soy la Representante de los Padres en Armstrong. Soy de Costa Rica y soy la orgullosa madre de dos estudiantes de PISD.

Mi primer contacto con la escuela fue como madre, voluntaria y miembro de PTA. Creo firmemente en la importancia de la participación de los padres en la escuela, y he visto todas las maravillas que se pueden lograr cuando las familias y la escuela trabajan juntas como una sola comunidad.

Mi objetivo en Armstrong, es construir conexiones más fuertes entre la escuela y las familias, traer programas para los padres, buscar oportunidades de participación para ellos y simplemente estar disponible para cualquier necesidad que las familias de Armstrong puedan encontrar durante el año.
Follow me on: Sigueme en:

English: Text @hcca34 to 81010

Español: Envía @gc322a al 81010
Get to know the Armstromg Support Team! Click on the image.

¡Conoce a tu Equipo de Apoyo de Armstrong! Haz click en la imagen.
Free/Reduced Meal Benefits

Use the link to create your SchoolCafe user account. Then log in to apply for reduced of free lunch, submit, and track your application status from start to finish. Apply online today from your computer or smartphone.

Usa este enlace para crear una cuenta en SchoolCafé. Una vez creada la cuenta, ingresa ahí para llenar, enviar y dar seguimiento al progreso de su aplicación de almuerzo gratis de principio a fin. Aplique en línea hoy mismo desde su computadora o celular.

Even if your student is learning from home, filling the application also quilifies him to receive Title 1 services, like extra academic support. The number of qualifiying students, may affect the resources we have available for our students.

Aunque su estudiante esté aprendiendo desde la casa, llenar la aplicación también lo hace calificar para recibir servicios de Title 1, como apoyo académico extra. El número de estudiantes calificados puede afectar los recursos que tenemos disponibles para los estudiantes.

*** Contact me if you need help or require a paper form ***

*** Contáctame si necesitas ayuda o prefieres un formulario en papel ***
Now you can install on your phone the "PLANO ISD" App. Once installed, sign in with your Parent Portal password to check grades and news from your phone!

Ahora usted puede instalar en su teléfono la Aplicación "PLANO ISD". ¡Ingrese con su contraseña del Portal de los Padres para ver las calificaciones y noticias importantes de sus hijos desde su teléfono!
Getting to Know Google Classroom

I found this useful video on YouTube about the main features of Google Classroom. If your student is not sure about how to turn in assignments, please take a moment to view.

Encontré este video en YouTube que explica los puntos principales de Google Classroom. Si su estudiante no está seguro de como entregar los trabajos, por favor dedique un momento a ver este video.

https://www.youtube.com/watch?v=IgS-hoSIjnw

* * * Do you know you can ask to be added as guardian on Google Classroom? Just give your email address to one of the teachers of your student and request to be added to start receiving email summaries with the missing work of your student, important anouncements and the work for the next days. You can select to receive the summaries daily or weekly.

* * * ¿Sabía que usted puede pedir a un maestro de su hijo que lo agregue como guardián on Google Classroom? Simplemente dé a uno de los maestros su dirección de correo electrónico para empezar a recibir resúmenes con el trabajo pendiente de sus hijos, los avisos importantes y las tareas para los próximos días. Usted puede recibir los resúmenes diariamente o una vez por semana.
Do you need help with food, furniture, health and more? Find some useful resources here!

¿Necesita ayuda con comida, muebles, salud y más? Encuentre algunos enlaces útiles aquí.

https://www.pisd.edu/Page/3834

Contact me if you can't find what you need! I'm here to help.

¡Contácteme si no encuentra lo que necesita! Estoy aquí para ayudarlo.
SCHOOL PANTRY

We will be hosting a Pantry for Armstrong Families once a month in partnership with North Texas Food Bank. We will have boxes of shelf stable groceries and boxes of produce for Armstrong families. Because of Covid 19 procedures, will be working as a carpool for now. Please check here for next dates and times and details.

En colaboración con North Texas Food Bank, tendremos en nuestra escuela una despensa escolar una vez al mes. Tendremos cajas de comida enlatada y cajas de productos frescos para las familias de Armstrong. Debido a los procedimientos durante la pandemia de Covid 19, las cajas se estarán llevado a los carros. Revise esta página frecuentemente para las siguiente fechas y detalles.

NEXT SCHOOL PANTRY DATES:

October 20th

November 17th

December 15th

Time: From 4 to 5 pm

Location: Back of the school (Bus circle)
Plano UP

Plano Up is a program offering assistance for Armstrong students in need of mental health services. It also help the family to connect with resources. Contact your counselor if you want more information.

Plano Up es un programa que ofrece asistencia con servicios de salud mental a los estudiantes de Armstrong. El programa también ayuda a conectar la familia con servicios. Contacte a su consejero/a para más información.
Mobile Computer Lab

The Mobile Computer Lab provides Computer and Language classes for parents for FREE. The staff will also be assisting with Parent Portal and free or reduced lunch forms. Check the website for times and locations.

El Laboratorio Móvil de Computación da clases de Idiomas y de Computadora para los padres GRATIS. También ofrecen ayuda con el Portal de los Padres y los formularios de almuerzo gratis o reducido. Visite su página web para ver los horarios y lugares.