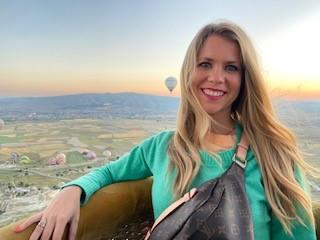 Phone: 469-752-1958
Email:
Degrees and Certifications:
Ms.

Ashley Dantzler- Instructional Specialist, Title I Coordinator

College(s): Oklahoma State University.

Teaching Experience: I am entering my 13th year of education, having taught 1st, 2nd, 4th and 5th grades! I have been at Huffman with the IB program for 6 years now and it's the best program ever. I am entering my 3rd year as an Instructional Coach and it has been such a rewarding experience.

Family: I was born and raised in Plano and have one brother, Kyle, who is four years younger than me. I had a chocolate lab, 'Ellie,' who was my daughter!

Interests/Hobbies Outside of School: I am a sports fanatic! I enjoy going to any football games, especially my Dallas Cowboys! I like to think I have wanderlust and enjoy traveling as much as anything. Music is always playing wherever I am and you can count on me taking a trip to go shopping sometime soon! Outside of school, you can also find me volunteering at church. My family and friends are my world and spending quality time with them makes me the happiest!

Why did you want to start the IB PYP at Huffman? I am a product of Plano ISD and it has been a privilege to be able to come back and teach in the district that provided me with such a firm foundation. The implementation of the IB/PYP program is such a pivotal moment in fostering the love of learning and character of each student. With my own global experiences that have sustained and shaped my love of teaching, I am looking forward to helping each child grow as an individual when they step foot inside and outside my classroom. I am blessed to be a part of something so monumental in their lives.