First Grade Expectations


At Bethany Elementary, we have high expectations for your children both academically and behaviorally. Bethany Bullfrogs are expected to apply and practice the student expectations of being Respectful, Responsible, and Ready to learn. This year, students will be practicing the 7 habits of highly effective people.

Each student has a Communication Card. Your child's teacher will use this card to communicate with you daily. The Communication Card reflects what has occurred as a teacher works with a child to take ownership over his/her citizenship and work habits. The purpose is to keep you well informed and showcase student strengths.

The Communication Card will be located in the right pocket of your child's red take home folder and will come home for your review each evening. It does need to be returned to school in the folder every day. Please sign it at the end of each week.
Student Planner

We believe that parent-school communication is a vital key to your child's academic success. To support this belief, in first grade, we will use the student planner/agenda daily, in a variety of ways. It is very important that your child bring that planner each day.

Your student will have a daily message to you on that date in the planner. This will be in the form of a handwritten note or sticker with detailed information or updates about first grade and our activities.
On the first day of the week, students record their spelling words for that week in the planner.

Homework

Homework is an integral part of the learning process. Homework will be relevant and meaningful and many times will be more than just pencil and paper activities.

Each student has two nightly assignments.

Read a minimum of 10 minutes each night. Since growth in reading is directly dependent on the amount of student practice, it is important that you spend time each evening listening to your child read.
Practice the weekly spelling pattern and words each night. Weekly spelling words will come home on Monday to be tested at the end of the week. Special projects will have attached notes from the teachers about the purpose, expectations, and due date for the project.

Students should receive guided assistance and praise from the parent, but all thoughts, ideas, and answers should come from the student.

Homework will be given across the grade level, as a class, or individualized on an as-needed basis.

Integrated Curriculum

Math

Program Description: The elementary mathematics program in Plano ISD promotes the learning of important and meaningful mathematics through a coherent and comprehensive curriculum. The program provides opportunities for students to value mathematics, to become confident in their ability to do mathematics, and stresses the importance of experiences that relate mathematics to the real world. The curriculum is based on the Texas Essential Knowledge and Skills (TEKS) and is designed to build basic understandings in number, operations, and quantitative reasoning; patterns, relationships, and algebraic thinking; geometry and spatial reasoning; measurement; and probability and statistics. Problem solving, language and communication, connections within and outside mathematics and formal and informal reasoning underlie all content areas. Students use these processes together with technology and other mathematical tools to develop conceptual understanding and to solve problems. District developed curriculum guides provide a scope and sequence of instruction for each grade level.

Resources: The primary resource for mathematics students in grades K-5 is the District-adopted mathematics textbook. In addition to the textbook, teachers and students have a wide variety of print and manipulative resources available. Some of these resources include manipulative materials to help build conceptual understanding, professional teaching resources, calculators, fiction and nonfiction trade books, and computer programs.

Technology: Technology is an integral part of the elementary mathematics program. Students are taught appropriate use of calculators to support conceptual development problem solving experiences. Computer programs are used to support the development of conceptual understanding, problem solving and critical thinking skills. These programs are used to support instruction in the classroom and to extend and enrich learning experiences.

Classroom Environment: The mathematics classroom is an environment in which students are actively engaged in the learning process. Students discuss mathematics, create products, use manipulatives, make real world connections, solve meaningful problems, use technology, write about mathematics, ask questions and make conjectures. The classroom is arranged to facilitate flexible grouping and multi-tasking. This allows teachers to meet the needs of students with a wide range of abilities. Opportunities are provided for students to work individually and in cooperative groups. Mathematical tools are available and accessible for students to use. Some homogenous grouping of more advanced students occurs at upper grade levels as students prepare for placement in the honors program at the middle school.

Assessment: Teachers use a variety of assessment strategies to measure students' development of mathematics skills, conceptual understanding, and problem solving abilities. These strategies include observations, interviews, performance tasks, performance assessments, projects, checklists, rubrics, and written formal quizzes and tests.

Language Arts

Program Description – The Plano I. S. D. Elementary Language Arts Program provides a balanced approach to literacy instruction requiring a curriculum framework that gives reading and writing equal status and combines the best theory and learning strategies to match the learning styles of individual children. This framework recognizes the importance of the cognitive and affective dimensions of literacy and acknowledges the meaning-making involved in the reading and writing processes. The Elementary Language Arts program is designed to:

Orchestrate a safe classroom environment which facilitates student experiences that provide opportunities for listening and speaking.
Provide authentic settings for practicing strategies and skills taught in large and small groups.
Assure a climate that promotes a love of reading and writing that will nurture lifelong learning.
Provide a literacy-rich environment where texts are read aloud daily as a model for fluent reading expression, for developing structural awareness of fiction and non-fiction while facilitating growth in vocabulary.
Include authentic literature of various genre, e.g. fiction, informational text, poetry, fantasy, biography, science fiction, etc.
Instill teacher-student discourse to facilitate higher-order thinking skills.
Teach phonemic awareness and letter knowledge in a sequential way to facilitate reading and writing development.
Provide a continuous progress program facilitating students as they advance to more difficult reading levels across the grades.
Provide a basic skills focus with early introduction and continuous maintenance of oral and written language, word attack, vocabulary, and comprehension skills.
Promote reading growth through a balanced program that ties phonics, spelling, and language skills to connected texts in reading and writing.
To produce readers who approach the reading task expecting meaning and who use phonological, syntactical, and semantical clues in decoding.
Deliver guided reading instruction daily at the child's instructional reading level (90-94% accuracy) allowing students to move from level to level in such a way that they are successful but challenged to grow.
Guide students to use the strategies of monitoring, searching, cross-checking, and self-correcting during the reading and rereading process.
Provide all students reading materials and time for independent (oral and silent) reading (95-100% accuracy) daily. This is essential for developing fluency and appropriate rate.
Insure that students develop reading comprehension strategies as outlined by the Texas Essential Knowledge and Skills (TEKS).
Deliver writing instruction based on the five step writing process, six traits of effective writing, and the support needed by students as they grow in written composition. Written communication will integrate proficient penmanship and the mechanical skills of writing.
Use reflective teaching practices to continually assess student progress through observing, evaluating, and planning instruction.
Provide instruction that meets the developmental needs of all students but is designed to promote acceleration in the language arts processes with the goal of all students reading and writing at their potential.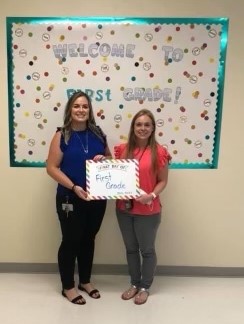 Grade Level Volunteers

All parents should fill out the PTA volunteer form found at Bethanypta.org and register to volunteer through the Plano ISD website https://plano.voly.org/. To learn more about the registration process to become a volunteer, please go to the Plano ISD Volunteering and Partnering Website by clicking on this link. For the safety of our children, only those who have been vetted through Voly.Org will be able to enjoy volunteer opportunities. There are many ways you can volunteer here at Bethany. We always appreciate classroom helpers/mentors, material helpers, field trip volunteers and PTA sponsored party planners/home room parents. You can read in the classroom, take things home, or volunteer in other areas of the building. One of the first grade teachers or a PTA volunteer will contact you about these opportunities once you have signed up and the volunteer registration has been completed.