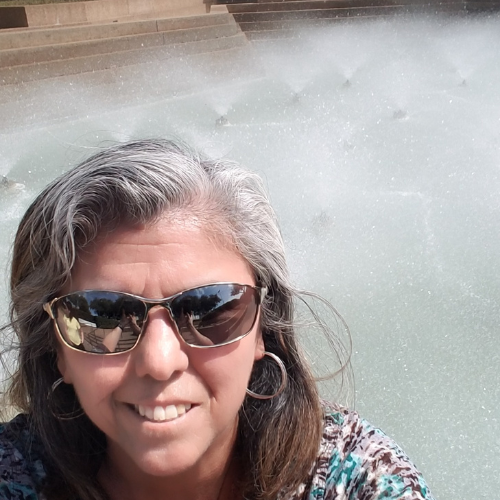 Phone: 469-752-2554
Email:
Degrees and Certifications:
Bachelors of Arts - Psychology- Sociology Masters of Bilingual Education
Mrs.

Martha Tinnin

Don't Stop Believing!

1st Grade Bilingual Teacher

¡Hola! ¿Qué tal? Estoy tan emocionada de ser la maestra del programa Dual de 1er grado. Tengo 19 maravillosos años de ser maestra. Empecé en el Distrito de Dallas por 8 años como maestra de los Newcomers y maestra de 1er grado. Me mudé a Wylie y estuve en el distrito por 5 años como maestra Bilingüe en el programa de Lenguaje Dual two way. Al fin, llegué muy emocionada al distrito de Plano para enseñar en el programa Bilingüe que ahora es el Programa Dual one way.

Me gradué de Texas A&M Kingsville con mi Bachillerato de Psicología y Sociología. Después recibí la Maestría de Educación bilingüe de SMU (Southern Methodist University).

Espero que trabajaremos juntos para llevar a su estudiante al más allá y llegar a la Universidad. ¡Todo es posible!
What Memorial means to me.

La escuela Memorial, para mí, es mi segundo hogar. Me encanta el lindo ambiente. Todas las directoras y maestros son muy amables y bienvenidos. Simplemente dicho, estoy con familia aquí.
Horario
Horario de Primer Grado Dual

| | |
| --- | --- |
| Clase/actividad | Lunes a viernes |
| Reunión de la mañana-morning meeting | 7:45 - 8:00 |
| ELD | 8:00- 8:35 |
| Especiales | 8:35- 9:25 |
| Lectura grupo grande (30) | 9:25 - 9:55 |
| Grupos pequeños (85) | 9:55- 11:20 |
| Almuerzo (30) | 11:20-11:50 |
| Recreo (30) | 11:50- 12:20 |
| Matemáticas grupo grande | 12:20- 12:50 |
| Matemáticas grupos pequeños | 12:50- 1:50 |
| Brain break | 1:50-1:55 |
| ciencias/social studies | 1:55 - 2:35 |
| Wrap up | 2:35-2:45 |

Horario de Primer Grado Dual

| | |
| --- | --- |
| Clase/actividad | Lunes a viernes |
| Reunión de la mañana-morning meeting | 7:45 - 8:00 |
| ELD | 8:00- 8:35 |
| Especiales | 8:35- 9:25 |
| Lectura grupo grande (30) | 9:25 - 9:55 |
| Grupos pequeños (85) | 9:55- 11:20 |
| Almuerzo (30) | 11:20-11:50 |
| Recreo (30) | 11:50- 12:20 |
| Matemáticas grupo grande | 12:20- 12:50 |
| Matemáticas grupos pequeños | 12:50- 1:50 |
| Brain break | 1:50-1:55 |
| ciencias/social studies | 1:55 - 2:35 |
| Wrap up | 2:35-2:45 |

Horario de Primer Grado Dual

| | |
| --- | --- |
| Clase/actividad | Lunes a viernes |
| Reunión de la mañana-morning meeting | 7:45 - 8:00 |
| ELD | 8:00- 8:35 |
| Especiales | 8:35- 9:25 |
| Lectura grupo grande (30) | 9:25 - 9:55 |
| Grupos pequeños (85) | 9:55- 11:20 |
| Almuerzo (30) | 11:20-11:50 |
| Recreo (30) | 11:50- 12:20 |
| Matemáticas grupo grande | 12:20- 12:50 |
| Matemáticas grupos pequeños | 12:50- 1:50 |
| Brain break | 1:50-1:55 |
| ciencias/social studies | 1:55 - 2:35 |
| Wrap up | 2:35-2:45 |

Horario de Primer Grado Dual

| | |
| --- | --- |
| Clase/actividad | Lunes a viernes |
| Reunión de la mañana-morning meeting | 7:45 - 8:00 |
| ELD | 8:00- 8:35 |
| Especiales | 8:35- 9:25 |
| Lectura grupo grande (30) | 9:25 - 9:55 |
| Grupos pequeños (85) | 9:55- 11:20 |
| Almuerzo (30) | 11:20-11:50 |
| Recreo (30) | 11:50- 12:20 |
| Matemáticas grupo grande | 12:20- 12:50 |
| Matemáticas grupos pequeños | 12:50- 1:50 |
| Brain break | 1:50-1:55 |
| ciencias/social studies | 1:55 - 2:35 |
| Wrap up | 2:35-2:45 |

Horario de Primer Grado Dual

| | |
| --- | --- |
| Clase/actividad | Lunes a viernes |
| Reunión de la mañana-morning meeting | 7:45 - 8:00 |
| ELD | 8:00- 8:35 |
| Especiales | 8:35- 9:25 |
| Lectura grupo grande (30) | 9:25 - 9:55 |
| Grupos pequeños (85) | 9:55- 11:20 |
| Almuerzo (30) | 11:20-11:50 |
| Recreo (30) | 11:50- 12:20 |
| Matemáticas grupo grande | 12:20- 12:50 |
| Matemáticas grupos pequeños | 12:50- 1:50 |
| Brain break | 1:50-1:55 |
| ciencias/social studies | 1:55 - 2:35 |
| Wrap up | 2:35-2:45 |

First Grade Schedule

7:35-7:45 School-Wide Morning Meeting

7:45-8:10 Unpack/Morning Meeting

8:10-9:00 Specials

9:00-10:25 Math

10:25-11:05 Science

11:05-11:35 Lunch

11:35-12:05 Recess

12:05-2:45 Language Arts

12:45-1:25 Intervention and Enrichment

2:45 Dismissal

First Grade Schedule

7:35-7:45 School-Wide Morning Meeting

7:45-8:10 Unpack/Morning Meeting

8:10-9:00 Specials

9:00-10:25 Math

10:25-11:05 Science

11:05-11:35 Lunch

11:35-12:05 Recess

12:05-2:45 Language Arts

12:45-1:25 Intervention and Enrichment

2:45 Dismissal

First Grade Schedule

7:35-7:45 School-Wide Morning Meeting

7:45-8:10 Unpack/Morning Meeting

8:10-9:00 Specials

9:00-10:25 Math

10:25-11:05 Science

11:05-11:35 Lunch

11:35-12:05 Recess

12:05-2:45 Language Arts

12:45-1:25 Intervention and Enrichment

2:45 Dismissal

7:45 -7:35 - School wide morning meeting

7:45 – 8:10 - Unpack Morning Meeting

8:10 – 9:00 – Specials

9:00 - 10:25 - Math

10:25 - 11:05 - Science

11:05 - 11:35 - Lunch

11:35- 12:05 Recess

First Grade Schedule

7:35-7:45 School-Wide Morning Meeting

7:45-8:10 Unpack/Morning Meeting

8:10-9:00 Specials

9:00-10:25 Math

10:25-11:05 Science

11:05-11:35 Lunch

11:35-12:05 Recess

12:05-2:45 Language Arts

12:45-1:25 Intervention and Enrichment

2:45 Dismissal