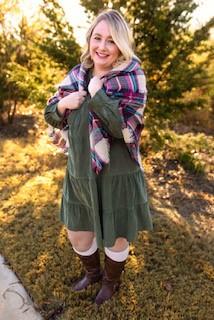 Phone: 469-752-3147
Email:
Degrees and Certifications:
Bachelor's in Interdisciplinary Studies
Mrs.

Emma Luster

My name is Emma Luster and I am the Dyslexia Support Teacher at Shepard. I grew up in Tyler, Texas where I enjoyed dance classes, football games, and spending time with family/friends. I graduated from Texas State University with a degree in Interdisciplinary Studies. Go Bobcats! After graduating I spent a year subbing in the Ft. Worth area until I found my first position teaching 4th grade in Aledo Independent School District.

I spent four years teaching in Aledo when I applied to Plano Independent School District. This is my fifth year teaching at Shepard Elementary. I spent two years teaching 5th grade and 2 years teaching 2nd grade. I have truly found my passion for teaching the Take Flight curriculum and providing intervention to small groups in all grade levels. I love learning with my students and know this year will be no exception.

I have a daughter who is 1. Her name is Collins Elizabeth, and she is the joy of my life. My husband, Eric is my best friend and we enjoy hiking and being outdoors. The ruler of our house is our German Shepard, Murphy. She is our 1st baby and is very spoiled.

----------------------------------------

2022 - 2023 Shepard Teacher of the Year!!
Contact Information

You may contact me on my classroom phone or email at any time and I will get back to you at my earliest convenience.

My conference time is 12:00 pm - 12:40 pm.

Important Information for Parents

Please reference the district site for important dyslexia-related information. Please reach out to me if you still have questions or concerns.

For the students I service, they are given the Core 5 app on their Chromebook, which is a web-based app that is installed for them via their Plano I.S.D.webdesk, as well as Learning Ally, which I add all of my takeflight students to and is accessible either via a website link or I will download it for them on their devices.

Also, here is an interesting fun fact! October is Dyslexia Awareness Month.

TEA Dyslexia and Related Disorders

Below is the direct link to the TEA website for Dyslexia and Related Disorders. You will find wonderful resources for Dyslexia.

Dyslexia Handbook

Below is the most recent Texas Dyslexia Handbook. This version went into effect on February, 10th, 2022

Favorites

Favorite Snacks

Pretzels

Popcorn

Kettle Chips Salt and Vinegar

Favorite School Drinks (Not Sonic)

Starbucks iced Coffee w// vanilla sweet cream cold foam no classic

Favorite Sonic Drink

Lemonade Strawberry fruit Slush

Best Gift Card for $5

Best Gift Card for More Than $5

Target

Walmart
Home Goods

Bonus School Supplies

Dry Erase Markers

Fun Pens

Stickers

Hobbies

Hiking

Reading

Being outdoors

Getting my nails done
Seeing Movies

T-Shirt Size

Favorite Color

Favorite Scents

Birthday (Month and Day)

Other Helpful Hints

My favorite animal is an octopus, I love shopping, music, being outdoors, and going on adventures with my family!