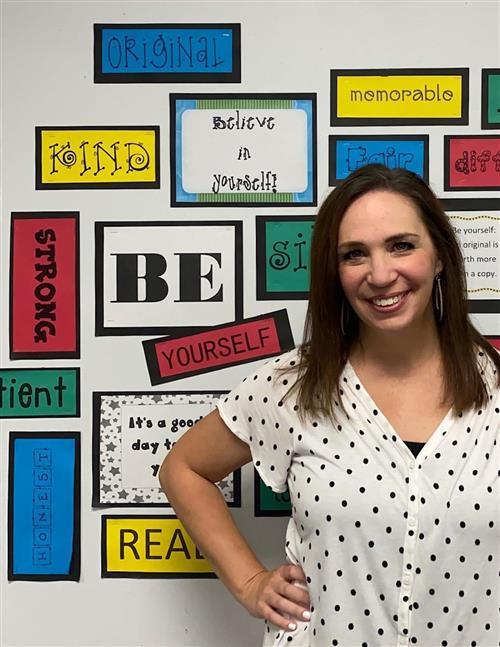 Phone:
Email:
Degrees and Certifications:
Bachelor's Degree in Early Childhood Education Master's Degree in School Counseling
Erin Christenson

My name is Erin Christenson and I love being part of the Shepard family as the Counselor! I earned a Bachelor's degree from The University of Central Oklahoma in Early Childhood Education. I also earned a Master's degree in School Counseling from Amberton University. Prior to becoming a school counselor, I taught for 9 years. For 5 of those years, I taught in Plano at Thomas Elementary and was the 2nd grade team leader for 3 years. I have been a school counselor since 2009. Previously, I've been the school counselor at Nocona Middle School and here in Plano at Centennial Elementary. My husband, Courtney, is also an educator and is a varsity basketball coach and our daughter, Callie, attended Shepard in elementary school and is now at Wilson for middle school.

I love being an elementary school counselor because it allows me to be a teacher and a counselor at the same time. I am passionate about helping children. I feel like my job as a school counselor is to support the students, faculty and parents in any way I can. Each week I will teach guidance lessons, which cover topics like social skills, character-building, peer pressure, decision-making, friendship, conflict resolution, study skills, safety and drug awareness. This is done through the use of technology, stories, Q & A, puppets, role-playing and other various activities. I will also provide a listening ear for individual students who may want to come and receive support and encouragement. Individual and group sessions can be provided on a referral basis from teachers, parents or the students themselves. My goal is to help children have a happy and successful academic experience while growing socially and emotionally.

I look forward to working with the children, parents and staff this year at Shepard!
Office Hours

I do not have specific office hours as I make myself available to the needs of the students and families between the hours of 7:15 am - 3:30 pm. Should you need to contact me, please send me an email, give me a call, or if you are a student, simply stop by my office and we can meet then or plan a time that works best.

Shepard Counseling Schedule by Grade

Kindergarten:

Mrs. Nash Monday 1:15-1:45 pm

Mrs. Wilson Monday 2:00-2:30 pm

Mrs. Felty Tuesday 2:00-2:30 pm

First Grade:

Miss. Griggs Wednesday 9:30-10:00 am

Mrs. Whitmire Friday 1:00-1:30 pm

Ms. Swinton Wednesday 10:15-10:45 am

Miss. Kustoff Wednesday 1:00-1:30 pm

Second Grade:

Miss. Drake: Thursday 9:30-10:00 am

Mrs. Hungerford: Friday 9:45-10:15 am

Mrs. Robbins: Thursday 9:00-9:30 am

Ms. Russo: Friday 8:30-9:00 am

Third Grade:

Mrs. Howe Wednesday 2:00- 2:30 pm

Mrs. Greene Thursday 2:00-2:30 pm

Mrs. Fiero Tuesday 2:00-2:30 pm

Fourth Grade:

Mrs. Crawford Friday 8:30-9:00 am

Mrs. Murry Friday 9:00-9:30 am

Mrs. Zawar Friday 10:45-11:15 am

Fifth Grade:

Mr. Villanueva Tuesday 12:30-1:00 pm

Ms. Shahidi Thursday 12:30-1:00 pm

Mrs. Kotara Thursday 1:00-1:30 pm

Plano ISD Counseling Program

Resources for Families

Bullying and Conflict Resolution

In March, I will have lessons with each class on identifying the differences between bullying and conflict and we will have discussions about this important topic.

These are additional lessons with the classes to work in conjunction with our already scheduled, twice-a-year bullying lessons.

Shepard Watch D.O.G.S.

Who are Watch D.O.G.S. (Dads of Great Students)?

Come learn more about how our great dads help our school!

Favorites

Favorite Snacks

Chips

Cheese and Crackers

Pistachios

Sour Candy like Trolli gummy worms or sour patch kids

Favorite School Drinks

Best Gift Card for $5

Sonic

McDonald's

Starbucks

Best Gift Card for More Than $5

Bonus School Supplies

Hobbies

Going to the Movies

Time with Family

T-Shirt Size

Favorite Color

Favorite Scents

Birthday (Month and Day)

Aversions and Allergies