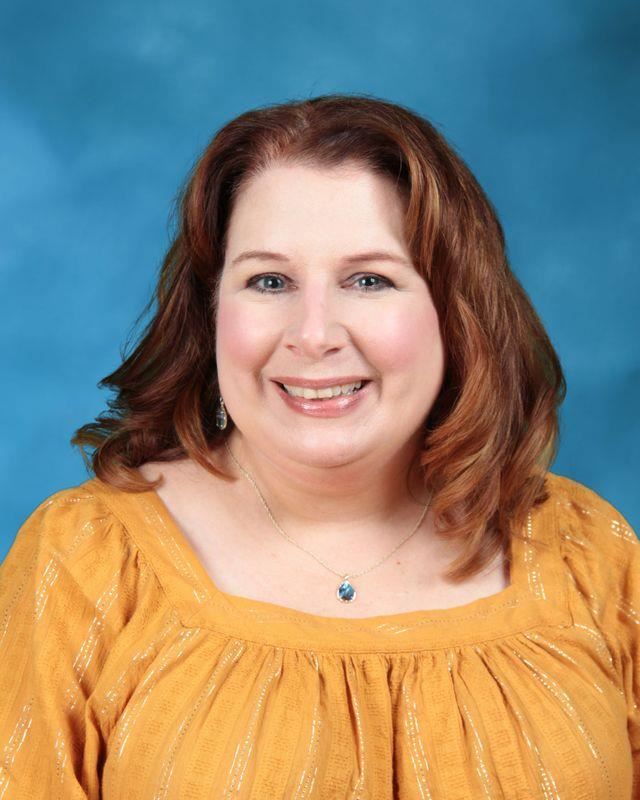 Phone:
Email:
Degrees and Certifications:
Mrs.

Kristin Bishop

Welcome! My name is Kristin Bishop, and I am proud to be serving as the principal of Shepard Elementary School. Thank you for allowing me this opportunity to introduce myself.

My family of four consists of my husband and our two boys, Hal and Harry. We have four fur babies all named after literary characters- 2 lab mix rescue pups named Chani and Luna Lovegood, a kitten named Keefe Sencen (IYKYK), and a ginger tabby named Petey. As a family, we enjoy watching movies, having adventures, and visiting with our friends. When I get a little "me" time, I love to read and have spa time, but my all-time favorite hobby is baking and cooking for friends and family. I'm hoping for a show on the Food Network when I retire from principaling!

I have always been in love with the idea of school, even as a little kid. I remember the exciting first day of school each year. I saw every new grade level as a clean slate, with new friends to make and new teachers to please! My mom never had to drag me out of bed on school days- I was always up and ready to go. Like all the other future teachers, I had a giant chalkboard in our basement that I used to teach my "students" how to read, write, and do math. I grew up in the Chicago suburbs as the middle of three children, and we moved to Arlington, Texas when I was nine years old. I graduated from TCU in 1995 and received my teaching certificate from Tarleton State University in 1996. I taught 4th and 5th grade for four years, then came to Plano ISD as a special education teacher in 2000. After four years as a teacher and team leader in PISD, I earned a master's degree in Educational Administration from UNT and moved into the assistant principal role. I served for seven years as the principal of Davis Elementary School and became the Shepard Principal in 2017.

I enjoy collaborating with the Shepard parents, staff, and students towards achieving Shepard's mission of cultivating a positive and meaningful learning community to ensure academic, social, and emotional success for students. I believe our motto of "Together We Can" is a great starting point!
Office Hours

I do not have specific office hours as I make myself available to the needs of the students and families between the hours of 7:15 am - 3:30 pm. Should you need to contact me, please send me an email, give me a call, or if you are a student, simply stop by my office and we can meet then or plan a time that works best.

Favorites

Favorite Snacks

Pretzels
Fresh veggies
Berries
Popcorn

Favorite School Drinks (Not Sonic)

Favorite Sonic Drink

Unsweet Iced Tea with fresh strawberries

Best Gift Card for $5

Best Gift Card for More Than $5

Amazon

Target

Walmart

Spa

Bonus School Supplies

Hobbies

Reading

Cooking

Spending Time with Friends

T-Shirt Size

Favorite Color

Favorite Scents

Birthday (Month and Day)

Aversions and Allergies

Allergic to peanuts and all nuts

Other Helpful Hints

On rare occasions, I love love love Dr. Pepper