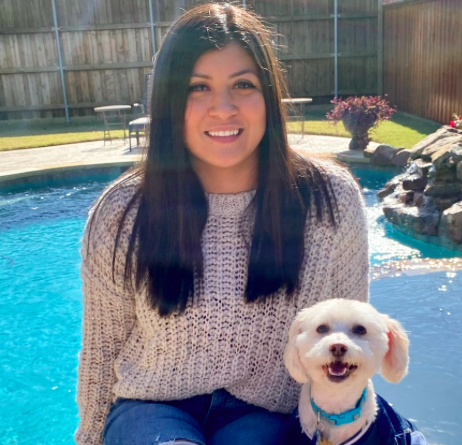 Phone: 469-752-3158
Email:
Degrees and Certifications:
Bachelor's in Education
Ms.

Amber Shahidi

Fifth Grade Teacher

I am so excited for another amazing year at Shepard! This will be my fourth year teaching 5th grade. I Graduated from the University of Texas at Arlington with my Bachelor's in Education where I am also currently going to school for my Master's in Education! In my free time I love to spend time with my family, play soccer, and hangout with my fur babies Charlie and Legend. I'm ready to have a great year with my Shepard Elementary family!
Ms. Shahidi's Class Schedule

7:00 am - 7:30 am Early Morning Drop-Off. During this time, students will be either in the gym or in the cafeteria for breakfast until the 7:30 am bell rings.

7:30 am - 7:40 am Greet Students

7:40 am - 7:45 am Announcements

7:45 am - 7:55 am Daily Meeting

7:55 am - 8:45 am Specials

9:00 am - 10:30 am Math

10:30 am - 11:30 am Science

11:30 am - 12:00 pm Recess

12:00 pm - 12:30 pm Lunch

12:30 pm - 1:15 pm Social Studies

1:15 pm - 2:45 pm Reading/ELA

2:45 pm - 2:55 pm Pack Up/Dismissal

Library:

Each class gets 45 minutes at a time on Mondays.

Please contact your grade level teacher for your student's specific time slot.

PACE:

PACE students receive 1 hour at a time on Mondays, Wednesdays, and Fridays.

Please contact your grade level teacher for your student's specific time slot.

Counselor:

Each class gets 30 minutes at a time on Wednesdays, Thursdays, or Fridays.

Please contact your grade level teacher for your student's specific time slot.

Contact Information

You may contact me on my classroom phone or email at any time and I will get back to you at my earliest convenience.

My conference time is 8:00 am - 8:50 am

Fifth Grade Information

Please see our Fifth Grade Department page for more Fifth Grade information.

Favorites

Favorite Snacks

Anything Salty or covered in chocolate

Favorite School Drinks (Not Sonic)

Favorite Sonic Drink

Best Gift Card for $5

Best Gift Card for More Than $5

Bonus School Supplies

Hobbies

T-Shirt Size

Favorite Color

Favorite Scents

Birthday (Month and Day)