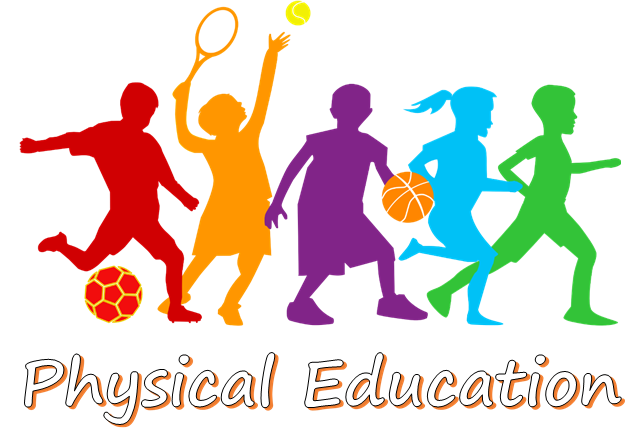 From the Coaches
We are glad that everyone is back for another fun filled year! Your students will be very busy in PE this year working on things like: conditioning, agility, flexibility, throwing, catching, volleyball skills, basketball skills, eye-hand coordination, and balance just to name a few things! We have a lot of great activities and games planned for the year that we can't wait to share!

To ensure that we have a great year in P.E., there are few rules that must be followed. Your students know these rules but we wanted to make sure parents did as well so that we could get your help with them.

Please see the P.E Schedule, Grading Policy& Student Responsibility, and Safety Standards sections below for more information!
Learning Objectives & Special Announcements for PE Classes

September 11 - September 15, 2023

This week in PE, we will be introducing Jog Club to our 1st-5th graders. We will also be learning about scooter safety and how to properly move around the gym safely using those scooters.

PE Schedule (2023-2024)

7:55 am - 8:45 am Fifth Grade

8:50 am - 9:40 am Fourth Grade

9:45 am - 10:35 am Third Grade

10:35 am - 11:30 am Conference

11:30 am - 12:00 pm Lunch

12:10 pm - 1:00 pm Second Grade

1:05 pm - 1:55 pm Kindergarten

2:00 pm - 2:50 pm First Grade

Specials Schedule: Students will normally attend PE three times a week. Your student will know what specials group that they are in and will attend with that group. The schedule will change every 9 weeks. Teachers and students will be notified ahead of time before the schedule changes

Elementary PE

Our physical education program is designed to educate students about the benefits of a healthy lifestyle, teach the importance of fair play and good sportsmanship, and enhance skill development. The program is continuous in nature, so that the students will be involved in activities suitable for their grade level. We reinforce the fact that physical activity is for everyone, regardless of their skill level, age, size, or shape. We stress being open-minded to new experiences and that each student strives to do their best. A key to our PE program is that we want the students to learn in a FUN environment! Classes include a variety of sports, games, and fitness.

PE Grading Policy & Student Responsibility

The physical education department grading system is based on district policy. Each student in grades 3-5 will receive two grades every nine weeks, a grade based on effort and a letter defining citizenship exhibited. Citizenship grades are based on behavior and attitude.

Doctor notes/parent notes: If your child is hurt or sick please write us a note so we know to let them sit out. If they are unable to participate for more than five consecutive school days, we need a note from your doctor.

Participation: All students must participate in all physical education activities on a daily basis unless they are excused for medical reasons. Since P.E. does not have "paperwork", participation in class is the one way we can evaluate the students.

Citizenship: All students are expected to work hard and participate in all activities. they are also expected to have a great attitude and good sportsmanship.

PE Safety Standards

Dress Code:

Wearing proper shoes: Athletic shoes must be worn by your child to participate in P.E. They may be lace up, Velcro, or slip-on with a non-marking rubber sole. Flip-flops, crocs, sandals, shoes with no back or boots are not acceptable for P.E. Students may wear flip-flops or sandals to school if they wish just as long as they also bring the proper shoes on days that they have P.E. We cannot allow the "wheelies" or "heelies" shoes to be worn in gym class.
Wearing shorts with skirts: Due to the nature of some of the activities and movements in P.E. We would like girls to wear shorts underneath their skirts.
Alternative exercises will be the mandatory activities for students who do not have the appropriate shoes.

At Home Workouts for Students