August 28, 2017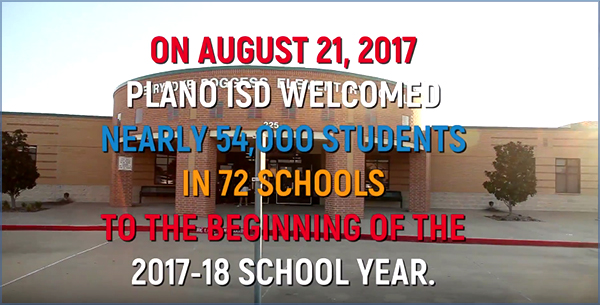 A Very Special First Day of School
Nearly 54,000 students came back to us and made our buildings schools again. There has been so much collective work over these summer months to get everything ready to give your children the highest quality learning environments and experiences possible.
- Dr. Brian Binggeli Superintendent of Schools
August 21

Enjoy this photo gallery of staff and students experiencing a real-life science lesson. Students and staff took the opportunity to study the first total solar eclipse visible in the U.S. since 1918. Plano experienced a 75% coverage on a bright sunny day, and several schools had outdoor lessons, viewing the eclipse using certified eclipse viewing glasses. It was a first day of school for the history books. One kindergartner at Sigler Elementary said it all, "This is so cool..it's epic!"


July 31

More than 100 Plano ISD students were selected via a rigorous interview process to work with corporate partners and non-profits as part of the fourth Plano Mayor's Summer Internship Program. From the pool of applicants, seven students were selected as interns to the district. New this summer in conjunction with the Summer Internship Program, eleven Plano ISD teachers were selected as teacher externs working with local businesses and industries. Photo gallery.



July 16

The final competition of the International GENIUS Olympiad was held June 12 – 17 on the Oswego State University of New York campus. Twelve Plano ISD students competed in the GENIUS Science category at the finalist level and brought home gold and silver medals.



 

June 15

Otto Middle School student Sidhya Peddinti competed as a national finalist and earned 6th place at the National History Day Contest which took place on the University of Maryland campus near Washington D.C.



 

Administrative Appointments for 2017-18
Helpful Links:
PISD.edu | Schools | Calendar | Contacts | Foundation | Menus | Parent Portal
See Plano ISD Headlines or the eNews Archive for more Plano ISD news.

2700 W. 15th Street | Plano, Texas 75075 | 469.752.8150 | askpisd@pisd.edu
To unsubscribe: Parent portal users must use your parent portal login to unsubscribe to eNews: Parent Portal.
If you are not a parent of a Plano ISD student or do not have access to parent portal use http://elist.pisd.edu to unsubscribe.
copyright 2017 Plano Independent School district.