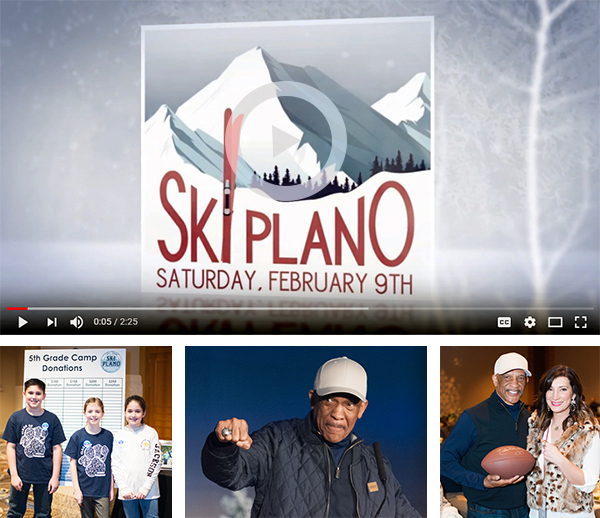 Helping to make this year's Plano ISD Education Foundation's SKI Plano a "super" event, Cowboys legendary wide receiver and SKI Plano Emcee Drew Pearson (see the facebook gallery of event photos) even allowed a "few" lucky attendees to try on his Super Bowl XII ring. And in addition to his emcee duties, Drew provided auction items including signed memorabilia from his personal collection, a lunch with him and signed footballs for guests that donated $500 or more during the auction. Thank you, Drew Pearson.
Over 500 guests attended the event enjoying the dinner, live band, big board, silent auction and raffle. They had fun while supporting kids in Plano and helped to raise more than $319,000. A super thank you to the many businesses, organizations and individuals who contributed financially and with gifts - see the list of event sponsors. Thank you awesome sponsors. We sincerely appreciate event chair Jenna Muns-Maynard (pictured above right), Foundation President Jennifer Jamieson, the SKI Plano committee and the dedicated foundation volunteers. And of course an extra special super thank you for those who attended the event. SKI Plano is the Plano Education Foundation's largest fundraiser and supports fifth grade camp, Grants to Educators, the CORE store, AVID, Plano Family Literacy, robotics and more - programs important to our students and staff. View highlights video (2 min. 25 sec.).

---

Annually almost 4,000 students are selected nationwide as Presidential Scholar candidates. Application is by invitation only; therefore, students may not apply individually to the program, nor may their schools nominate them. Twenty-two Plano ISD seniors have been honored as candidates.



---

Debate teams from around the world entered the 2018-19 International Public Policy Forum (IPPF) competition, but only 16 remain. Jasper students remain eligible to win the $10,000 grand prize.



---

Scholastic Awards are earned for works that demonstrate originality, technical skill and emergence of a personal voice or vision. Plano ISD fine arts students earned 58 gold key, 72 silver key and 93 honorable mention awards.



---

Elementary school students participated in campus-level National Geographic GeoBees for an opportunity to qualify for the state competition in March.



---
This is a hands-on, project-based camp designed to introduce middle school students to the fundamentals of STEM. Students find out how fun and exciting engineering can be.


---
View More District News

---
The Plano ISD Social Emotional Learning (SEL) Fine Arts Spring Showcase will take place at the Courtyard Theatre on March 19 from 6-7:30 p.m. For more information visit the SEL webpage.

---
The next parent engagement session - Relationship Skills - is scheduled for March 21, 6 p.m. at Vines High School.

---
REMINDERS
---
SCHOOL BOARD UPDATE

The Plano ISD Board of Trustees is actively making a difference during the 86th regular legislative session that began January 8, 2019. Bookmark the Board Legislative Timeline that will be continually updated as the session progresses. Here are a few recent activities:

February 25 - Plano ISD PTAs participated in Rally Day at the Capitol along with twenty-eight students who participated in the student caucus regarding community and civic engagement.



---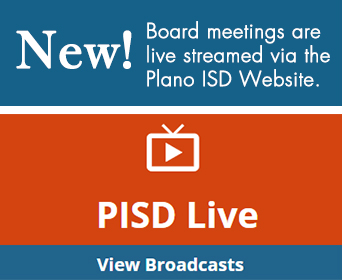 Check it out. School Board Meetings are streamed live from the Administration Center's board room. Connect to the live feed during the meeting or view the board meeting webpage for information about meetings, including calendar, videos, agendas, approved meeting minutes and recorded meeting videos.

---
---
The Plano ISD Board of Trustees met in regular session on Tuesday, February 5. The agenda with links to supporting documents and the full meeting video is available online.
RECOGNITION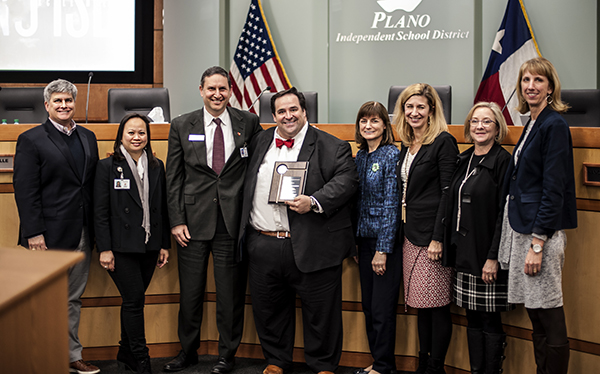 At the March 5 meeting, the Board of Trustees recognized Judge John Payton on his retirement after nearly 30 years of service in Collin County. Pictured are Trustee David Stolle, Trustee Angela Powell, Board Vice President Dr. Yoram Solomon, Judge John Payton, Trustee Tammy Richards, Trustee Jerri Chambers, Board Secretary Nancy Humphrey and Superintendent of Schools Sara Bonser.
ITEMS FOR DISCUSSION AND ACTION
REPORTS
---
---

The Plano ISD Board of Trustees met in a work session on Tuesday, February 19. The agenda with links to supporting documents and the full meeting video is available online.

ADMINISTRATIVE APPOINTMENT

Tyler Soukup was approved by the Board of Trustees as the new Plano West Senior High Athletic Director. Pictured are Plano West Senior High Principal Janis Williams, Plano ISD Director of Athletics Gerald Brence; Tyler Soukup and Plano West Associate Principal Randy Hayes.

REPORTS

Advocacy Efforts regarding the 86th Texas Legislative Session


---

Next Board Meetings: March 19 Work Session


---
Helpful Links: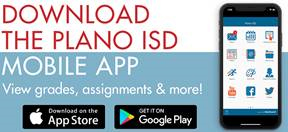 PISD.edu | Schools | Calendar | Contacts | Foundation | Menus | Parent Portal
See Plano ISD Headlines or the eNews Archive for more Plano ISD news.
To unsubscribe: Parent portal users must use your parent portal login to unsubscribe to eNews: Parent Portal. If you are not a parent of a Plano ISD student or do not have access to parent portal use https://elist.pisd.edu.
Copyright 2018 Plano Independent School district
15th Street | Plano, Texas 75075 | 469.752.8150 | askpisd@pisd.edu.