January 13, 2018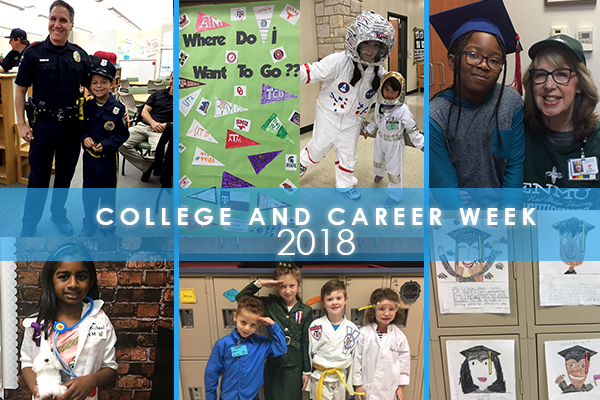 What do you want to be when you grow up? Some of us spend our lives pondering that very question and others have just always known the answer. It is never too early to begin to explore, talk to adults in the workforce and do some research. College and Career Week, celebrated in Plano ISD in January, is not just about wearing hats and college spirit wear. It is a week of serious learning about growing up. What do I need to do to become a college student, a fireman, a police officer, a welder or a teacher? Where would I go to college? Could I go to college? How do I get a job? Parents, businesses professionals, college representatives and community members took time in their busy schedules to speak to students about educational opportunities and careers. At Mathews and Daffron Elementary Schools, students had the opportunity to speak with actual college students via Skype and/or a live panel discussion. Teachers and counselors helped students explore their future opportunities with art, writing, research projects and fun, keeping the door open to big dreams. See the photo gallery.
January 9, 2018

Two Plano West students were among the "top 300" scholars announced by the Regeneron Science Talent Search, a program of the Society for Science & the Public. The "top 300" scholars were selected from 1,818 entrants from 555 high schools in 45 states, Washington D.C., Puerto Rico and six American and international high schools overseas.






---
December 3, 2017

A team of three Plano East Senior High School culinary arts students competed with students from 17 Dallas/Fort Worth area school districts in the Healthy Kids' Menu Choice Challenge, a live cooking demonstration and contest.



January 18, 2018

Plano ISD invites our community to the 2018 tribute event "Creating Our Future" honoring the legacy of Dr. Martin Luther King, Jr. This annual celebration will showcase student talent and diversity leadership in our schools and community and is scheduled for Thursday, January 18. The pre-program entertainment begins at 6:30 p.m. and the program begins at 7:00 p.m. at Williams High School auditorium located at 1717 17th Street.






---
April 21, 2018

Plano ISD will hold a job fair on Saturday, April 21 from 9 a.m. to 12 noon. Candidates must register by completing an online application in order to receive an entry ticket for admission. Registration deadline is April 13 at 3 p.m. Elementary and secondary campuses in the district will be there with staff to speak to those interested in teaching and other professional opportunities. Visit the employment website for more details.




Save the Date for SKI Plano Fun: Benefiting the students, faculty, staff and schools of Plano ISD, SKI Plano is scheduled for February 3, 2018 at the Plano Marriott at Legacy Town Center. Come celebrate with dinner, shopping and dancing at the Education Foundation's primary fundraising event. View our highlights video or visit SKIPlano.org for more information about how you can help and to purchase tickets.


---

The next regular meeting of the board of trustees is scheduled for January 16 at 7 p.m. in the first floor board room. The agenda with links to supporting documents is posted on BoardBook.
RECOGNITIONS
Board of Trustee Recognitions
Proclamation from the City of Richardson - School Board Recognition Month
ITEMS FOR DISCUSSION AND ACTION
Recommendation to Terminate Employment of Term Contract Employee
Consideration and Possible Approval of a Board Member Appointment to the Board of Trustees - Vacant Place 6
Concussion Oversight Team
REPORTS
Helpful Links:
PISD.edu | Schools | Calendar | Contacts | Foundation | Menus | Parent Portal
See Plano ISD Headlines or the eNews Archive for more Plano ISD news.