March 8, 2018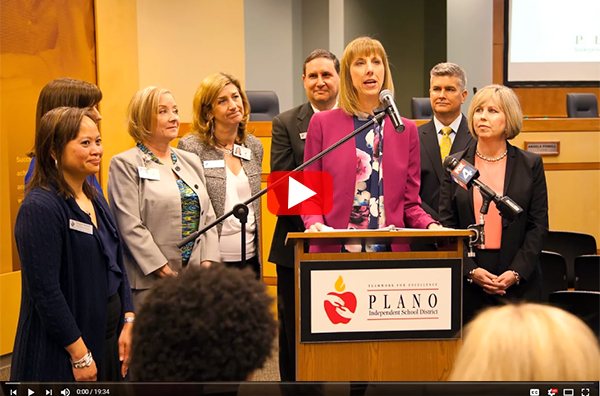 In a special called meeting on March 6, the Board named Interim Superintendent of Schools Sara Bonser as the lone finalist for the position of Superintendent. Ms. Bonser's appointment was welcomed with a standing ovation by the many community leaders, educators and parents in attendance. View video (19 minutes, 34 seconds).
Ms. Bonser, who returned to Plano ISD to served as interim deputy superintendent in May 2017, has been filling the role of interim superintendent since November 2017 after the resignation of Dr. Brian Binggeli. Ms. Bonser brings a wealth of experience to her new leadership role with 27 years in education, having served in Plano ISD as a teacher, assistant principal and principal for nineteen years, including seven years as principal of Williams High School. Prior to her return to Plano ISD, she served seven years in Rockwall ISD as chief academic officer, chief administrative officer, assistant superintendent for student and family services and director of student and family services. She is making history as the first woman to be appointed superintendent in Plano ISD. "I would be remiss not to mention that Ms. Bonser is the first female to serve in this role," said Board President Missy Bender, "but this is really a statement about leadership, more than it is about commending firsts, and we have found an extremely strong and talented leader in Ms. Bonser. She has the full support and respect of the Plano ISD Board of Trustees."
The state of Texas requires school districts to name a lone finalist for superintendent, followed by a 21-day waiting period. The school board will vote on Ms. Bonser's appointment as superintendent at that time. View photo gallery.
Photo: Trustee Angela Powell, Trustee Tammy Richards (behind Mrs. Powell), Board Secretary Nancy Humphrey, Trustee Jeri Chambers, Trustee Dr. Yoram Solomon, Lone Finalist Sara Bonser (at podium), Board Vice President David Stolle and Board President Missy Bender.

February 24, 2018

Defeating reigning state champions Duncanville, 60-48, the Lady Wildcats were unstoppable taking home the first state title in school history as the new UIL 6A Girls Basketball Champions.



March 1, 2018

Plano ISD joins with the National Merit Scholarship Corporation (NMSC) in recognizing 119 students who have been awarded finalist standing in the 63rd Annual National Merit Scholarship Program.






---
February 24, 2018

Plano ISD swept eleven of the eighteen categories of competition in the senior division. Plano ISD students had 58% of the total senior division projects registered and earned 84% of the awards, including four of the four grand prize awards and four grand prize runners ups.



February 24, 2018

In the junior division, Plano ISD student projects comprised 33% of the total projects registered and earned 54% of the junior division awards. Three of the four grand prize awards were won by Plano ISD students.






---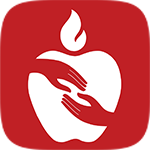 Plano ISD Mobile App. The Plano ISD mobile app is now undergoing beta testing, and we invite you to provide feedback by downloading the app. Instructions on how to download and use the app. The app is available from Google Play or the App Store.
The app is a powerful tool to help keep you informed and connected. The login button gives both students and parents access to students' grades, alerts from school and district, links to calendars, school/district news and social media, and access to school contact information, plus more functions to explore under resources – like menus, bus routes and more. The app is designed to give students and families access to the information they need at their fingertips and on the go.
We appreciate your feedback regarding the app and hope Plano ISD families will have an opportunity to use and report back, via the feedback button of the app, how the app is helpful and how it can be improved. Note that the app is still under development, so it will be evolving as we receive feedback from you.


---

Please Take a Few Moment to Complete the District eNews Reader Survey. Please take our brief survey and share your experience regarding the district eNews. This survey does not include eNews from individual campuses.


---
The Diversity Advisory Committee (DAC) is seeking interested parents for a video project. Please complete the form linked here if you are interested in sharing your experiences with guiding your child to enroll in Advanced Placement courses. Targeted languages for videos are: Arabic, Mandarin, Telugu, Spanish, Vietnamese, Urdu and English. DAC is a district appointed committee charged to develop and implement a parental support program in support of the district's Commitment to Equity program that is working to reduce student opportunity gaps at all grade levels. Parents interested in the video project should please complete this form so you can be contacted.


---
Plano ISD will hold a job fair on Saturday, April 21 from 9 a.m. to 12 noon. Candidates must register by completing an online application in order to receive an entry ticket for admission. Registration deadline is April 13 at 3 p.m. Elementary and secondary campuses in the district will be there with staff to speak to those interested in teaching and other professional opportunities. Visit the employment website for more details. More information is available online.


---

The Plano ISD Board of Trustees met on March 6 at the Plano ISD Administration Center board room at 7:00 p.m. The agenda with links to supporting documents is posted on BoardBook.
STUDENT RECOGNITIONS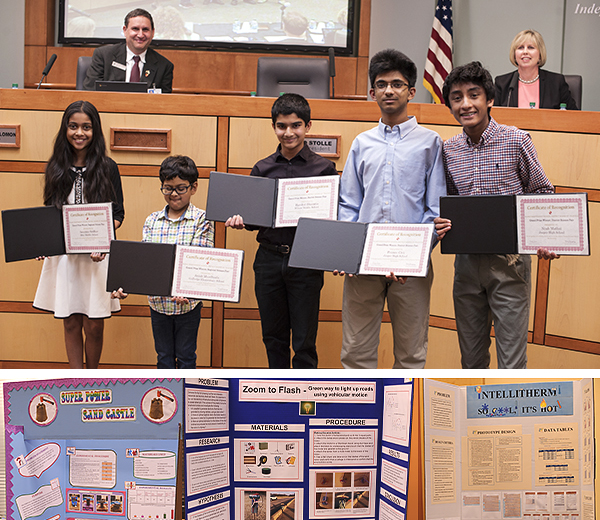 Grand prize winners from the Elementary Regional and Secondary District Science Fairs were honored by the Board of Trustees with certificates.
Pictured are Anushka Sridhar, Otto Middle School; Anish Musthyala, Gulledge Elementary; Harshal Bharatia, Wilson Middle School; Pranav Civi, Jasper High School; and Noah Mathai, Jasper High School. Students brought their project boards for display. Board members pictured are Trustee Dr. Yoram Solomon and Board President Missy Bender.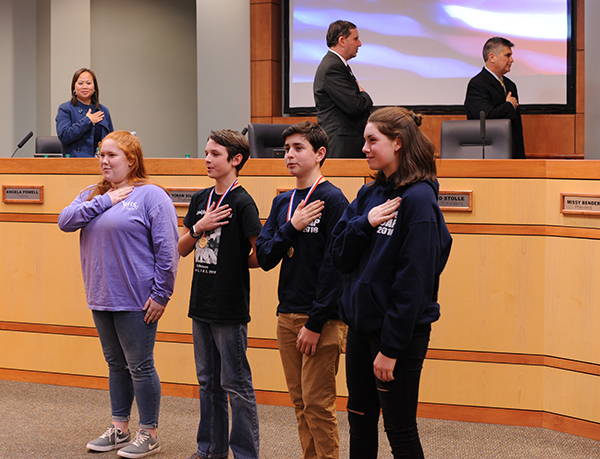 At the March 6 board meeting, one act play best actor/actress winners lead the "Pledge of Allegiance" and singing "The Star Spangled Banner" was an All State Choir member.
Pictured are Emily Kondrat, All State Choir Vines High School and meeting soloist; Max Mayes, Frankford Middle School, best actor; Noah Coggan, Renner Middle School, best actor; and Emilee McElwain, Renner Middle School, best actress.
The complete student cast and crew, with sponsors, from the winning one act plays from Frankford Middle School ("The Diviners by Jim Leonard Jr., directed by Frankford Theatre Teacher Mia Fisher) and Renner Middle School ("To See the Stars" by Cynthia Mercati, directed by Renner Theatre Teacher Kelli Sutton) were in attendance and honored by the Board of Trustees during the meeting. Board members in photo: Trustee Angela Powell, Trustee Dr. Yoram Solomon and Board Vice President David Stolle.
STAFF RECOGNITIONS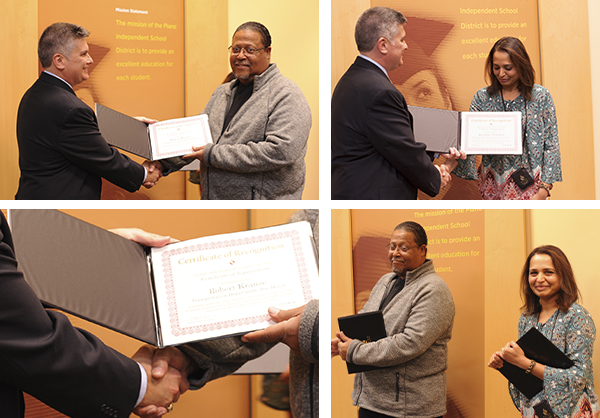 Board certificates of recognition (presented by Board Vice President David Stolle on the Board's behalf) to Bus Driver Robert Krause (top left photo, in gray sweater) and Bus Assistant Jayshree Panchal (top right photo) in honor of their extreme professionalism and attention to duty during a bus accident in January. Both transportation employees' actions were focused on the safety of the student rider (uninjured ) and staff after a vehicle ran a red light and impacted the bus.
REPORTS
Helpful Links:
PISD.edu | Schools | Calendar | Contacts | Foundation | Menus | Parent Portal
See Plano ISD Headlines or the eNews Archive for more Plano ISD news.