September 11, 2017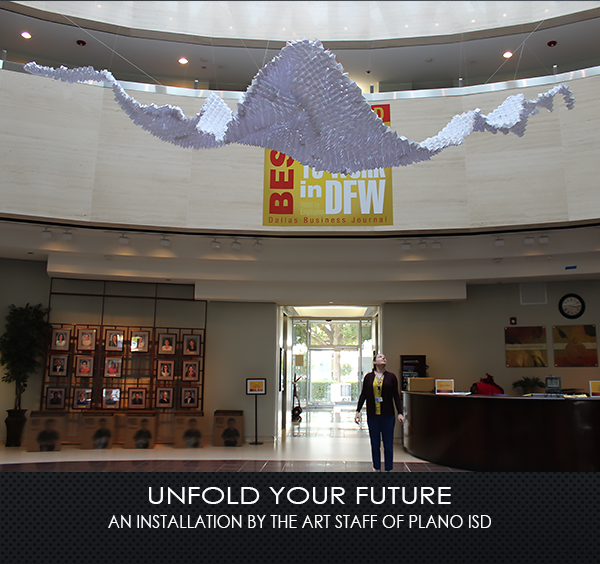 National Arts in Education Week
Passed by Congress in 2010, House Resolution 275 designates the week beginning with the second Sunday in September as National Arts in Education Week. During this week, the field of arts education joins together in communities across the country to tell the story of the impact of the transformative power of the arts in education.
As an example of this joining together, see the Photo Gallery of the creation of the giant origami sculpture on display in the lobby of the Administration Center. This paper sculpture was created using more than 1,000 folded paper "fortune tellers;" a classic school-age origami device that students use to predict the future. These modules were then joined together to create the sculpture and as a symbol of encouragement to students to "Unfold Your Future" in Plano ISD.
August 30

Six students representing four Plano ISD middle schools were named among the Top 300 Broadcom MASTERS (formerly known as semifinalist) on September 6, 2017. Competing in this competition were students from 49 states and four territories. Broadcom MASTERS (Math, Applied Science, Technology and Engineering for Rising Stars) a program of the Society for Science & the Public, is the premier middle school science and engineering fair competition. Thirty national finalists will be selected on September 20.


August 9

Texas topped a list of nineteen states who cut general funding per student during the 2016-17 school year, according to the Center on Budget and Policy Priorities. This decline occurred during a time when increasing property values throughout the state have benefited the state budget.




Response Requested by Nov. 1

Plano ISD appreciates your input on the two calendar options for the 2018-2019 academic year that were presented to the school board on September 5. Please review both drafts and provide feedback on your preferred calendar. Each option is provided below, along with a survey to gather your input. The survey is open until November 1, 2017



Please join us for Parent Education Nights on issues affecting teens. Three identical sessions are scheduled in October and November.

Please join us for College Nights on Sept. 11 and 12 from 6:30 to 8 p.m.
at Plano Senior High and Plano East Senior High, respectively.

 

Helpful Links:
PISD.edu | Schools | Calendar | Contacts | Foundation | Menus | Parent Portal
See Plano ISD Headlines or the eNews Archive for more Plano ISD news.

2700 W. 15th Street | Plano, Texas 75075 | 469.752.8150 | askpisd@pisd.edu
To unsubscribe: Parent portal users must use your parent portal login to unsubscribe to eNews: Parent Portal.
If you are not a parent of a Plano ISD student or do not have access to parent portal use http://elist.pisd.edu to unsubscribe.
copyright 2017 Plano Independent School district.