Plano ISD Staff Newsletter | Volume 45, Number 5 | October 26, 2017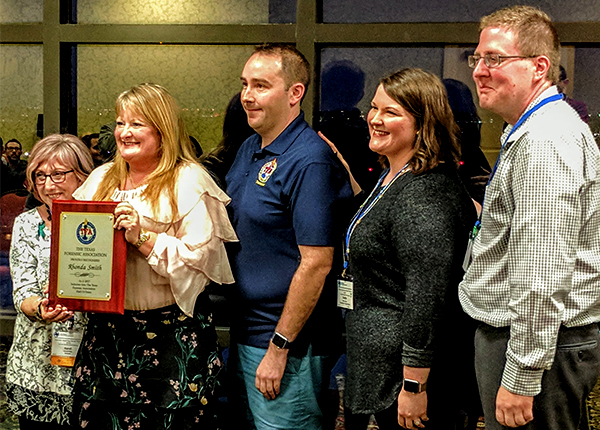 Rhonda Smith, Speech and Debate Coach at Plano West, was inducted into the Texas Forensics Association (TFA) Hall of Fame at the Texas Speech Communication Association Convention in San Antonio on October 5-7, 2017. Rhonda has spent her career helping others succeed – as teacher and mentor. Plano West Senior High principal Kathy King says, "What sets Rhonda apart is her relationship with her students, her belief in them, her ability to build them up, her innate drive to help them exceed beyond their personal expectations and her unique ability to touch their lives forever." Former students have glowing words about Rhonda as a teacher and as a caring adult in their lives. When struggling with a family crisis one of her students said, "No matter how hard she made me work on debate, she never let me lose sight of what really mattered in life." Speaking at the convention Plano West Speech and Debate Teacher Kattie Leito said that Rhonda has helped everyone in the room from hosting state tournaments to helping new coaches. "It is an honor to learn from the best. Texas Forensic Association, and speech and debate as a whole, are better because of Rhonda Smith."
October 26, 2017

Dev Shah, director for telecommunications and special projects has earned the Certified Education Technology Leader (CETL) designation by passing a rigorous two-part certification exam. Dev is one of two technology professionals in Plano ISD who hold this certification.




---
October 5, 2017

On October 5, 2017 Weatherford Elementary Instructional Specialist Erika Manning was officially honored by the Collin County League of United Latin American Citizens (LULAC) as the 2017 Educator of the Year. She was nominated for the honor by a committee in recognition of her many contributions to Plano, Plano ISD and Collin County specifically for her efforts in the education of bilingual children.







---
October 26

Nancy Watson, instructional technology specialist, was selected to be a Google for Education certified innovator. The certified innovator program is a 12-month professional development experience that includes mentorship, online learning activities and the Innovation Academy - all focused on helping new Innovators launch a transformative education project.



---
The talented Plano ISD visual arts staff took part in a faculty exhibit in September at the Cox Building. Didn't have time to view it in person? See the photo gallery of artwork.
United Way agencies will benefit from more than $124,900 raised during the school district's United Way campaign, helping to ensure that critical services are available to individuals and families in need of assistance in North Texas. Once again the district exceeded its goal, thanks to the generosity of you - our Plano ISD employees. Read More.
The community input survey for the 2018-19 academic calendar remains open until November 1. Two calendar options for the 2018-2019 academic year were presented to the school board on September 5. Please review both drafts and provide feedback on your preferred calendar. A list of frequently asked questions is available. Read More.

View the list of staff weddings, births and extensions of sympathy to employees who have lost loved ones. Photo gallery.


---

T

he Plano ISD Board of Trustees met in a work session on October 17 at 6 p.m. in the administration center board room.
The agenda with links to supporting documents is posted on BoardBook.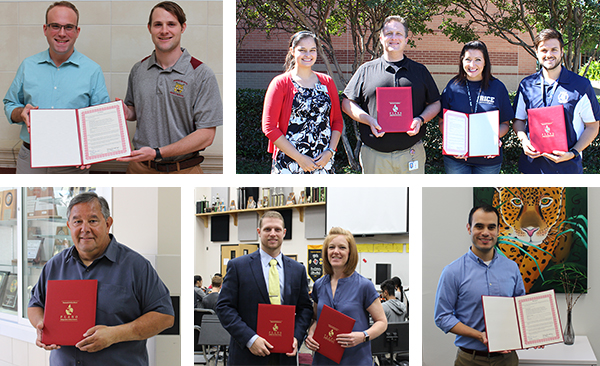 Pictured above holding their resolution from the Plano ISD Board of Trustees are orchestra, band and choir directors whose programs were awarded the "Mark of Excellence" by the Foundation for Music Education. Read more. (top right) Otto MS, Orchestra Directors Geoffrey Golden and Briggs Howe, (top left) Rice MS Band Directors Amber Moore and Jason Tucker with Rice MS Choir director Chelsea Farmer and Rice MS Jazz Band director Joshua Reyna and (bottom right) Plano East Band Director Evelio Villarreal, (middle) Plano East Orchestra Directors Jeremy Pillow and Ann Smith, (bottom left) Jasper HS Orchestra Director Matthew Moreno.
ITEMS FOR DISCUSSION AND ACTION
Memorandum of Understanding Perot Museum Hosts FIRST Lego League Events
Plano Regional Day School Program for the Deaf - Shared Services Arrangement
2018 Graduation Contract with the Ford Center at The Star


WORK SESSION

2017 Assessment & College Readiness Review
Social Emotional Health & Learning Update
GPA/Class Rank Advisory Committee Structure Report
2017 Professional Learning Plan
Helpful Links:
PISD.edu | Schools | Calendar | Contacts | Foundation | Menus
See Plano ISD Headlines or for more district news.
Have News to Share?
To submit notable notes about yourself or fellow employees or to submit a news feature to District Digest please email digest@pisd.edu or call 469-753-8030. Photos are a welcome addition to the news; please share photos via Google or email your photos at the highest resolution available to digest@pisd.edu. See photo tips on the Plano ISD website publicity request page.

2700 W. 15th Street | Plano, Texas 75075 | 469.752.8150 | askpisd@pisd.edu
To unsubscribe: Parent portal users must use your parent portal login to unsubscribe to eNews: Parent Portal.
If you are not a parent of a Plano ISD student or do not have access to parent portal use http://elist.pisd.edu to unsubscribe.
copyright 2017 Plano Independent School district.