Return to Headlines
Summer Teacher Externships Made Possible by Local Business Partnership
July 20, 2022
A grant through the Texas Workforce Commission benefited Plano ISD teachers who applied to be summer externs at local for-profit or non-profit organizations. Workforce Solutions for North Central Texas and the Plano ISD Education Foundation partnered to provide these selected secondary teachers, counselors, specialists and librarians with opportunities to work with knowledgeable and skilled industry employees to explore the knowledge and skills needed to thrive. Twenty Plano ISD educators were selected to participate in the 2022 grant. Teacher externs shadowed one or multiple employees, or worked on a specific project. After completing the summer program, teacher externs will bring real-life experiences back to their classrooms to help prepare Plano ISD students for success beyond the classroom. Following the completion of the program, participants received a stipend and a gas card.
Those selected for the program were tasked with:
Working 32 hours or 4 days at the assigned organization between June 7-July 8. The exact dates were determined by the organization and the candidate.
Creating a lesson plan utilizing the district's lesson plan template to apply learning in the upcoming school year.
Sharing their experiences and lesson plan design at the externship graduation luncheon that took place on July 19th.
Special thanks to Phedra Redifer, Executive Director, and Danielle Davis, Partnership Development with Workforce Solutions of North Central Texas and to the 2022 externship industry sponsors who made this experience for Plano ISD teachers possible.
The Assistance Center of Collin County
Ani Dunstone, Shepton High School
Victoria Neal, Hendrick Middle School
Beaver Battle
Errica Green, Murphy Middle School
Childrens Medical Center Plano
Dyana Edwards, McMillen High School
Julie Eiben, Armstrong Middle School
Corgan & Associates
Linda Alloju, Plano West Senior High
Credit Union of Texas
Kimberly Smith, Haggard Middle School
GXA
Parul Dumka, Williams High School
Melanie McBride, Jasper High School
Heritage Farmstead Museum
Leah Sabes, McMillen High School
Learning Forward Texas
Lori Brooks, Armstrong Middle School
Gwendolyn Johnston, Solomon Center
Marketing Brainology
Shiletha Snoddy, Plano West Senior High
MKC Create
Sarah Zaki, Otto Middle School
Murphy Road Animal Hospital
Brent Love, Williams and McMillen High School
Northwest Hardwood
Francisco Flores, Academy High School
Region 10 - Transition
Erika Trammell, Plano Senior High School
Stantec Architecture
Jason Dewese, Shepton High School
Scott Johnson, McMillen High School
Kristin Zhang, Schimelpfenig Middle School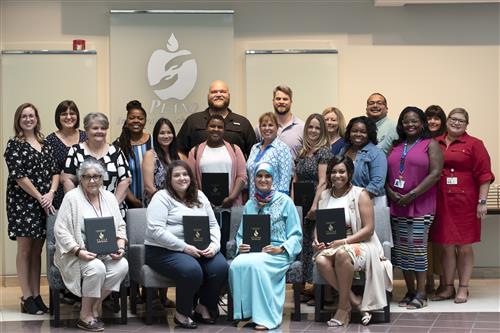 Seated: Leah Sabes, Dyana Edwards, Sarah Zaki, Erika Trammell.
Middle Row: Danielle Davis, Edna Phythian, Lori Brooks, Victoria Neal, Linda Alloju, Errica Green, Melanie McBride, Ani Dunstone, Kimberly Smith, Shiletha Snoddy, Brittnea Ussery.
Back Row: Brent Love, Scott Johnson, Kristin Zhang, Francisco Flores, Allison Welch.