Return to Headlines
Plano ISD UIL High School One-Act Play Results
November 11, 2022
The Plano ISD High School One Act Play competition was held at Plano East Senior High School on Friday, November 11, 2022. Seven Plano ISD high school programs competed in the University Interscholastic League (UIL) theatre competition, abiding by the league's rules for One Act Plays.
Adjudicated by a panel of judges certified by TTAO, the competition culminates in a festival of plays critiqued by trained judges who deliver oral and written criticism to the participants.
Plano ISD teachers challenged their students with great literature and opportunities to perform. The Plano ISD Fine Arts Department is proud of the artistic endeavors of the students and staff. With a focus on advanced performance, technical skills, constructive criticism and great theatre practice, the November 11 competition results included the top three winning performances:
1st Place: Shepton High School
The Old Man and the Old Moon by PigPen Theatre Co.
Directed by Carmen McElwain & Mallory Chance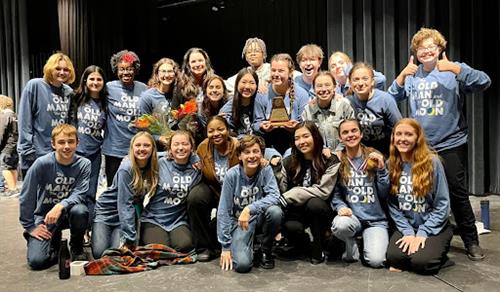 Shepton HS theatre
2nd Place: Williams High School
These Shining Lives by Melanie Marnich
Directed by Kelli Sutton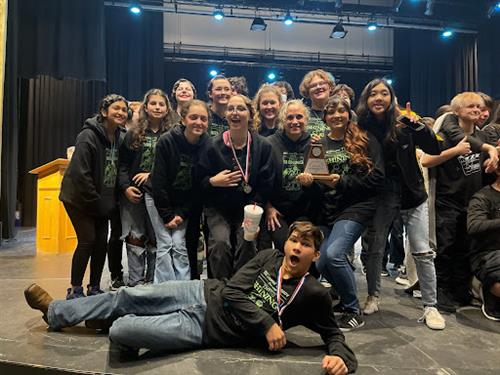 Williams HS theatre
3rd Place: Vines High School
Epic Proportions by Larry Coen & David Crane
Directed by Bri Wehman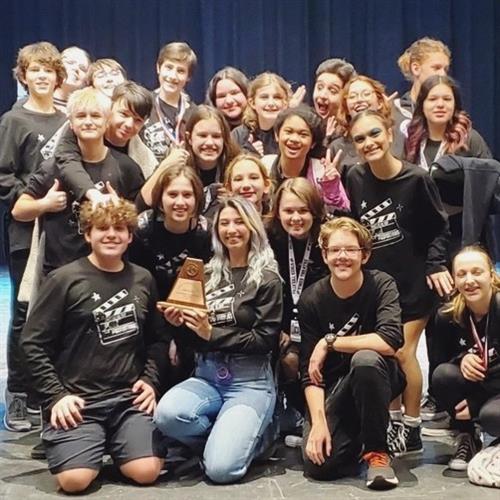 (back row) Aaron Chaput, Robby Coppedge, Travis Wolfe, Connor King, Madeline Olivieri, Heidi Myers, Coda McCardel, Reagan Huffstutler, Zach Hutton
(middle row) Andrew Ladishew, William Adams, Reese Bailey, Jesreel Chrisniah Garciano, Evelyn Traynor, Isabel Bonilla
(front row) Chase Ramos, Liv Anderson, Ms. Bri Wehman, Whitley Taylor, Mikayla Bigelow, James Watkins, Skye Urech
Congratulations to all One Act Play participants. Individual awards, selected by the acting judge (acting) and stage manager (tech), were awarded to the following participants:
Outstanding Technician:
Sophia Papaleo, Clark High School
Kyle Ledoux, McMillen High School
Haley Shephard, Shepton High School
Charlotte Besset, IB World School at Plano East
Maria Pavao, Jasper High School
Andres Bedolla, Williams High School
Skye Urech, Vines High School
Best Technical Crew:
Maria Pavao, Jasper High School
Shivani Sen, Jasper High School
Gabrielle Torregoza-Marasigan, Jasper High School
McKenzie Bauman, Jasper High School
Athena Brewer, Jasper High School
Daniella Rashdi, Jasper High School
Eshita Singh, Jasper High School
All-Star Cast:
Travis Wolfe, Vines High School
Claire Cockrell, Jasper High School
Ayan Mishra, IB World School at Plano East
Emma Rogers, Clark High School
Marla Simmons, IB World School at Plano East
Gina Phan, McMillen High School
Andersen Yanelli, Williams High School
Will Blaine, McMillen High School
Honorable Mention All-Star Cast:
Carson Smith, Clark High School
Brendon Weber, Shepton High School
Rehaana Mariam, Jasper High School
Henry Pittman, IB World School at Plano East
Matthew Goudy, Williams High School
Connor King, Vines High School
Charlotte Schneider, Clark High School
Ensemble of Nicole Lee, Miku Coulston, Landry Sims, Ava Mayes, Memori Keith, Shepton High School
Best Performers:
Shiloh Wilson, Shepton High School
Reagan Huffstutler, Vines High School