Return to Headlines
2023 TI Innovations in STEM Teaching Awards
May 16, 2023
Three Plano ISD winners in the Texas Instruments (IT) Foundation Innovations in STEM Teaching Awards were recognized by the Board of Trustees at the May 16 meeting.
Ross Craig, Plano East Senior High School
Jennifer Bell, Renner Middle School
Patricia Walker, Rice Middle School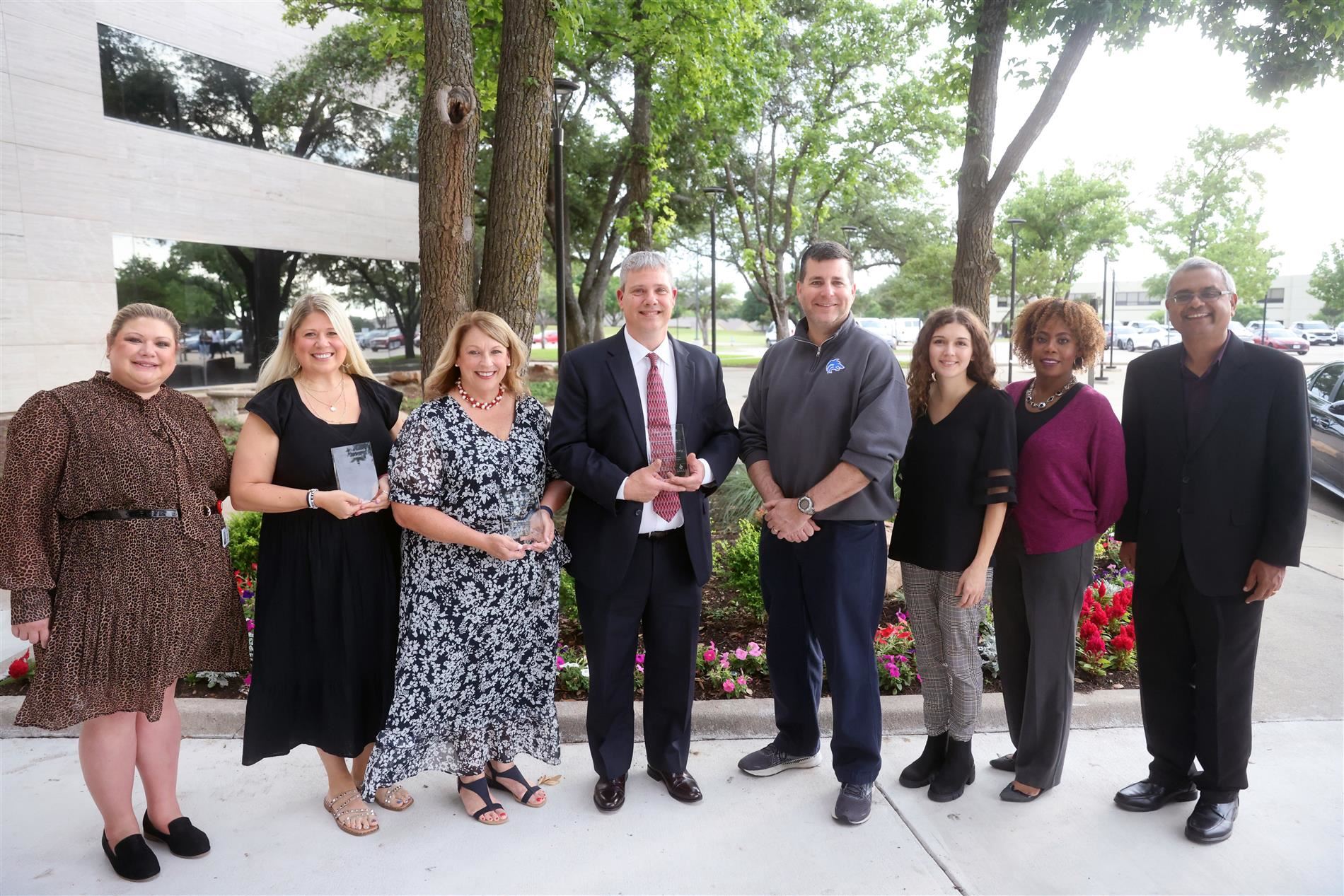 Plano ISD Education Foundation Senior Executive Director Brittnea Ussery, Jennifer Bell of Renner Middle School, Patricia Walker of Rice Middle School, Ross Craig of Plano East Senior High School, Shane Hanby of Plano West Senior High School (finalist), Grace Haug of Jasper High School (finalist), Tracy Henry Smith of Williams High School (finalist), Harshal Chhaya of Texas Instruments and the Plano ISD Education Foundation.
For the last 17 years, Plano ISD has been honored to work with the Texas Instruments Foundation and the Plano ISD Education Foundation to recognize outstanding Plano ISD teachers of secondary science, technology, engineering and mathematics.
The Innovations in STEM Teaching Awards are made possible through the generosity of the Texas Instruments Foundation. The TI Foundation's top philanthropic priority is education, specifically STEM, or science, technology, engineering and math. What way can be more impactful than supporting teachers? A teacher will touch hundreds, if not thousands, of students throughout her or his career.
Since the program started:
More than $2 million dollars has been awarded to teachers in nine local school districts.
45 teachers have been recognized from Plano ISD, including this year's three awardees that we'll recognize tonight.
The district thanks Executive Director of the Texas Instruments Foundation, Andy Smith, and the Plano ISD Education Foundation for their support of Plano ISD STEM teachers.

Ross Craig, Plano East Senior High School
Mr Craig is a Honda Acura master technician who has been teaching automotive technology for 19 years. Ross's students shared that his teaching and mentoring them made a profound difference in their lives both professionally and personally. What was observed in his class revealed footprints of meaningful and personal prior learning because it was the second year those students had been in the class. There was knowledge, confidence and collaboration shown by all of his students through the task that they were engaged in.

According to his principal, George King," Mr. Craig is exceedingly passionate about what he teaches and even students only mildly interested in automotive technology become hooked. Additionally, his knowledge and expertise in automotive repair is profound. As a result, he captures the imagination of many students about their own possible future in the industry. Tirelessly moving from the shop each day, it's so uplifting to see the goggles of students following Mr Craig around as they move from one vehicle to another, receiving hands-on guidance and instruction. He is incomparable and irrepressible."
Jennifer Bell, Renner Middle School
Ms. Bell works hard every year to cultivate an engaging, safe and fun classroom where students learn at the highest levels, where judges saw first-hand "a truly innovative lesson on the environmental impacts of organisms." Her energizing approach to teaching is both a gift as well as the result of hard work as a life-long learner.

Principal of Renner Middle School Nemisha Vocta stated, "at Renner, we have three core beliefs for staff: make decisions based on what's best for students, be committed to excellence and demonstrate accountability. Jennifer Bell is an amazing educator who's uniquely different because she inspires her students and other educators. She exemplifies our core beliefs in everything she does. Every decision Ms. Bell Makes is centered around what's best for her students and the campus as a whole. She holds herself accountable by consistently looking for opportunities to work collaboratively and prioritize culture in her pursuit of excellence."
Patricia Walker, Rice Middle School
Graduating from Shippensburg University in Pennsylvania, her career compass initially pointed toward business administration and data processing. However, she ended up answering the call to be a teacher. Her approach to teaching exemplifies her belief that any student can be a mathematician. Mrs. Walker's calm and supportive demeanor is a key component to the way she designed student learning around inquiry and engagement for all.
According to Principal of Rice Middle School, Chris Glasscock, "Patty Walker is a compassionate educator who does what it takes to ensure students are successful in her classroom. As the department head at Rice, she finds a way to lead her team in a positive and reflective way. Mrs. Walker brings a welcoming learning environment to her students and continually looks for ways to create an engaging environment. She is determined to be a master teacher, and as a staff member, others lean on her for advice."