Return to Headlines
Jan. 22, 2019 - Robotics Update: FIRST LEGO League
In preparation for the FIRST LEGO League Robotics 2018-19 challenge, "Into Orbit," teams of Plano ISD elementary and middle school students from across the district have spent considerable time during the fall semester researching about space. They have worked hard to design, build and program their team's robots for the competition.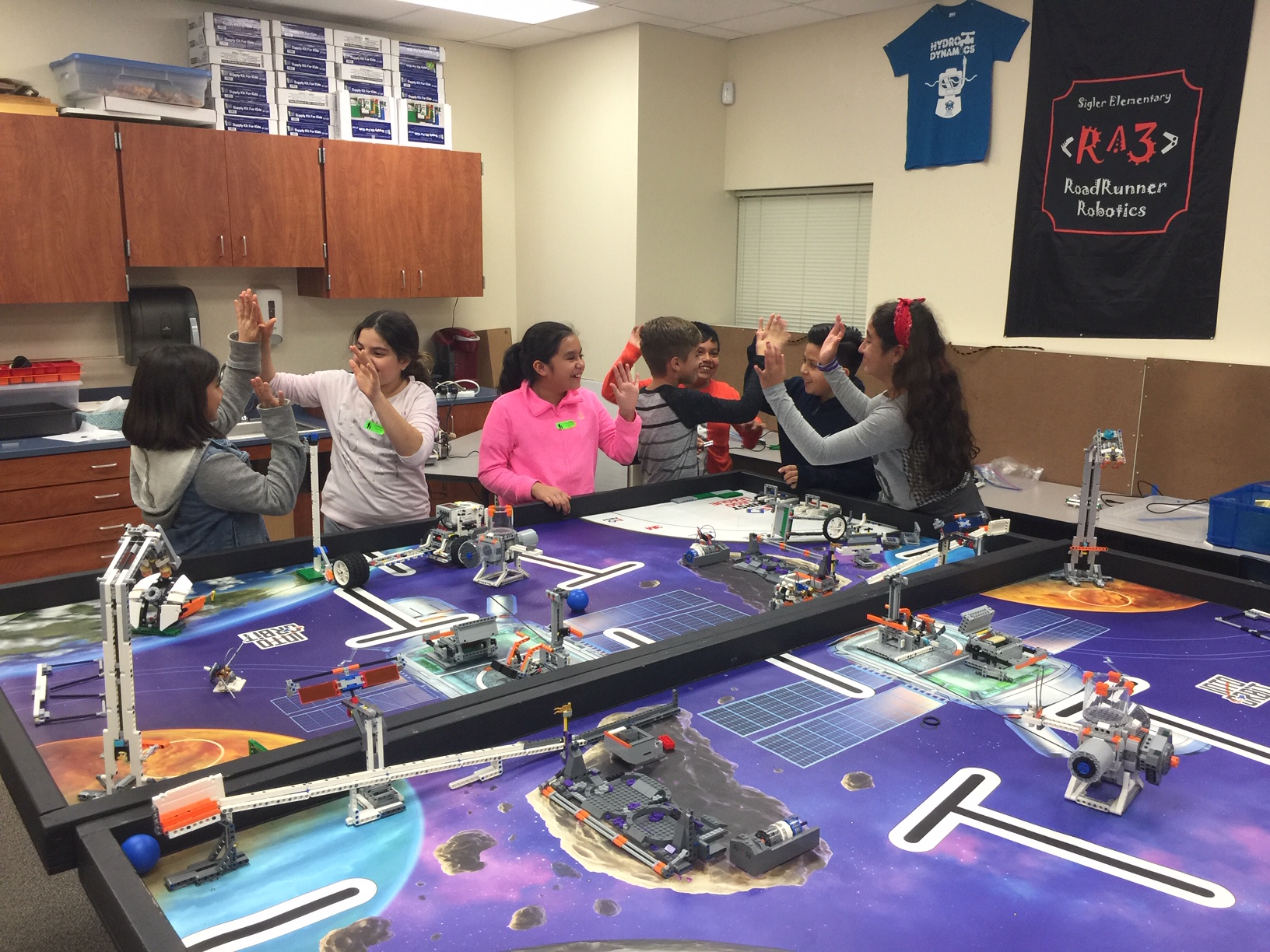 Sigler Elementary FLL team, "The Space Travelers," coached by Scott Richards Sigler teacher and Kim Edwards school counselor, congratulate one another after programming a successful mission.
Teams of students from over 80 countries taking part in the FLL competition, collaborate to develop robots for autonomous missions on a table-top playing field. This year, 56 teams from 44 Plano ISD elementary and middle school campuses competed. In addition to developing their robots, the teams work to solve a real-world problem. This year's problem is, "Identify a physical or social problem faced by humans during long duration space exploration within our sun's solar system and propose a solution." Using STEM concepts, students researched, developed and presented a solution to this problem. Along the way, they improved their critical-thinking and presentation skills, built self-confidence in STEM, and had a ton of fun while working as part of their team.
The season culminated in regional tournaments held during December and early January. Plano ISD hosted events on December 8 and 15 with the help of over 70 volunteers from our community including our high school robotics team members. We commend these students and coaches on their hard work, dedication and outstanding representation of Plano ISD.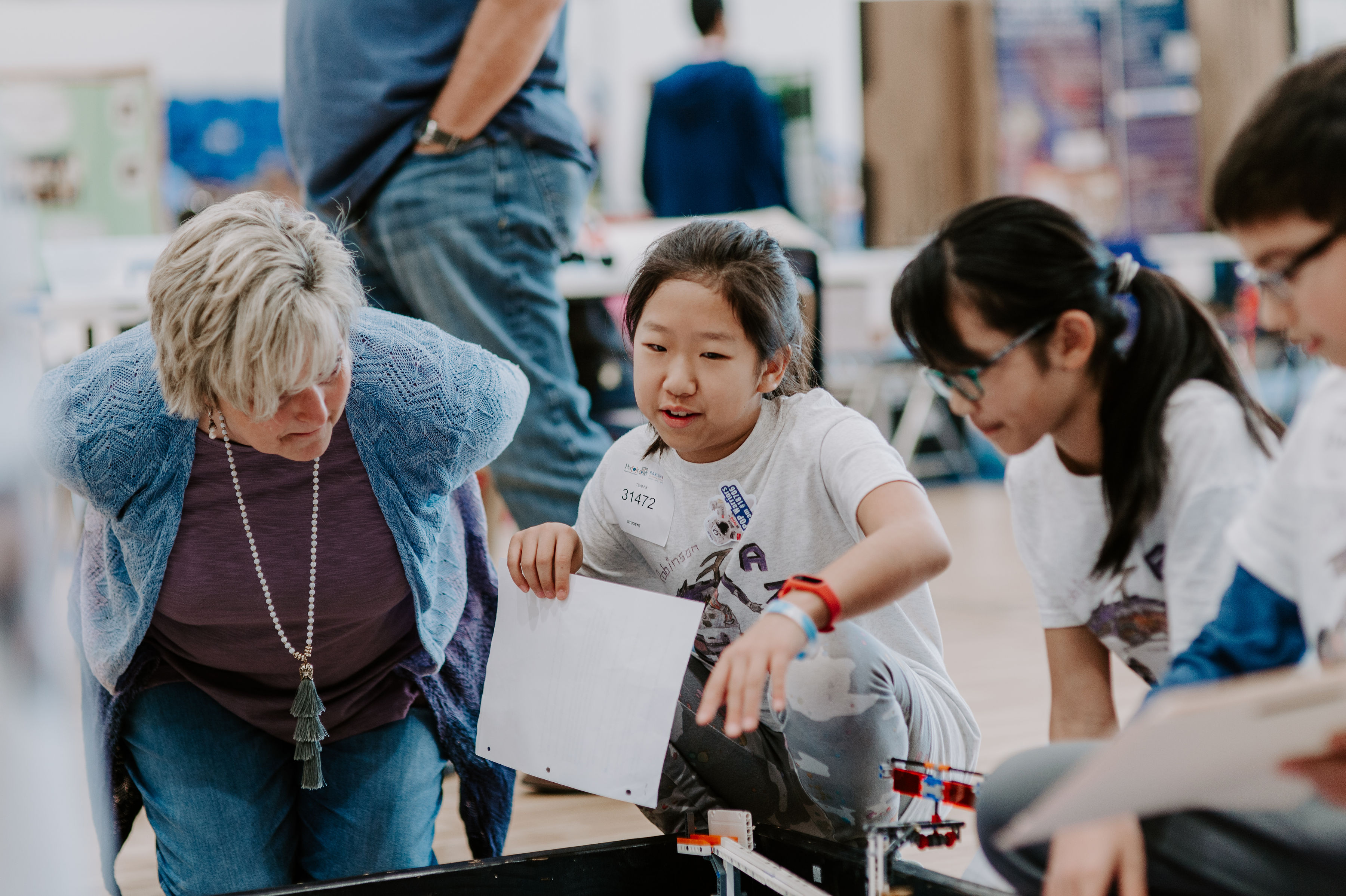 Robinson Middle School team the "RazorBots" share their robot with Robinson Principal Billie Jean Lee. The RazorBots are coached by teachers Eric Bear and Hoda Abdel-Ghani.
Teams from the following campuses advanced to the second round of play:
Haggard Block Heads
Harrington Husky Robotics
Hedgcoxe Sci-Fi Savages
Rasor Rocket Robotics
Rice Ravenclaw
Saigling Techno Stallions and Galactic Stallions
Shepard Elementary Robotics
Sigler R3 Space Titanium
Skaggs Stars Robotics
Wyatt Rocket Roos
The following teams won awards:
OttoBots Gold – Outstanding Project
Rasor Rocket Robotics- Referee's Award for outstanding sportsmanship
Sigler R3 Space Titanium –Core Values Award for outstanding teamwork
Hedgcoxe Sci-Fi Savages – Judges' Award for all-around quality in all the judged categories
Saigling Techno Stallions –Outstanding Robot Design
Saigling Galactic Stallions – Referee's Award for outstanding sportsmanship
Learn more about FIRST LEGO League.

Left: Robotics team members from the "Hightower Hazards." The team is coached by Hightower Elementary Teachers Jacquelynn Guida and Erin Rowe. And right: Thomas Elementary FLL robotics team members work together to refine their robot between matches. They are coached by Thomas Elementary PACE teacher Ayanna Black.