Return to Headlines
Armstrong Middle School Earns Third AVID National Demonstration School Validation
February 10, 2020
AVID (Advancement Via Individual Determination) is a nationally-acclaimed program that focuses on helping students be successful in academically rigorous coursework to ensure college readiness. AVID National Demonstration Schools are exemplary models of this AVID College Readiness System. Armstrong AVID is proud to be the only AVID National Demonstration school in Plano ISD and has recently received its third revalidation.
According to Armstrong Middle School AVID coordinator and AVID elective teacher Kristin Haney, "AVID empowers Armstrong students, not only those enrolled in the AVID elective classes, but schoolwide. The culture we have created keeps our expectations high and our students form positive habits that raise the bar on what they can accomplish here at Armstrong, in their college careers and in their very bright futures. Through our schoolwide implementation of AVID systems and instruction, students learn valuable skills that can truly change the trajectory of their lives. Our students see high school as a part of their future but not their final destination. Armstrong is proud to be an AVID National Demonstration School and AVID Schoolwide Site of Distinction because we experience firsthand the impact that AVID has on our students, teachers and community."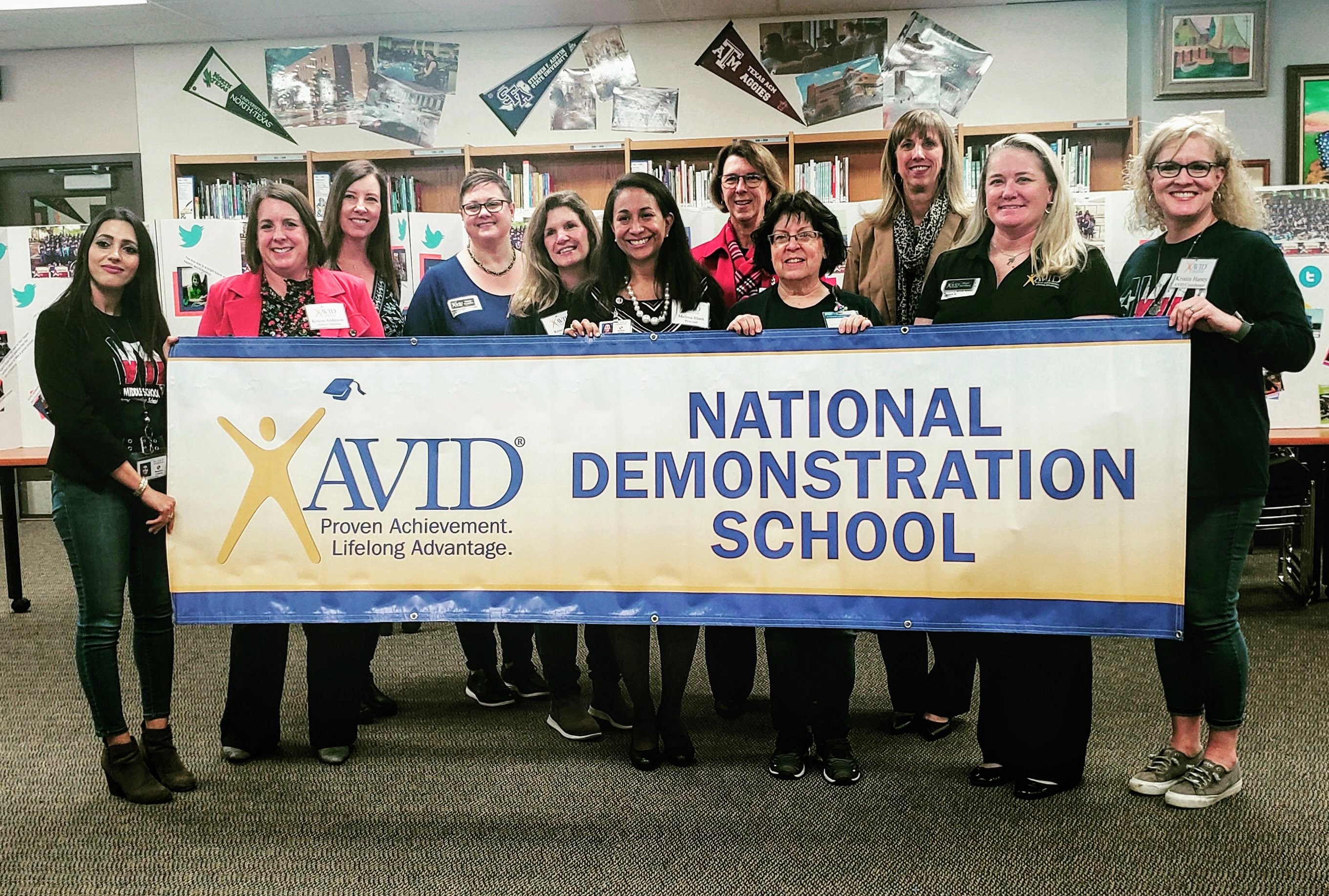 Soumeya Lehachi, Armstrong Middle School (MS) AVID excel teacher; Kristin Anderson, Plano ISD AVID coordinator; Angie Potts, AVID Center; Kassie McMillan, AVID Center; Renee Davis, Armstrong MS AVID site team and Title I specialist; Melissa Blank, Armstrong MS principal; Rhonda Davis, Plano ISD executive director for advanced academics; Mary Archer, Armstrong MS AVID site team & librarian; Sara Bonser, Plano ISD superintendent of schools; Blaire Beaty-Hancock, AVID Center; and Kristin Haney, Armstrong MS AVID coordinator and AVID elective teacher.
Demonstration schools exhibit a college readiness system that is evident across the campus through rigor and high expectations for all students, and undergo a rigorous validation process. Demonstration schools are required to be revalidated every few years to ensure high levels of implementation including quality and fidelity to AVID strategies schoolwide. Armstrong AVID previously has earned revalidation a total of three times, with the previous revalidation received in 2016, and is proud to once again meet these high standards. Schools and districts interested in implementing AVID, or expanding AVID in their districts or at their schools, can arrange to visit a National Demonstration School, such as Plano ISD's Armstrong Middle School, and experience the highly successful AVID system in action. Kristin Anderson the Plano ISD AVID coordinator for the district says that, "serving as an AVID National Demonstration School is an incredible honor. Under the leadership of the AVID site coordinator, Kristin Haney, Armstrong AVID continues to make an impact on students in the AVID elective and throughout the campus. Armstrong AVID is making a difference and the school is very deserving of their status as a National Demonstration School. Thank you to Melissa Blank, Mary Archer, Renee Davis and Soumeya Lehachi for the crucial roles they played during the revalidation process."
"We are very proud to serve as an AVID National Demonstration School in Plano ISD. AVID's mission of advancement for all students is aligned with our district's mission to inspire and empower children to activate their potential. We know that the incorporation of AVID strategies and AVID models for learning will continue to enhance our work in meeting the needs of our scholars academically, socially and emotionally. We are an Armstrong AVID family," said Melissa Blank, Armstrong Middle School principal.
What is AVID?
AVID's mission is to close the achievement gap by preparing all students for college readiness and success in a global society. AVID is a system to prepare students in the academic middle for four-year college readiness. AVID is an elective class, which supports students as they tackle the most rigorous classes. AVID's teaching strategies, curriculum and training are used not only in the AVID elective class, but by subject area teachers schoolwide.