Return to Headlines
Council of PTAs Immediate Past President Receives State Heroes for Children Award
October 6, 2020
Immediate past president of the Plano ISD Council of PTAs and dedicated volunteer, Kelley Thomas, has been named District 12's 2020 Heroes for Children Award recipient by the State Board of Education (SBOE). The annual award recognizes one volunteer from each of the SBOE's 15 districts who have made outstanding contributions to student learning or who have demonstrated sustained periods of involvement and support of public education.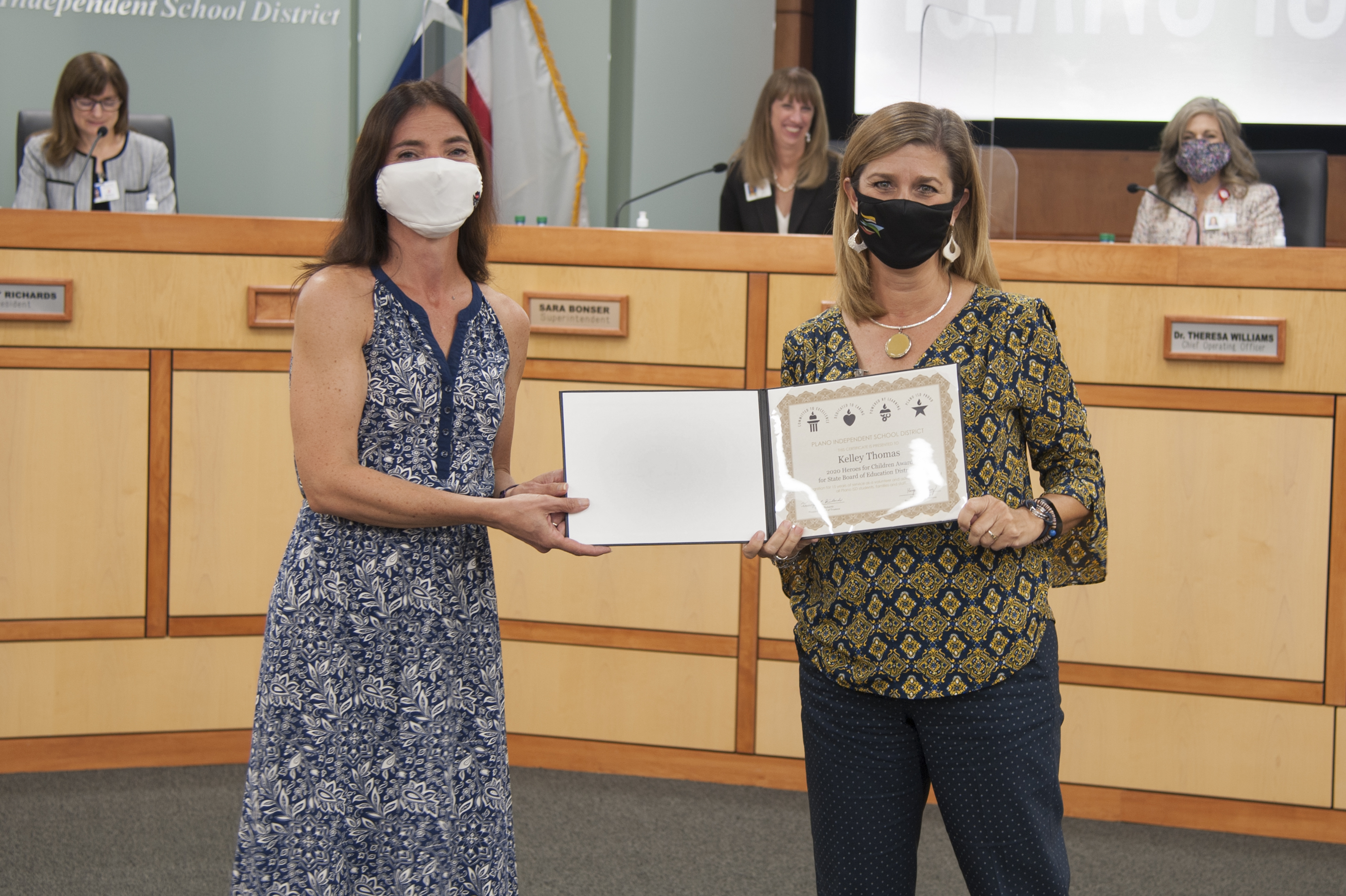 Kelley Thomas receives a certificate of appreciation during board recognition of her Heroes for Children award. The certificate was presented by Board Vice President Jeri Chambers, right.
"Kelley is a fearless advocate for schools and children, an exemplary volunteer and a truly dedicated member of the Plano ISD family," said Plano ISD Superintendent Sara Bonser, who nominated Thomas for this honor. "Her passion is unparalleled as she engages with parents as a voice for all children through her service in PTA. Kelley's goal has always been improving educational outcomes for all children. It comes as no surprise to me that Kelley would be selected as one of only 15 awardees in the state of Texas to receive this recognition for outstanding volunteerism."
A mother to two and a Plano ISD volunteer for 15 years, Thomas began volunteering in her child's kindergarten classroom as room mom. She quickly became an active PTA member and schoolwide volunteer, establishing a Kindness Campaign program at Stinson Elementary, helping launch a multicultural event at Otto Middle School and building awareness as well as increasing membership at her children's high schools. In addition to being immediate past president of the Plano ISD Council of PTAs, Thomas is currently vice president of membership. Under her leadership, the number of Plano ISD schools earning the National PTA Schools of Excellence distinction grew from 3 to 14 and the PTA Council offered numerous free family education opportunities on topics such as special education, gifted and talented education, autism, dangers of vaping and social-emotional learning. At the state level, she presented at the Texas PTA Launch conference where she trained others in leading PTAs effectively. Outside of PTA, Thomas serves on the board for the Plano ISD Education Foundation and Leadership Plano.
The State Board of Education recognized all honorees via a resolution on September 11, and Kelley was recognized with a certificate of appreciation at the October 6, 2020, Plano ISD Board of Trustees meeting.