Return to Headlines
Oct. 18, 2018 - Celene Rosen, Barksdale Elementary, Texas Finalist in the Presidential Awards for Excellence in Mathematics and Science Teaching
On October 18, Commissioner of Education Mike Morath announced six Texas teacher finalists for the 2018 Presidential Awards for Excellence in Mathematics and Science Teaching (PAEMST). Congratulations to Celene Rosen, third grade teacher at Barksdale Elementary School, who was honored as one of the three Texas science finalists.
The 2018 awards recognize kindergarten through sixth grade mathematics and science teachers whose innovative methods bring teaching to life in the classroom.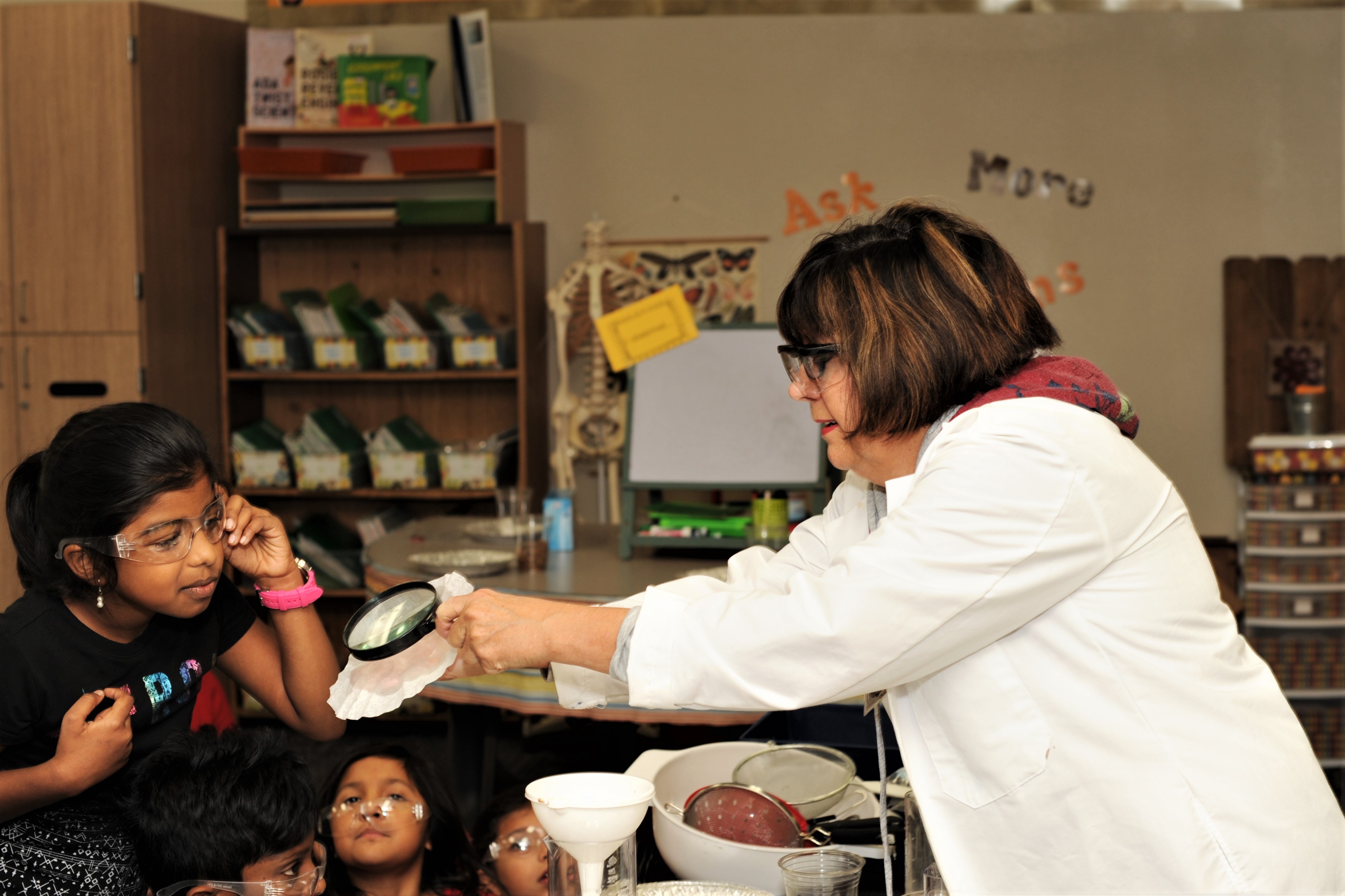 Celene Rosen helps her students to inspect physical evidence during their experiment exploring mixtures and solutions.
To achieve recognition through this program, a teacher first must apply to enter the competition or be nominated for the award. Celene was nominated by Elementary Science Coordinator Mary Swinton who has this to say, "When the PAEMST nomination window opened I immediately thought of Celene – an educator who is a beautiful picture of quality mathematics and science instruction in Plano ISD. For 16 years, Celene's positive and creative approach to teaching coupled with her commitment to continuously learning has resulted in her diligence in designing innovative lessons that are relevant, rigorous, and full of real-world connections. She is passionately dedicated to helping every learner achieve and gives all students the skills and passion needed in order to be lifelong learners. Celene's enthusiasm for children and learning is demonstrated each day in the classroom and reaches far beyond the walls of her campus. She shares her love for teaching with all who know her; she is truly a champion of the profession and one to be celebrated."
Barksdale Principal Jennifer Caplinger is proud of Celene's teaching, "Ms. Celene Rosen is a dynamic teacher. She creates the type of classroom that students want to be a part of and stay for hours. It is important for Celene to have a classroom environment that is both interactive and engaging, where students are collaborating and exploring meaningful lessons daily. You will see Whole Brain Teaching methods, Interactive Word Walls, Socratic Circle and Project Based Learning lessons implemented. Celene is not a teacher known for complacency. She is always seeing new ideas and new ways to reach the diversity of her students. We could not be more proud that she is the finalist for the 2018 Presidential Award of Excellence in Teaching Science!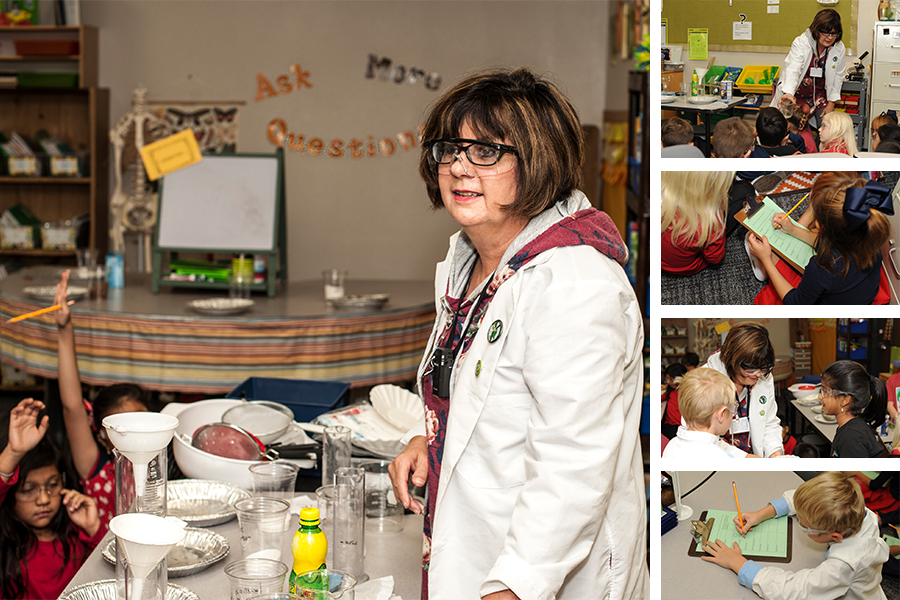 A state panel consisting of master teachers, content specialists, and administrators reviews the applications and selects the most outstanding mathematics and science teachers for the National Science Foundation to consider for national awardee status. After this initial selection process, a panel of distinguished scientists, mathematicians, and educators may select two teachers from each state and U.S. jurisdiction for the national award.
PAEMST is the highest recognition a mathematics or science teacher may receive for exemplary teaching in the United States. The National Science Foundation administers PAEMST on the behalf of the White House Office of Science and Technology Policy.
View a photo gallery of Celene in her lab coat and goggles teaching third graders about mixtures and solutions
Read referral letters from a former student, Principal Jennifer Caplinger and Barksdale colleague Laurie Kane, Gifted Specialist/PACE
Ms. Celene Rosen says, that she is "deeply honored and humbled!" by to be named as a Texas finalist. This pledge has been the cornerstone of every day in her classroom for the last 16 years:
I am a smart, valuable person.
I am important to my school, my family, my country and the world.
I can be the hero of my own life!
Email your congratulations to Celene: celene.rosen@pisd.edu
For additional information about the PAEMST program.